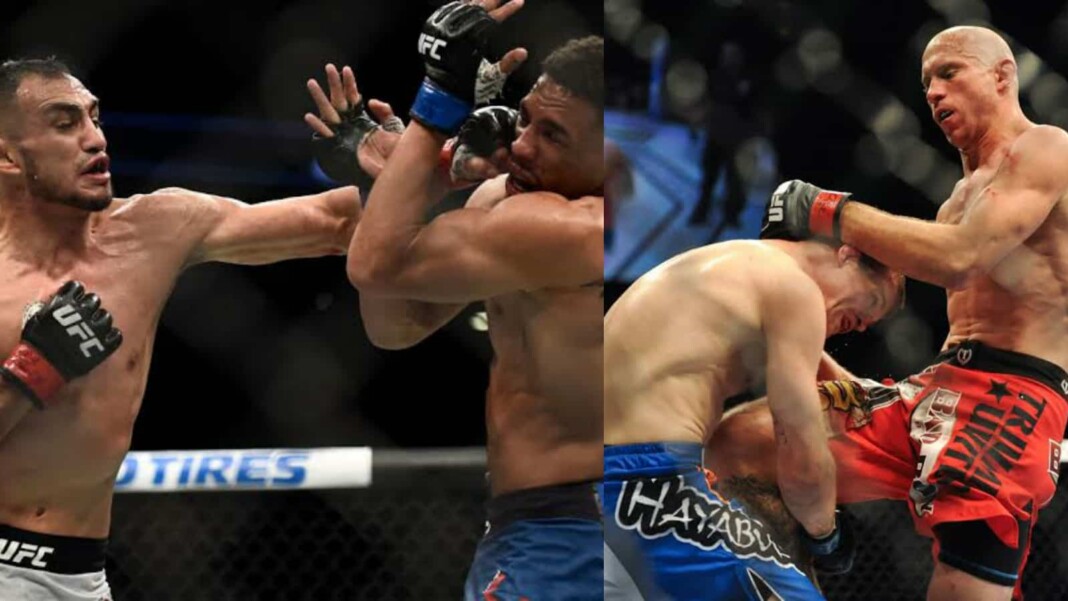 A Triangle Choke, is a type of figure-four chokehold that chokes the opponent by encircling the opponent's neck and one arm with the legs in a configuration similar to the shape of a triangle. Applying pressure from one's leg and the opponent's shoulder. The technique 'Triangle Choke' is a type of lateral vascular restraint that constricts the blood flow from the carotid arteries to the brain.
Here we look at the top 5 triangle Choke finishes:
‌Tony Ferguson vs Kevin Lee: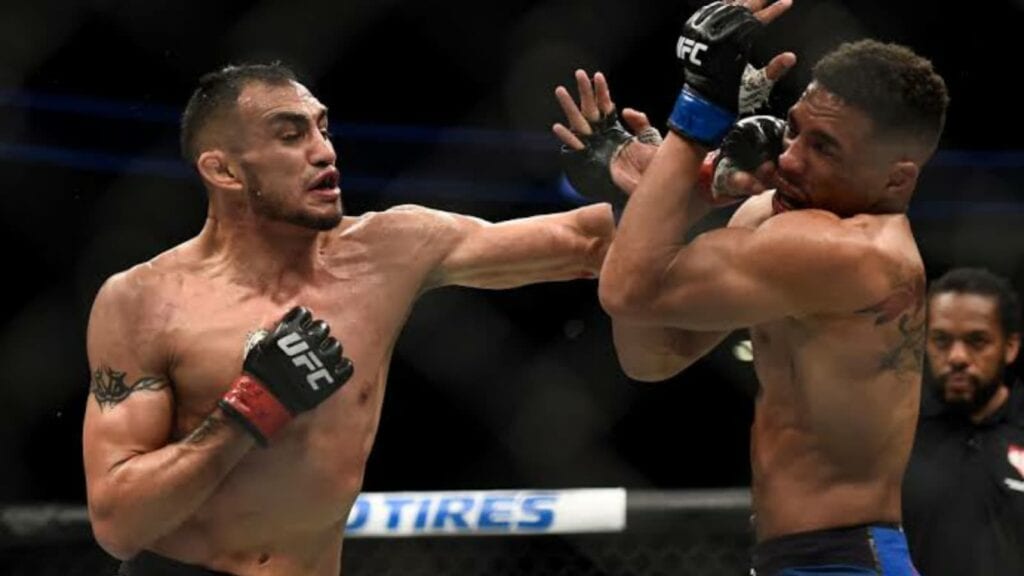 At UFC 216, It was tied up with 15 minutes remaining. In the begining round Lee scored a strong takedown, but he failed to control his opponent. He managed to take him down again, but was nearly arm barred for his trouble.
Tony Ferguson was relentless with elbows, slashing his opponent repeatedly and doing damage. Before long, he was able to slip an arm through for the triangle choke. And there was no escape, and Lee was eventually forced to submit as Ferguson squeezed on his throat.
‌Donald Cerrone vs Evan Dunham: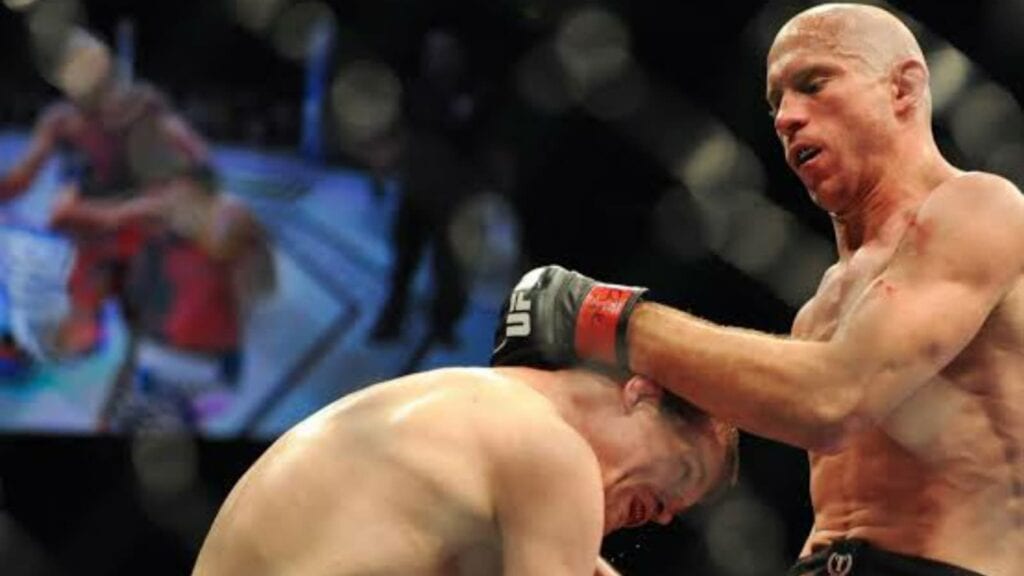 At UFC 167, In between round two, Cerrone scored a takedown, and while he found himself on the bottom, it didn't take long to work into the winning triangle. Cerrone lobbied for Submission of the Night honors after the win.
"Yeah when I got my triangle and he leaned over, I knew it was done," he said. "An extra $50 grand sounds real nice, doesn't it?"
‌Alvin Robinson Vs Nate Diaz: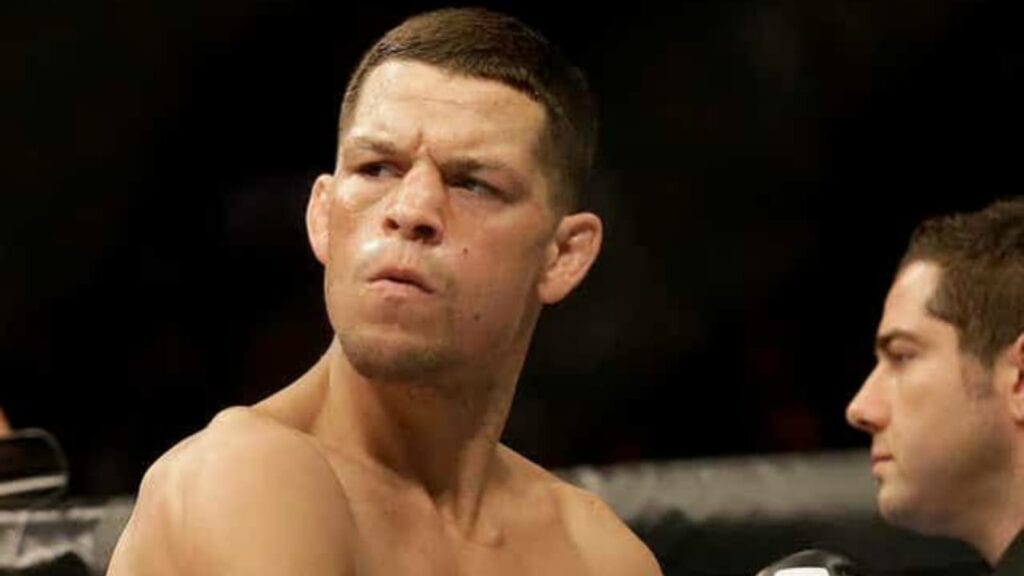 Diaz faced another tough test in his third UFC fight at UFC Fight Night 12,taking on ground specialist Alvin Robinson. Robinson threatened with an incredible deep guillotine after a couple of Diaz takedowns, but the Stockton, California, native survived and began working submission attempt after attempt before finally finishing with a slick triangle choke.
‌Jason Delucia vs Scott baker: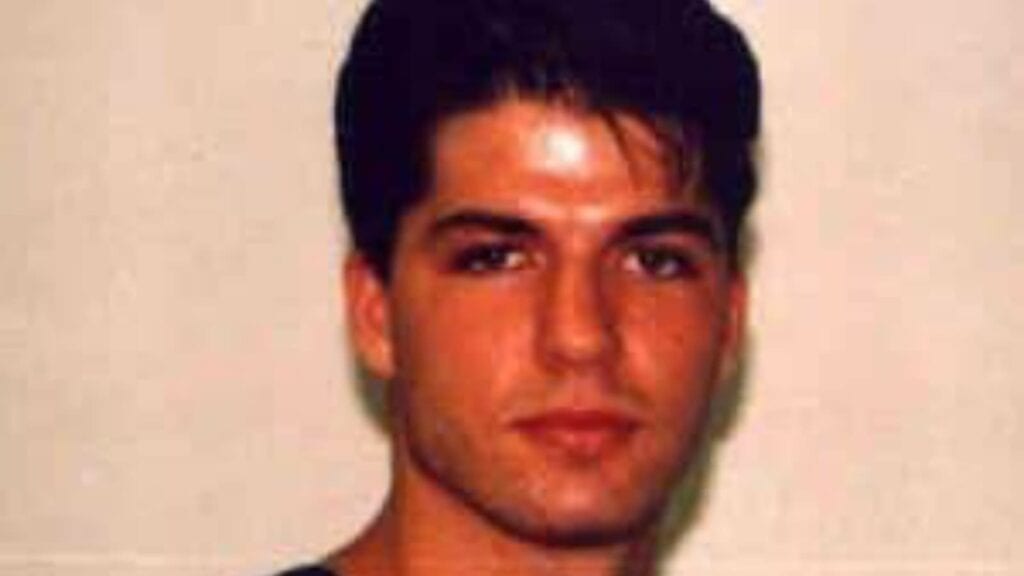 This one comes directly from the vault and is defined as the most legendary of all the triangle chokes in the history of UFC. 11 march 1994, at UFC 2. UFC 2 featured a sixteen-man tournament format, the first and only one in UFC history, with the winner receiving $60,000.
The first seven bouts were not aired on the live pay-per-view broadcast but were on the home video version. The tournament had no weight classes or weight limits. Matches had no time limit or rounds, therefore no judges were used.
Competitors could only win a match by submission, by the opponent's corner throwing in the towel, or by knockout. In the opening round, Delucia faced Baker. The match saw Delucia hold baker in the triangle choke for around half a minute before he turned over and used his body weight as added strength into the hold. After nearly one 1 minute, Baker tapped out and passed out while Felicia himself was struggling to get on his feet.
‌Anderson Silva vs Chael Sonnen: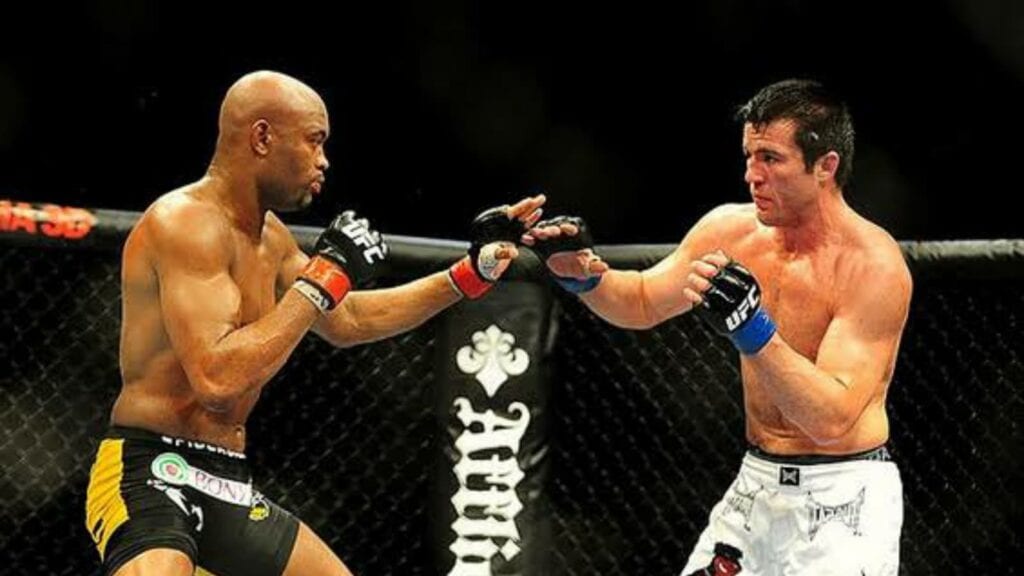 Anderson Silva vs. Chael Sonnen at UFC 117 in Oakland, California was one of the most anticipated and hyped up middleweight title matches in MMA history. Sonnen brutalized Silva with vicious strikes and a dominating ground game. For four rounds, Sonnen controlled the fight both standing and down on the mat. Giving Silva the biggest challenge of his career.
Towards the end of the fourth round, it looked as if Silva might be slowly but surely making his way back into the fight. He landed some vicious elbows on Sonnen from his back that cut the challenger open above his left eyebrow. At the start of the fifth round, Silva was smiling and dancing while Sonnen looked pretty beat up. Sonnen was winning the contest four rounds to none. Silva needed to knock out his opponent or make him tap to retain the title. But then it all went wrong for Sonnen in the 5th round. While swinging away wildly from the top position, the Brazilian jiu-Jitsu expert Silva, caught Sonnen in a triangle choke and forced him to tap.
At first, there was some controversy when referee Josh Rosenthal stopped the fight. It was unclear by the live video if Sonnen had tapped. Replays showed however that he did indeed tap out and that Rosenthal made the right call.
Also Read : Top 5 greatest UFC Champions with most title defenses