To begin with training in Mixed-Martial Arts, Boxing is the most elementary martial art to learn. In this list of the top 5 best boxers in UFC ie. Ultimate Fighting Championship, a premiere MMA promotion, we will go through the fighting styles of fighters as well as the legacy they have cemented. All of these in the list has been a champion at one point in their lifetime. This tells how not only basic, but important boxing is as a skill in order to grow exponentially as a fighter.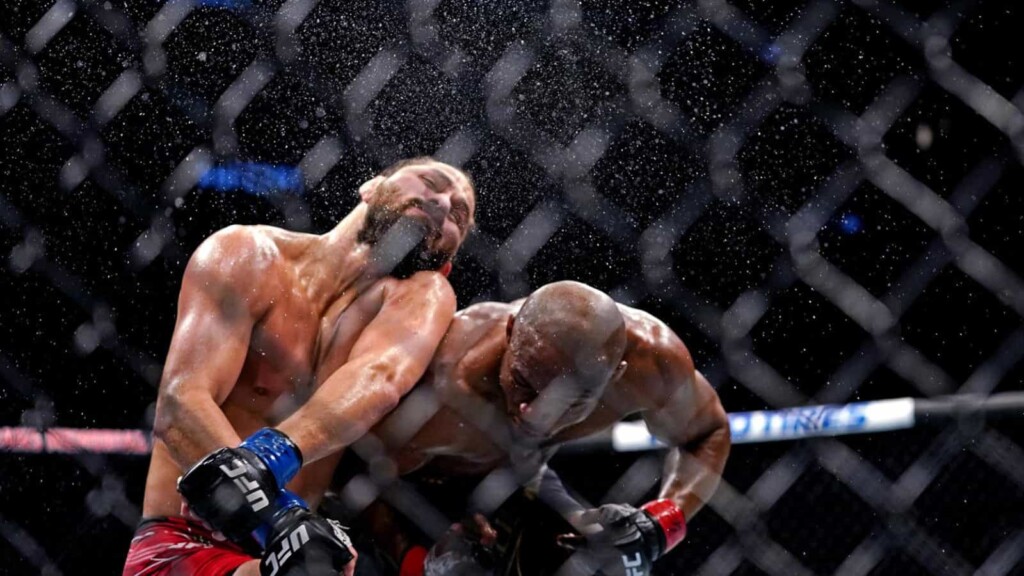 Boxing as a separate sport has a legacy of more than 100 years of great fighters coming in and out of the ring while they make inspirational stories for the upcoming generation make way for new, young talent into the combat sports arena. Some of the most notable figures in boxing include the great Muhammad Ali, Mike Tyson, George Foreman, Sugar Ray Robinson, Sugar Ray Leonard, and many more.
Best Boxers in UFC #5: STIPE MIOCIC
Even though he lost in a brutal knockout in his last match, no one can strip away Stipe Miocic's credential as a fighter, former champion and more importantly, a hell of a knockout artist. Miocic has out-boxed the who's who of the striking specialist heavyweights in Junior Dos Santos who was the best boxer of the division in his championship reign, Mark Hunt who is also known as the "King of Walkoff KO", Alistair Overeem who's a kickboxing legend and finally the current champion, the ferocious Francis Ngannou. Miocic owns the heavyweight title records for most title fights as well as most defences in the heavyweight division.
Best Boxers in UFC #4: PETR YAN
If Petr Yan's boxing has to be described in one phrase, it's "picture perfect." Yan has the absolute knowledge of how to throw a textbook jab, cross, hook, uppercut and that too implementing it on the desired target. While Max Holloway throws as many punches as possible irrespective of power, Yan tales an altogether opposite approach. He will keep his count short, but whatever he lands, he makes sure has the highest chances of rocking his opponent. His victory over Jose Aldo and Cory Sandhagen shows how differently levelled boxer Petr Yan is.
Best Boxers in UFC #3: MAX HOLLOWAY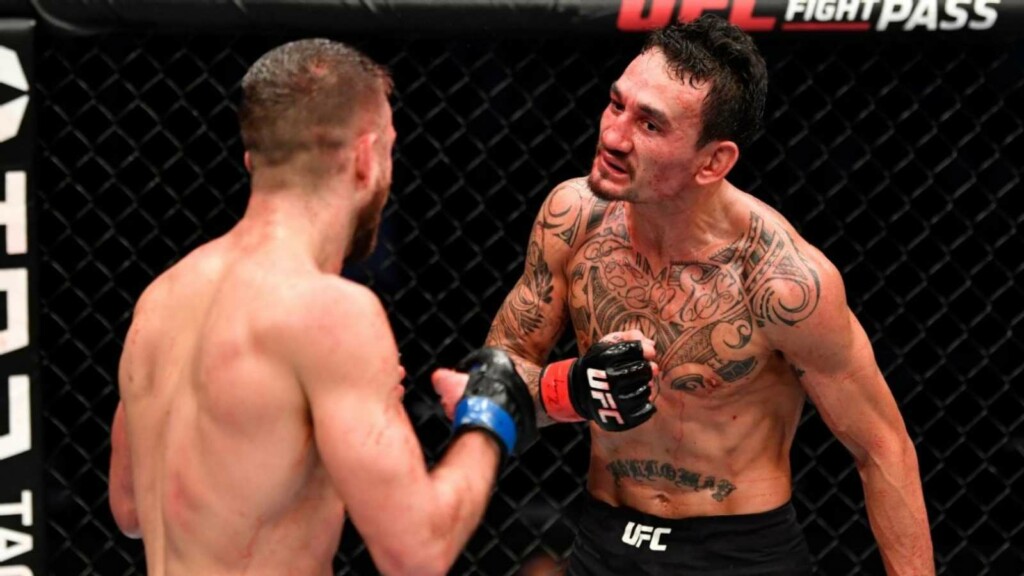 The "Blessed" Max Holloway punches through his opponents as many times as one could breathe! The Hawaii native is unmatched when it comes to volume punching and mixing it up with different combinations every time he steps into the offence. There's no stopping to Holloway's boxing till the bell stops, whether it's 3 rounds or five. Holloway is the only person to land more than 3,000 significant strikes in his UFC career.
Along with that, he has the record for the highest striking differential in his favour against his fight with Calvin Kattar. Holloway has contributed to an estimated 2.5% of all the significant strikes landed inside the UFC octagon this year. With his volume punching, Holloway has the most impressive performances in defeating Frankie Edgar, Jose Aldo, Brian Ortega, Calvin Kattar, Ricardo Lamas, and many more. His close fight with Dustin Poirier is a treat to watch Holloway's grit and his boxing even in adversity and loss.
Best Boxers in UFC #2: CONOR MCGREGOR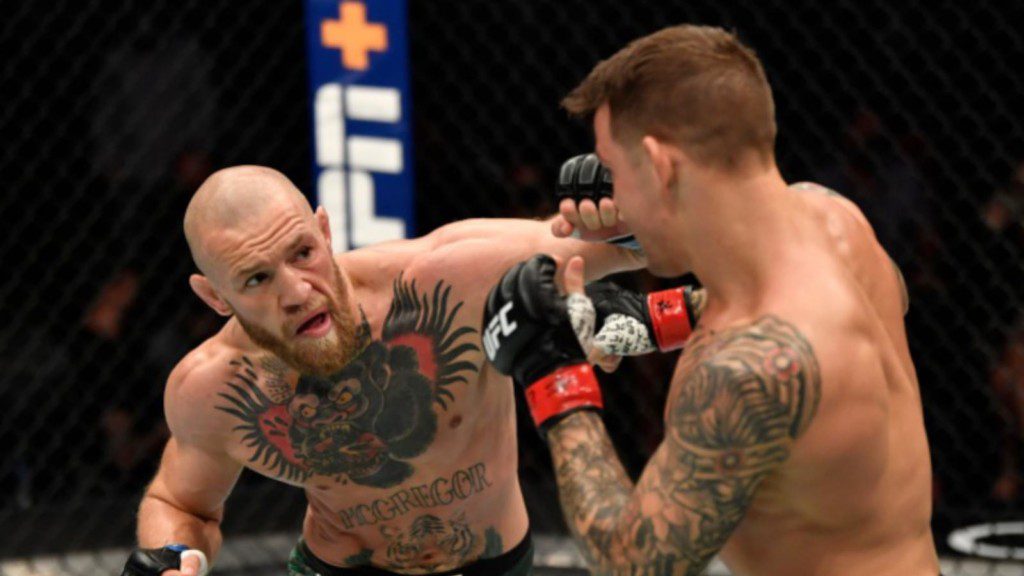 Counting out his last two fights, former 2-division champion Conor McGregor's skillset is nothing short of the legitimate manual for up and coming MMA prospects to learn something so valuable and unique that it cannot be demonstrated well by anyone else. Whether it's his 14-second knockout over a one-time pound for pound king Jose Aldo or his manhandling of a very tough wrestler in Eddie Alvarez, McGregor's eyes seek for precision that is off the vision for anyone else.
The way he makes up the counter on the spot while reading his opponents and combines his left-hand power with speed IQ will manifest a magnificent knockout punch which closes to a complete guarantee that it will knock his opponents out cold. Irrespective of being on a 2-fight skid, no one can ignore the threat McGregor possesses when he is boxing in front of you. It is quite possible to say no one can see boxing the way McGregor sees it. There's a reason why 19 of his 22 wins are via knockouts.
Best Boxers in UFC #1: DUSTIN POIRIER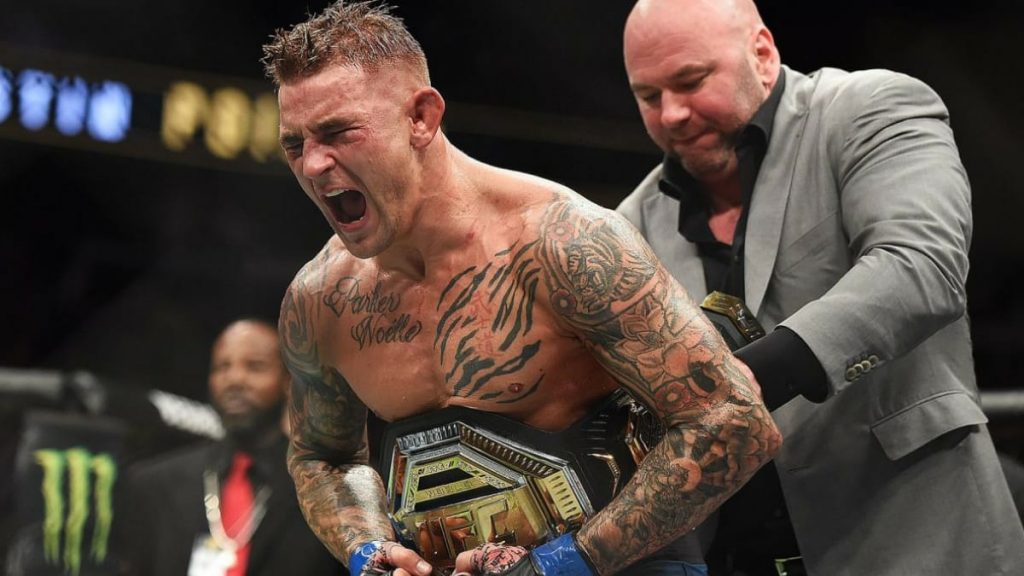 With 2 wins each over the #3 and #2 of this list, Dustin Poirier is definitely on top of our charts and right now, being #1 on almost everyone's list of best boxers in UFC. Poirier is a weirdly unique combination of a brawler who likes to stay technical even in the chaos of haymakers. His back and forth battles with Conor McGregor, Max Holloway, Dan Hooker, Eddie Alvarez and Justin Gaethje had them all tested themselves out in front of Poirier's skillset but at the position, he is in as a fighter, none could stand a chance to the constant grind he puts on in his opponents.
The former UFC interim-lightweight champion has finished knockout artists like Conor McGregor and Justin Gaethje, brawled with and outboxed brawlers like Eddie Alvarez and aforementioned Gaethje again, and more impressively have kept up with the pace of the forever punching Max Holloway. Dustin Poirier can stand out of any situation put forth in front of him as he has rightfully proved time and again.
Are Dustin Poirier and Conor McGregor close enough?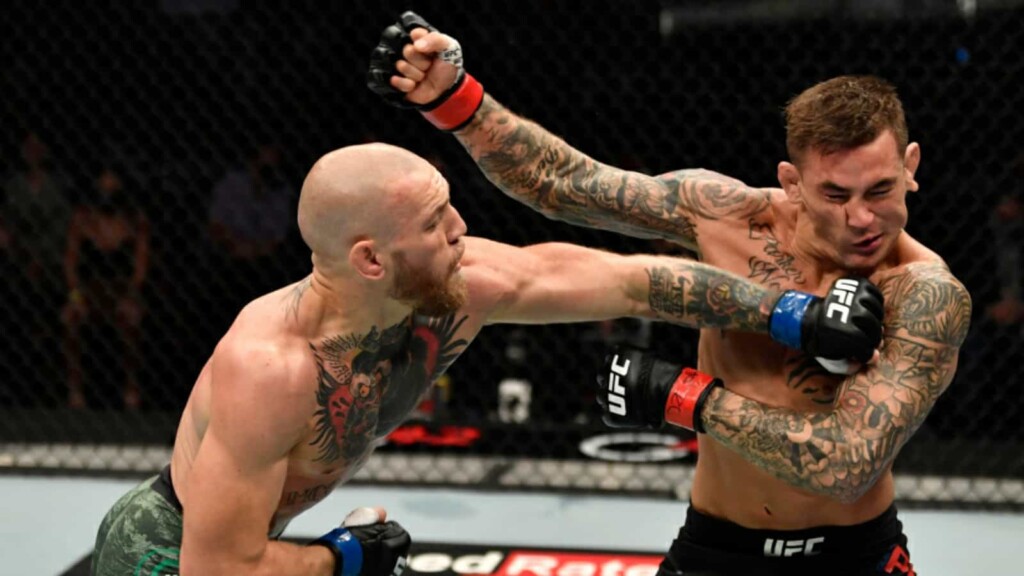 What do you think of these top 5 best boxers in UFC? Actually, in terms of pure boxing skillset, Poirier and McGregor are much competitive than they could be seen in MMA. Poirier is a very unique combination of a smart brawler, he can be a powerful version of Max Holloway. Whereas McGregor is a much powerful version of Petr Yan, the man of power but deadly precision as well. Poirier is ready to grind his opponents up and down till they collapse while McGregor is an accurate head hunter who will blast his opponents with his left hand the moment his eyes are locked.
The point is, both the fighters have razor-close boxing IQ and there can still be discussion over who wins it again despite a 2-1 closure by Poirier in his bad blood trilogy with McGregor. Despite Poirier taking out McGregor twice in his last 2 fights, both the fighters are strongly, mutually interested to fight each other for the fourth time if it's feasible. Let's see if the fans want that but it's very unlikely that UFC President would think of the feasibility of going beyond the trilogy. Who do you get in your top 5 best boxers in UFC?
Also Read: "Better than Dustin and Justin," Khabib Nurmagomedov believes Islam Makhachev and Beneil Dariush are better than anyone else in the division