When it comes to finding out the most impactful MMA fighter then everyone suggests looking at the UFC fighters. It is the only promotion company where your best of the best in their country or promotion competes among the best.
There are many hard hitters and wrestlers in the MMA world but the most underrated and show-stoppers are BJJ fighters. Brazilian Jiu-Jitsu is the only form of art in not UFC where a fighter combines technique, strength, and endurance to beat their opponent no matter if there is a best hard hitter.
In UFC many fans have seen their favorite star getting defeated by BJJ fighters even when they are getting dominated by those favorite ones. Even on his back on the ground of these fighters is the most dangerous especially when they are having Black Belts in BJJ.
Related: Better call Gordon Ryan! BJJ practitioner offers to join Conor McGregor and Michael Chandler in the new season of TUF
Best UFC fighters who are BJJ Black Belts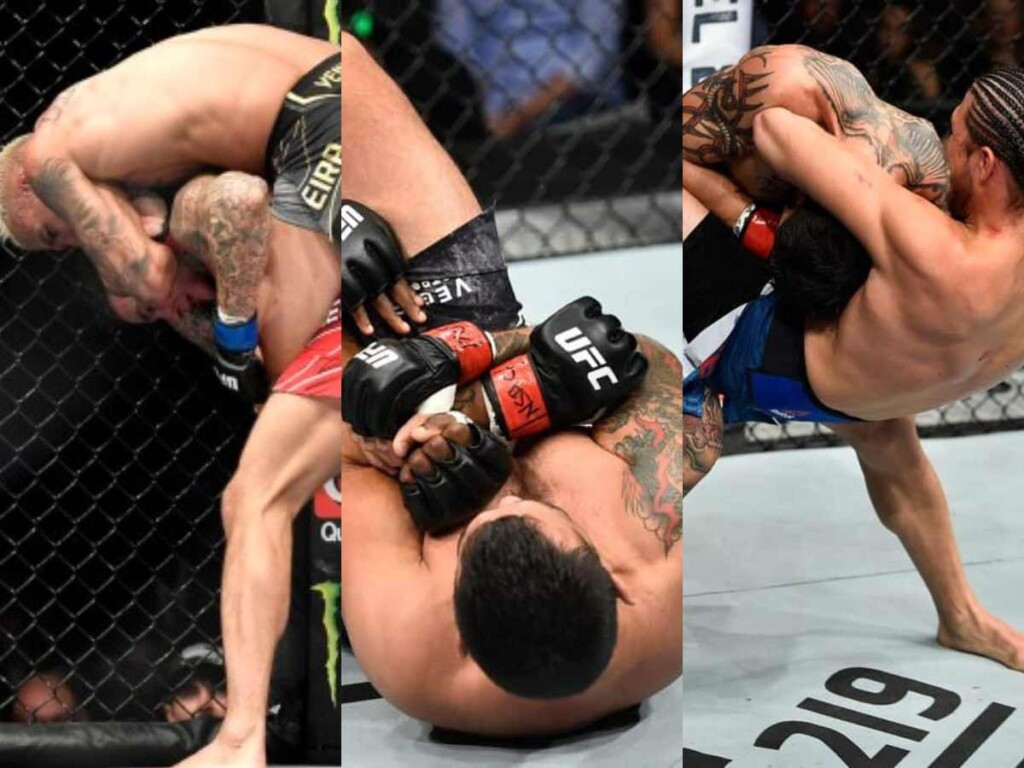 Many fighters came and go but the danger of BJJ in UFC is always there because even the long fight win-streak can be broken with just a single mistake against these fighters. Some best UFC fighters are known for their BJJ and most of their win they got because of this skill only.
1. Royce Gracie
Legend Royce Gracie was fighting in UFC when there were no weight classes. His Father was Name was Helio Gracie, who is also known father of Brazilian Jiu-Jitsu. With 11-0 wins all coming with submission he gave his statement that smaller fighters can beat any bigger fighter with good BJJ skills.
2. Demian Maia
Demian Maia is one of the best submission artists because of his BJJ skills. Maia competed in the welterweight-middleweight division with impress record of 28 wins and 14 wins coming from submission only. Maia never won the title but in his prime, he was one of the most debated fighters.
3. Charles Oliveira
Charles Oliveira made a statement in the mixed martial arts world that even if you are getting beaten you can still win the game. The former champion has 33 wins where 21 wins coming from submission only. Till now Oliveira has the most submission wins in UFC.
4. Anderson Silva
Anderson Silva is considered the GOAT of the middleweight division. He has the record of holding the UFC belt for the longest period. In his MMA career Anderson Silva has 34 wins where he may not have the most submission wins but in all his fights, the opponent chooses not to fight against him on the ground because when he submits he doesn't give a chance to fight back.
5. BJ Penn
UFC legend BJ Penn fought in the Lightweight and welterweight division securing 16 wins under his name. BJ Penn won the World Jiu-Jitsu Championship in the year 2000. From his 9 UFC fights, he won 4 by submission only.
6. Mackenzie Dern
When it comes to looking at UFC one of the Best BJJ practitioners in UFC then no wonder Mackenzie Dern's name will always be there. Mackenzie Dern is practicing BJJ since the age of 3 and she is related to Gracie's family. Of her 7 wins 4 coming only from submission.
7. Gilbert Burns
Gilbert Burns is one of those fighters who are known for their as well as their Brazilian Jiu Jitsu. No surprise he has won 4 times World Jiu-Jitsu championships. One of the best grappling games came against Demian Maia and Stephan Thompson. Demian Mia world champ known for his BJJ was defeated by burns because he neutralized his BJJ with his own BJJ skills.
8. Ronaldo Souza
Ronaldo "Jacare" Souza is a complete Brazilian mixed martial artist and he is having 4th-degree BJJ black belt. In his MMA career he is having 26 wins from them 14 coming from submissions only. Also Jacare has 8 gold medals in the world championships of BJJ.
9. Glover Teixeira
Most people know Glover Teixeira for his KO power but he is also having world-class jiu-jitsu skills. As a light heavyweight in 16 fights, he is having 7 submission wins which make him one of the scariest light heavyweight on the ground as well.
10. Nate Diaz
Nate Diaz is having the most pain-enduring game ever. Even after having lots of cuts and blood flooding out he just doesn't stop fighting. Nate Diaz is known for his BJJ in UFC, In MMA he has 11 submissions record where 5 times he got a submission of the night award.
In case you missed it!