The National Games of India returned after a long gap of 7 years. The 2022 National Games, touted as the 'Indian Olympics', were held in 6 cities of Gujarat (with the exception of Track Cycling held in Delhi) and saw the participation of more than 7000 competitors representing the 28 States and 8 Union Territories of India and the Indian Armed Forces.
Much has changed in Indian sports since Kerala 2015. The Prime Minister and other government officials have affirmed a desire to develop a sporting culture in India especially after the disastrous Rio Olympics while Neeraj Chopra's Olympic gold and Indian performances at the 2022 Commonwealth Games have raised public expectations.
Overall though the standards have improved and a number of new National Records were set at Gujarat 2022, there is still a long way to go for Indians to be competitive internationally in most Olympic sports.
Athletics and shooting have made the most progress in the last 7 years. Shooting took plenty of criticism in the aftermath of the Tokyo Olympics. However it was the one sport that provided performances closest to international standards at the 2022 National Games. Now all that remains is for the shooters to replicate these scores at the biggest stage.
Athletics meanwhile continues to grow at a steady pace following Neeraj's breakthrough and medals at the 2022 CWGs.
Here are 5 noteworthy performances at the 2022 National Games, all from athletics and shooting.
Jeswin Aldrin – Men's Long Jump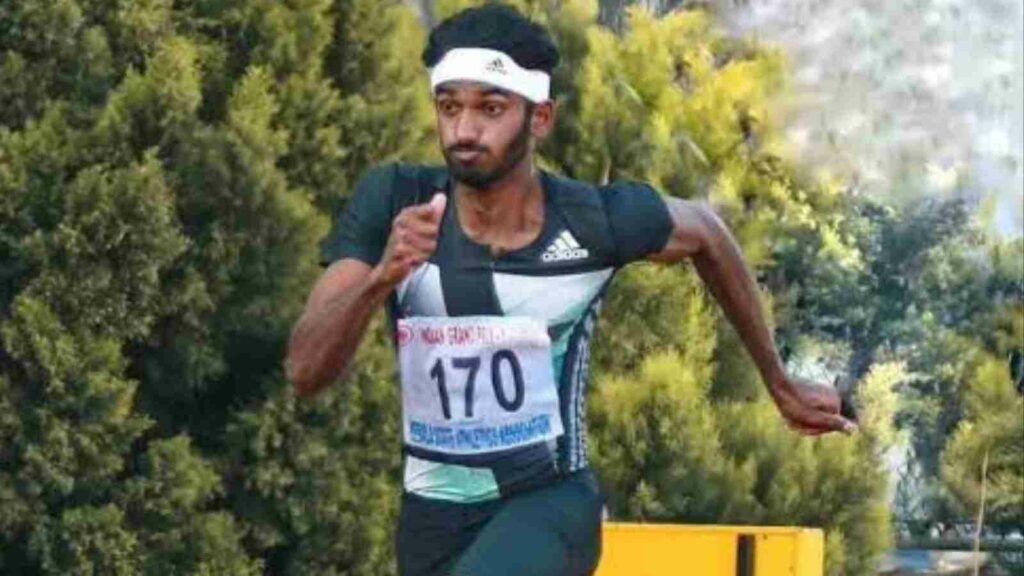 While all eyes were on Kerala's National Record holder and CWG silver medalist Murali Sreeshankar, it was Tamil Nadu's Jeswin Aldrin who grabbed all the headlines at the end of the Men's Long Jump competition.
Aldrin, with a best jump of 8.26m, not only took home the gold but earned himself a berth at the 2023 World Athletics Championships by breaching the qualifying mark of 8.25m. The jump in fact would have won him a bronze at the 2022 Worlds (where he had only managed a below-par 7.79m).
An injured Sreeshankar meanwhile won silver with 7.93m while fellow Keralite Muhammad Anees won bronze with 7.92m.
21-year old Aldrin has been steadily improving after missing out on the 2022 CWGs. In September he won gold at the Golden Fly Series athletics meet in Liechtenstein with a jump of 8.12m.
There is an exciting rivalry developing between Aldrin, Sreeshankar and Anees and fans would hope the increased domestic competition progresses to international results.
Jyothi Yarraji – Women's 100m Hurdles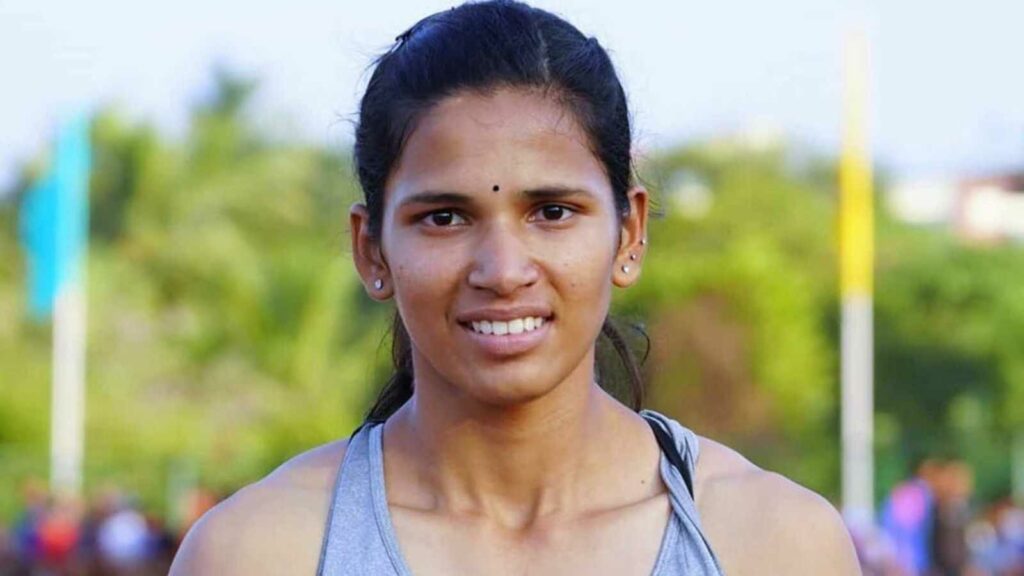 Jyothi Yarraji of Andhra Pradesh registered what was arguably the best Track performance at the 2022 National Games. She became the first Indian to clock a sub-13s timing in Women's 100m Hurdles on the way to a deserved gold.
Her mark of 12.79s though will not be counted as a National Record as it was achieved with a wind assistance of 2.5m/s. Nevertheless it adds another feather in the cap of the highly-rated 23-year old who has broken the NR multiple times and holds the existing record of 13.04s.
The silver was won by Telangana's Agasara Nandini (13.38s) while bronze went to Sapna Kumari of Jharkhand (13.42s).
The National Games timing would have earned Jyothi a semi-final place at both the 2022 Worlds and 2020 Olympics and makes her an early podium contender for next year's Asian Games.
Jyothi (11.51s) also won the Women's 100m gold ahead of sprint specialists like Dutee Chand, Hima Das and Srabani Nanda.
Men's 10m Air Rifle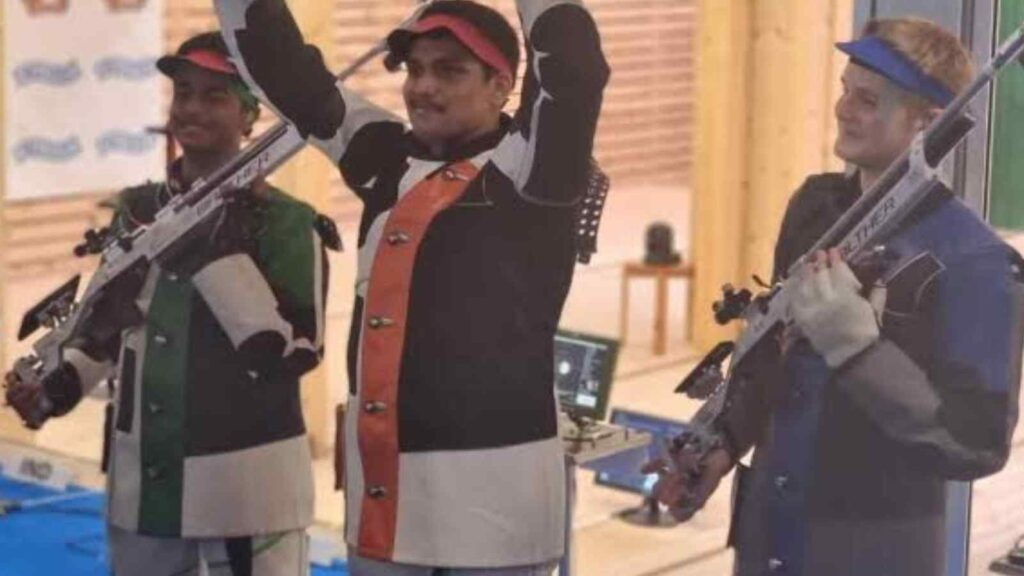 5 shooters shot more than the 2020 Olympic qualifying mark of 629.2 with 4 of them scoring more than 630. Sri Karthik Sabari Raj of Tamil Nadu shot the highest score of 632.2; the cut-off was 627.3.
The competition was won by Maharashtra's Rudrankksh Balasaheb Patil (630.7) who beat Punjab's Arjun Babuta (627.3) 17-7 in the gold medal match. Bronze went to Aishwary Pratap Singh Tomar (631.5) of Madhya Pradesh.
At the 2015 National Games in comparison, the highest qualification score was 621.5.
Women's 10m Air Rifle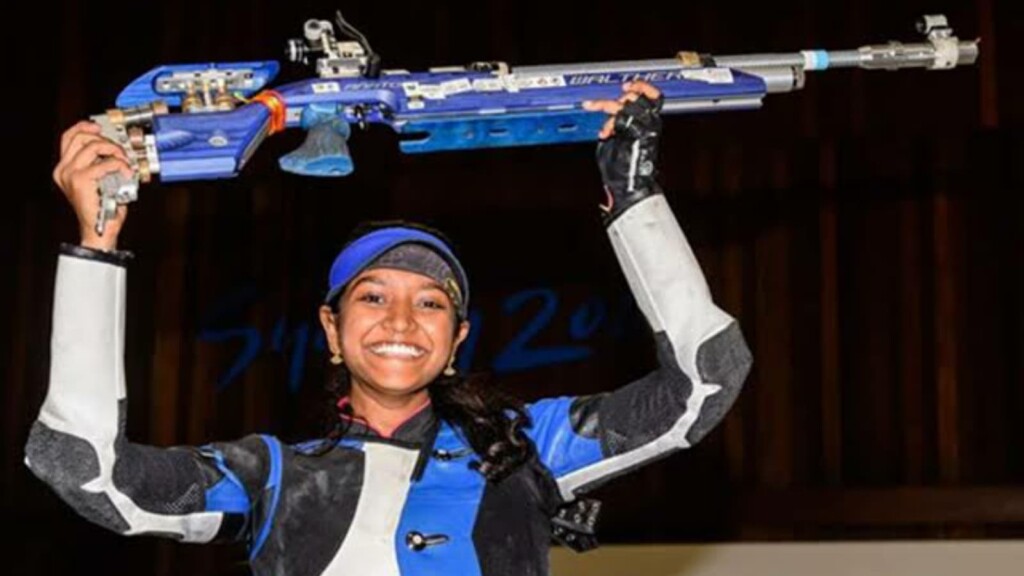 6 shooters scored more than the Tokyo 2020 qualifying mark of 628.5. Karnataka's Tilottama Sen had to settle for silver after scoring 633.6. She lost 10-16 in the gold medal match to Olympian and home favourite Elavenil Valarivan (629). West Bengal's Mehuli Ghosh (629) won bronze. The cut-off was 627.2.
The 2015 Games had a different scoring format in Women's 10m AR but the highest score then (416.7) would have roughly been about 625 today.
Men's 10m Air Pistol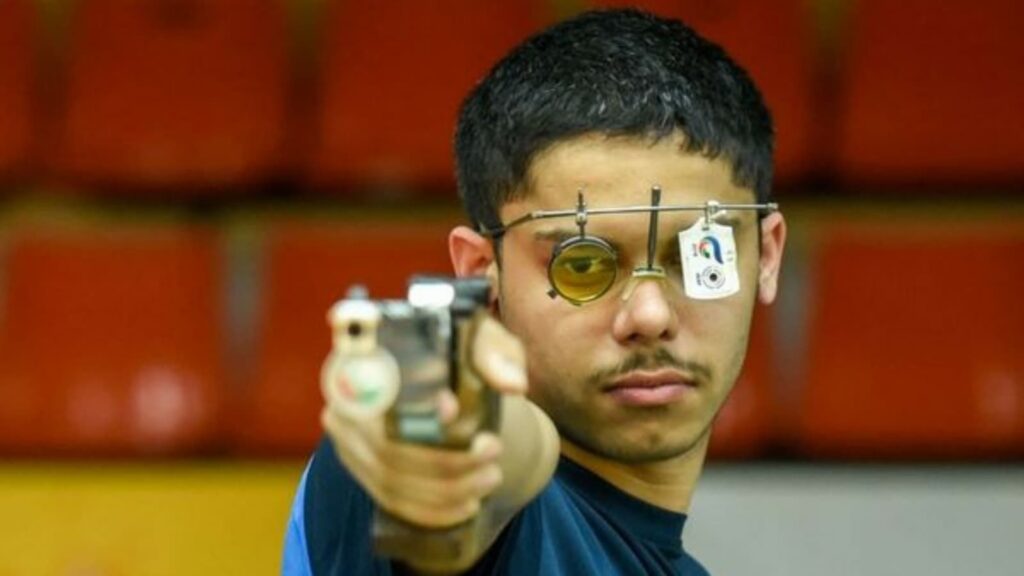 10 out of the 16 participants of the Men's 10m AP competition shot more than 580; the 2020 Olympic qualifying mark was 578-21x while in 2016 it was 580-17x. The cut-off at the 2022 National Games was 580-20x.
Shiva Narwal of Haryana scored 588-23x; he however was beaten 17-5 by Punjab's Vijayveer Sidhu (581-20x) in the gold medal match. Pardeep Kumar (580-24x) of Services won bronze.
The highest score at Kerala 2015 was 578-16x.