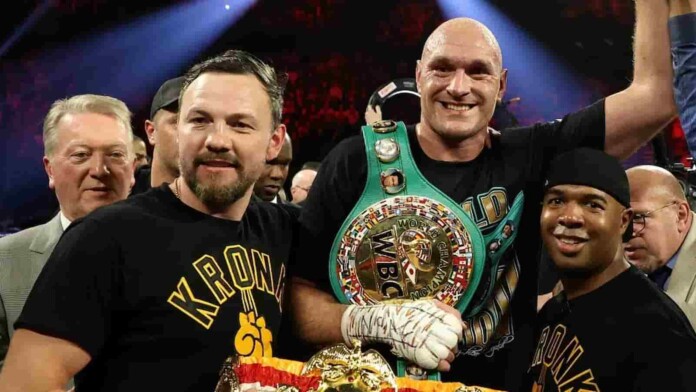 Another day, another bad news for Joshua-Fury fight. With Anthony Joshua's promoter Eddie Hearn unable to speed up things, despite trying his best, Tyson Fury and his team have threatened to pull out from the fight, since they have begun growing more and more frustrated.
Speaking to SkySports in an interview, Tyson Fury's second cousin and coach Andy Lee reiterated the same. He claimed that the end-date was February, and despite entering May, there have been no improvements. Lee revealed that the Gypsy King was just frustrated that some of the biggest promoters in sports are having to struggle so much in setting up a fight.
However, Lee later said that the fight would surely happen, but didn't know if the delay would play to Tyson Fury's advantage.
'He will be ready to unleash the fury when this fight is on' – Andy Lee
Andy Lee was quoted as saying, "He is frustrated. The end-date was February, then it was March, now we're still going on. He's very frustrated that the biggest, most powerful people in boxing (promoters Bob Arum, Eddie Hearn and all the networks) but they can't seem to get the deal done for whatever reason."
He continued, "It's inevitable that it will happen. But all this sitting around and waiting? Tyson could have fought in February or March. He's been held up by it. He does like to be active. I don't know if it's to his detriment or his benefit that this wait has happened. He will be ready to unleash the fury when this fight is on!"
Bob Arum not confident about the fight!
A few days ago Tyson Fury's promoter Bob Arum was livid with the way the negotiations had been going on. Putting the entire blame on Eddie Hearn, Arum claimed that it might even be 2022 before a location is set for the fight, before going on to say that the fight in July or August is "dead in the water".
Arum said, "It will take months for the Saudis to do their due diligence on such a huge deal. It is not just a site fee, there are ancillary demands from the Saudis stretching into the broadcast deals and other things, it could take months for it all to play out. It could even take until 2022 the way it looks right now. The fight in July or August is dead in the water as far as we are concerned. The two fighters need to go and have other fights this summer while the negotiations for that fight in the Middle East conclude." [via BadLeftHook]
Also Read : Nick Diaz's manager Kevin Mubenga puts rumors of a fight against Khamzat Chimaev to rest
Also Read : Diego Sanchez details how things escalated quickly- in his UFC release, on Instagram live