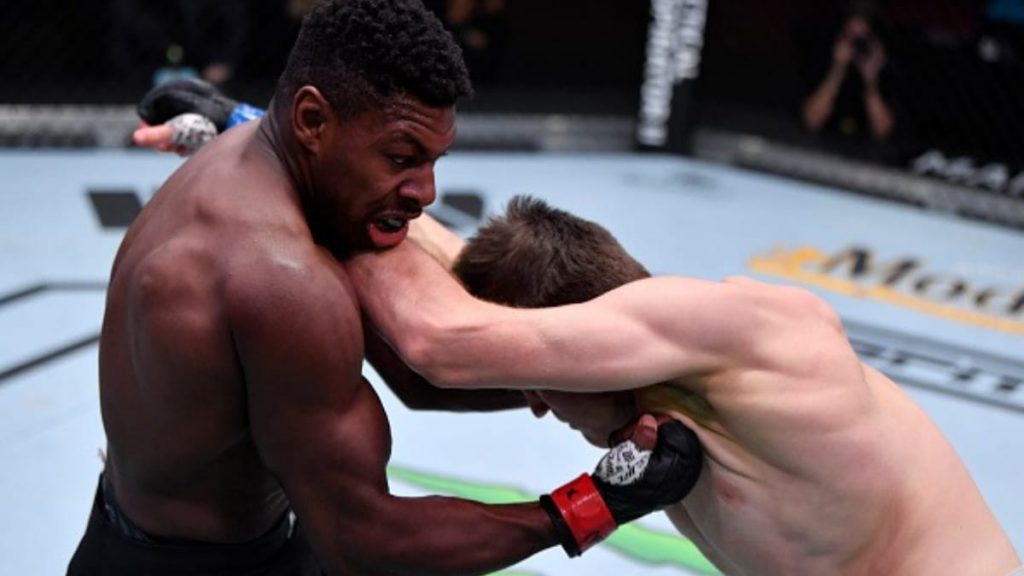 Just over a month ago, Joaquin Buckley made headlines for his incredible reverse spinning kick KO he executed on Impa Kasanganay. The highlight reel of the knockout was used by Kanye West on Twitter to promote his new track and it even reached the White House. Fresh of his victory over Impa Kasanganay, Buckley took on Jordan "The Beverly Hills Ninja" Wright producing yet another stunning performance knocking out the California based fighter in the second round with a hard left hook followed by a right.
The win knockout earned Buckley another Performance of the Night and it looks like the middleweight is back on track after back to back wins.
"When I hurt him, the referee cant' save him" – Joaquin Buckley at the post-fight interview
Joaquin Buckley has surely got the eyes of the world upon him after overpowering his last two opponents with some serious knockout power. Speaking at the post-fight interview, all Buckley had was one person in his mind!
In the post-fight interview a riled-up Buckley told Joe Rogan, "There's other dudes out there that I wanna fight. Who're talking that nonsense. And, I really wanna give it to them! Because, when I hurt him, the referee cant' save him. Y'all know who I'm talking about. Look at my name on YouTube, you'll see him! He the only person talking stuff! I don't need to give his name out. Just do your homework, you'll know who I'm talking about. I ain't gonna say his name."
Buckley was hitting back at UFC Welterweight James Krause who had claimed earlier saying, "All he does is try and hurt his training partners, all he does is fight, he doesn't want to get better, he doesn't want to learn. Right there, that rules him out for me."
Joaquin Buckley vs James Krause soon?
Also Read : Cody Garbrandt says he will knockout Deiveson Figueiredo in the first round