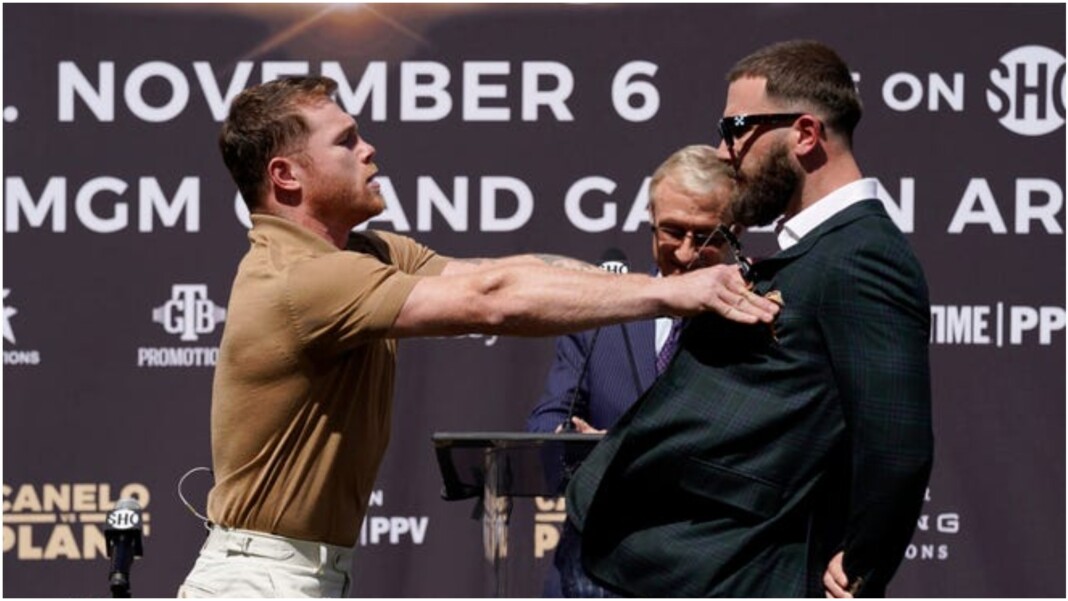 Canelo Alvarez will be out to make all the available titles his when he takes on Caleb Plant on the 6th of November, 2021. The two recently had their first press conference ahead of their fight which begins soon. In one of the most heated high-profile faceoffs in recent times, Alvarez and Plant unloaded on each other, and had to be separated by the security. Plant was left with a nasty cut below his eye.
It was Canelo Alvarez who shoved Caleb Plant initially. Then Plant landed the first punch. The incident took off from there. The reason for the same is not known, but Alvarez accused Plant of talking ill about his mother.
Plant later took to Twitter to clarify that he would never do such things as abusing someone's mother and family, also adding that professional boxers never take it that far.
"When men go off to war they leave the women and children at home" – Caleb Plant on his nasty scuffle with Canelo Alvarez
Plant's Tweet read, "You'll never hear me talk about someone's mother, kids or wife. When men go off to war they leave the women and children at home."
Alvarez is coming off a brutal TKO victory over Billy Joe Saunders. After some nasty blows from Alvarez, BJS was made to retire by his corner. His orbital bones had been shattered. That was BJS' first loss as well, in his professional Boxing career.
Plant, meanwhile is undefeated in his Boxing career, just like BJS was, before fighting Alvarez. He is coming off a unanimous decision win over Caleb Truax that saw him retain his IBF Super Middleweight Title. Plant's boxing record reads 21 wins and 0 losses.
Also Read: Everything you need to know about the Bellator 266 judging controversy – Phil Davis vs Yoel Romero
Also Read: Who was Heather Ceballos? Here's everything you need to know about the deceased UFC employee