Seems like, beyond the MMA community, Cain Velasquez has got support in other combat sports. Velasquez, the former UFC heavyweight champion of the world, was widely considered one of the greatest potentials to become an all-time great in UFC history if not for his injuries. Regardless of them, Velasquez managed to make one heck of a resume out of his MMA career as long as he was active and healthy. His wins include the likes of former UFC champions such as Junior Dos Antos, Brock Lesnar and Antonio Rodrigo Nogueira.
Velasquez is facing legal issues in his personal life lately. Velasquez was arrested on February 28, 2022, when he was found guilty of firing multiple rounds from a .40 caliber in pursuit of a vehicle carrying Harry Goularte, who was arrested and released on the charges of molestation caused to one of Velasquez's younger relatives. Goularte later pleaded not guilty but the decision only came against the recommendation of the prosecutor. Ever since then, Velasquez's hearing for bail has been pushed multiple times.
Also Read: "Goal is to be victorious" – Andy Ruiz seems confident ahead of his fight against Luis Ortiz
Alongside the MMA community, Luis Ortiz indicates subtle opposition to Cain Velasquez's arrest in Feb 2022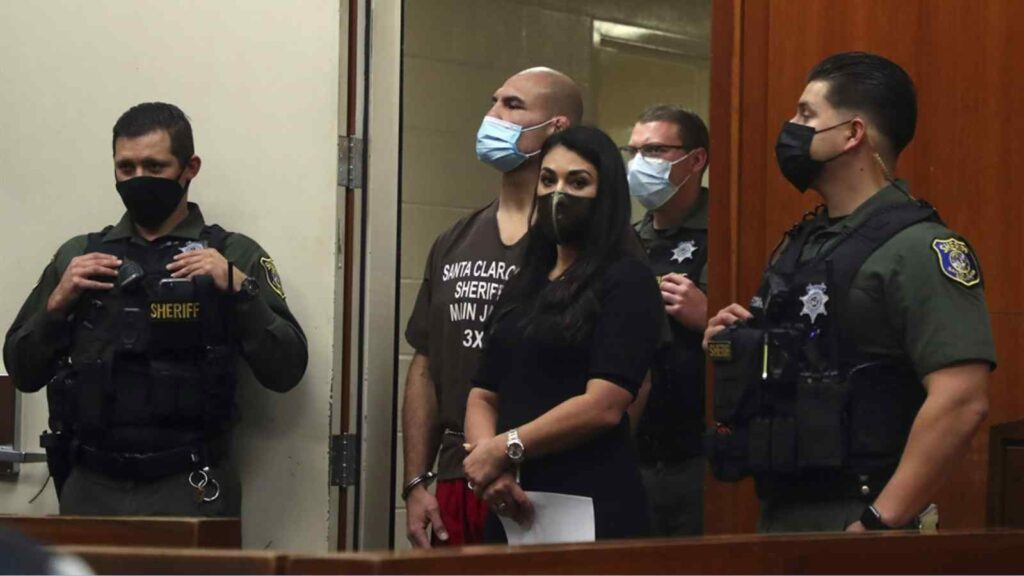 Ever since Velasquez's arrest, the whole MMA community in return has started a viral virtual campaign by the name of "Free Cain." Hashtags on Twitter have been used time again. Producers of T-shirts with "Free Cain" written in the front started donating half their profits to Velasquez's family to pay for the legal fees or just sold them only for the sake of spreading the message. One of the premier boxers of the heavyweight division was seen wearing a similar T-shirt.
Last night, boxing legend Luis Ortiz lost a hard-fought battle to Andy Ruiz in the heavyweight division via TKO in the 7th round as Ruiz got his third knockdown over Ortiz. However, 43-year-old Ortiz is nowhere close to hanging his gloves by any means, since he was winning most of the rounds throughout the fight anyway. But something else worth the attention was observed. Ortiz was seen wearing one of those aforementioned "Free Cain" T-shirts as you can look for yourself from the video below.
Also Read: How Joe Louis and Max Schmeling shattered Adolf Hitler's dream of a 1000 Year Reich in the confines of a boxing ring
What do you make of Luis Ortiz wearing the "Free Cain" wearing T-shirt? Do you believe that Velasquez is the new face of being oppressed by injustice in the legal system of the United States? It is rather a messed up situation of how things are running smoothly for the man who was bailed out against the legal recommendations but no such favours are for someone who had the right to be furious over a critical situation when Velasquez is clearly a very close associate of the victim. But firearms can turn things against you and in such cases gun laws can get a major hit back as well.
Also Read: 'I AM ON HIS SIDE' – Khamzat Chimaev chooses between superstars Conor McGregor and Nate Diaz