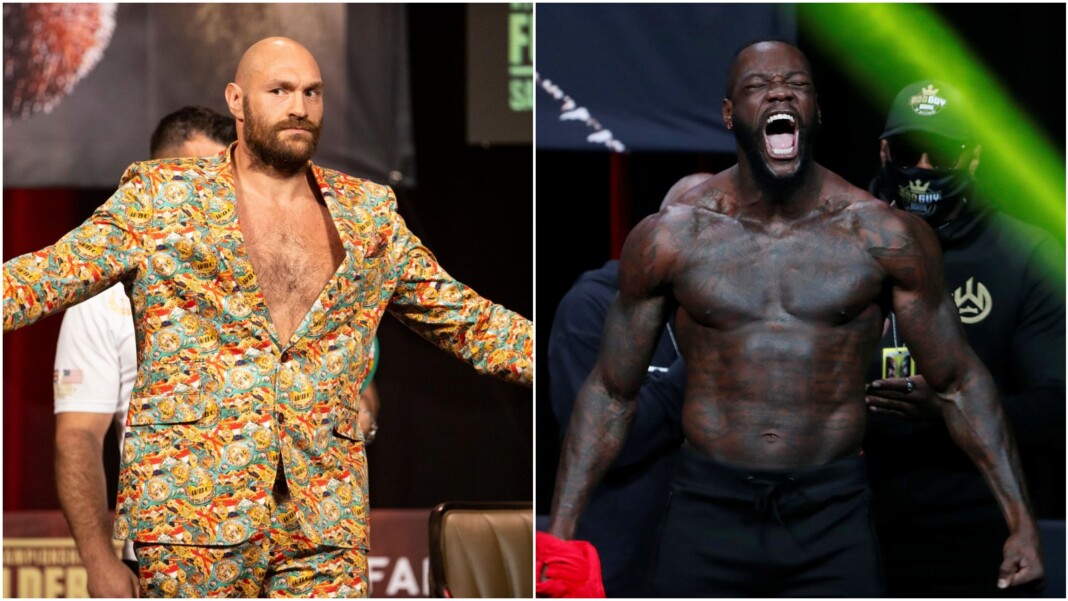 Tyson Fury vs Deontay Wilder 3 is just hours away. The heavyweights will be squaring off soon at the T-Mobile Arena in Paradise, Nevada on the 9th of October. Fury will be defending his WBC and The Ring heavyweight titles against the man from whom he won the same.
Friday night saw the weigh-ins take place with both the boxers coming in at their career-heaviest. Deontay Wilder came in at a staggering 238 pounds, with Fury almost 40 pounds heavier at 277 lbs. Wilder's previous highest was 231 pounds, and for Fury 276 pounds, in 2018.
Prior to the weigh-ins, Wilder and Tyson Fury's entourages crossed paths backstage. It was all fun and games until Wilder accused Fury of cheating after their rematch in February 2020. The bad blood is real this time, and it was pretty evident with all the hollering that went on backstage.
"You're getting knocked the spark out" – Shane Fury chimes in ahead of Tyson Fury – Deontay Wilder weigh-ins
Fury had his younger brother Shane Fury with him as well, who joined in on hurling expletives at Wilder.
Here is their small exchange backstage:
Wilder: F*ck your mom! F*ck your mom!
Fury: F*ck your mama!
Shane Fury: You piece of sh*t, you're getting knocked the spark out. You and your p*****. Bums!
With many predicting that the fight might be similar to their rematch in February 2020, Wilder hopes to prove the doubters wrong. He didn't talk much this time during the pressers, and he will also be wary of the fact that he might not get a chance at the world titles again, if he loses to 'The Gypsy King."
Also Read: UFC Vegas 38: Santos vs Walker prelims results
Also Read: Alex Oliveira net worth, MMA career, Endorsements, Girlfriend, Parents and More