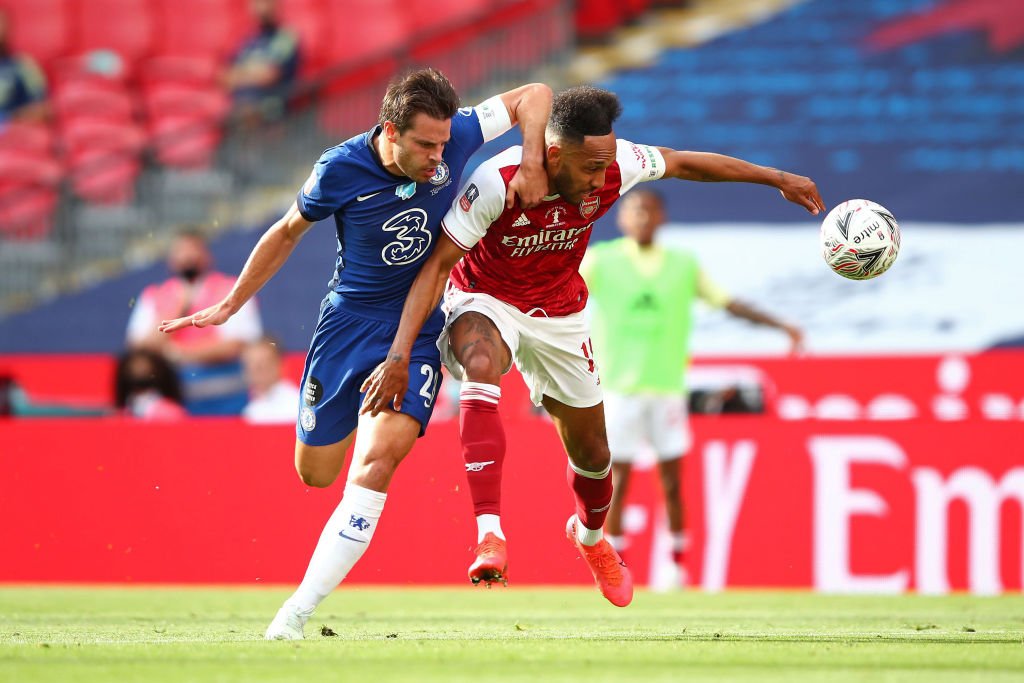 Cesar Azpilicueta voiced his frustration at the hands of the Gunners after a crushing defeat at Wembley. Since gaining a 2-1 triumph over Chelsea in Wembley, Arsenal lifted the FA Cup for a record 14th time.
Arsenal defeated 10 men Chelsea at Wembly stadium in the FA-Cup final. Pierre-Emerick Aubameyang scored twice to secure a 2-1 victory against Chelsea.
Aubameyang converted a penalty equalising the score-line after Chelsea opened the scoring through Christian Pulisic in the first half. Aubameyang was bought down in the box by Cesar Azpilicueta and referee Anthony Taylor pointed to the penalty spot.
Mateo Kovacic was sent off for a second bookable offense seconds after Arsenal took the lead in the 67th minute. Frank Lampard had his team down to ten players and the Blues were eventually unable to locate an equaliser.
Azpilicueta criticized Anthony Taylor's post-match:
Azpilicueta criticized Anthony Taylor's post-match decision-making, but also acknowledged that Chelsea had struggled to perform in the match.
"A lot of times there were 50/50s [that went in Arsenal's favour] and we had the same in 2017 [when Taylor also refereed a Chelsea-Arsenal final and gave Victor Moses a red card] but we have to look further than this," the Blues captain told the club website.
"We have to look at ourselves. We know two weeks ago when we played against Manchester United, we really controlled it. The club played our game, we were on top of them against a very good side but today we couldn't do it for 90 minutes and, in the end, that makes the difference."
"It's my first time that it's happened and it hurts a lot when that happens in a final like today," said the Spanish defender. "Sometimes it's football and it's life but it's hard to take.
Azpilicueta had to be taken off due to an injury in the 32nd minute after sustaining a blow to hamstring. Although, the Spaniard is looking to comeback stronger.
"Now we have to learn from the game, even if you always want to learn when you win and when you lift trophies rather than by losing these kinds of games. It's tough but we have the next challenges that we have to be ready for."
Azpilicueta added where Chelsea made mistakes against Arsenal:
"It's painful and a tough one to take. Obviously when you lose a final, it's always painful.
"We started the game well and scored an early goal which normally gives the confidence to build on but we didn't capitalise on it. We dropped our level a little bit and we were punished. When you score an early goal, you have control of the game. We had a couple of chances after that to make it 2-0.
"It's a final and we knew that we were playing against a side that has good attacking players and they can be dangerous. After this, we couldn't get into our game as we wished."
Also read: Wayne Rooney: 'De Bruyne plays like Steven Gerrard and Ryan Giggs'