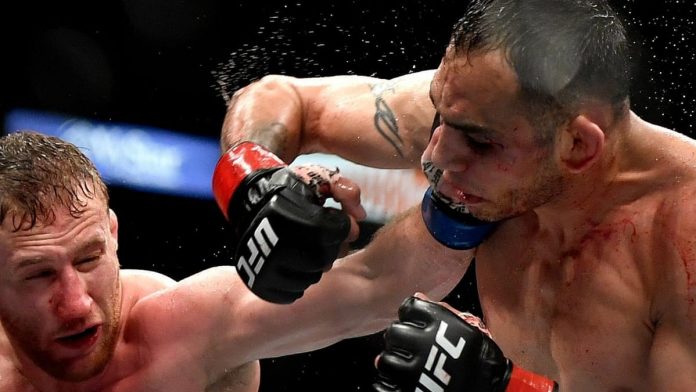 Tony Ferguson was scheduled to fight Khabib Nurmagomedov for the lightweight title, but the fight was canceled because of travel restrictions due to Covid-19.
So, Tony fought Justin Gaethje instead and got the beatdown of his life, Justin completely dominated Tony for five rounds and stopped his just as the 5th round was ending, after their fight Tony lost again to Charles Oliveira who also dominated him for three rounds.
Even after two consecutive loses Tony Ferguson's spirit is as high as it can be, he recently issued a statement regarding his last two opponents and said "I'll Give You Elite, F**Ck You @Justin Gaethje & @Charlesdobronxs You Didn't Finish Shit. Told You I'd See You Soon. Crew Much Easier To See The Targets When They Are In Front. Beyond Disciplined. New Camp, New Times-Champ-CSO- @Cervezamontejo Thisisforlaraza.
After his comment Gaethje reminded him of their last fight he said, "Charles couldn't finish you but I certainly did. Check the tape champ." Well, the statement is certainly true because Gaethje did stopped him in the fifth.
Now after this exchange it'll be interesting to see if something comes out of this or not, maybe these two can compete in a rematch.
Ferguson vs Nate Diaz next?
Tony Ferguson is looking to come back in the win column and Nate Diaz is also looking to make his comeback, Diaz announced his comeback via Twitter and Ferguson said that he is ready to face him.
If this fight would happen then a war is promised for sure and considering the fighting styles of these it'll be an interesting match-up.
Also read: "I'll give you Elite, F**k you Justin Gaethje and Charles Oliveira you didn't finish shit, told you I'd see you soon," says Tony Ferguson.