Former India cricketer Virender Sehwag is known for his hilarious comments on social media. Earlier, he came up with yet another funny tweet where he slammed Pakistani political commentator Zaid Hamid where the latter got confused over the names of former India pacer Ashish Nehra and Olympic gold medallist javelin thrower Neeraj Chopra. Sehwag answered that Nehra is preparing for the UK Prime Minister elections.
Hamid had tweeted this, "And what makes this victory, even more, sweeter is the fact that this Pakistani athlete has destroyed Indian javelin throw hero Ashish Nehra……In the last competition Ashish had defeated Arshad Nadeem…What a sweet revenge come back."
Sehwag saw the error and wasted no time to post the cutout of the tweet and commented with, " Chicha, Ashish Nehra is right now preparing for UK Prime Minister Elections. So Chill" He ended the tweet with a laughing emoji.
Check his tweet below:
The story is Pakistani javelin thrower Arshad Nadeem clinched the gold in the recently-concluded Commonwealth Games in Birmingham. His arch-rival Neeraj Chopra didn't participate due to injury but wished Nadeem after his gold at Birmingham.
"If one Sachin wasn't enough, we've got another"- Brett Lee praises Virender Sehwag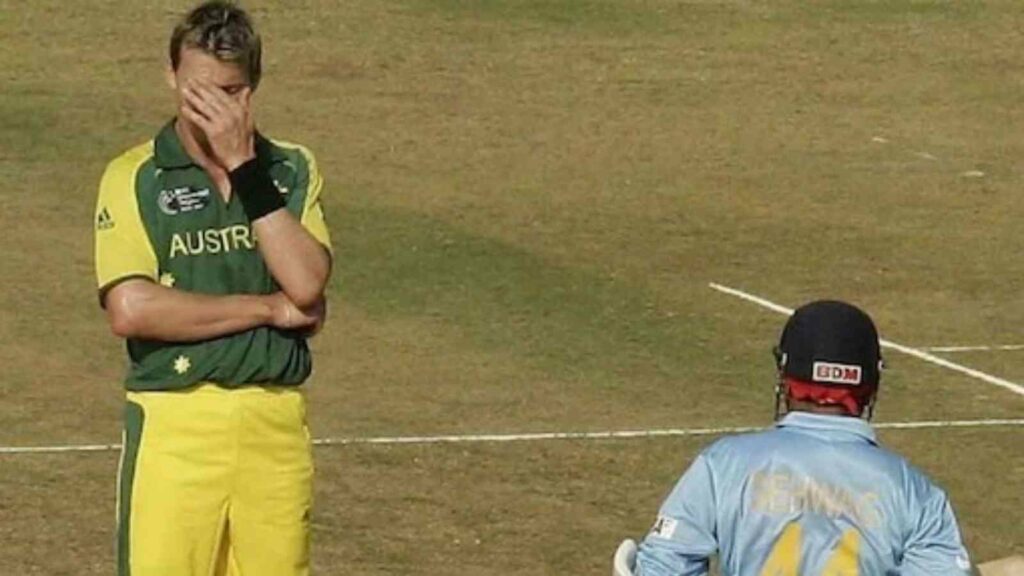 Former Australia pacer Brett Lee has praised Virender Sehwag and said that he was one of the hardest batter to bowl to. Lee was one of the fastest bowlers in the cricket history and had consistently bowled at 150 kmph or faster. His duels with Sachin Tendulkar, Jacques Kallis, Brian Lara, and Sehwag are quite popular. He considered Tendulkar the toughest batter to bowl to but Sehwag also comes to one of the toughest he had bowled to.
"The guy that looked a little bit like Sachin Tendulkar when he was batting. And I thought 'here we go again. Another Sachin Tendulkar. If one wasn't enough, we've got another one and he is opening the batting'. We in the Australian team had a ploy for Sehwag and even start the Test match with a third man, trying to suck him in to hit one down there. We tried that in an ODI match one day and he wacked it… he absolutely nailed it out of the ground. I just thought 'this guy is too good'. And he would give you that cheeky little wink. The best thing about Sehwag was that he was a character. " Lee said on his YouTube channel.
"You think of the word cruel. You think of the word swashbuckling. Think of the world unpredictable, I think of none other than Virender Sehwag. He played with a smile on his face, with intent… the type of guy that would quite likely want to hit the first ball of a Test match for six… and he has done it. He is a guy that is so hard to bowl to because, as I mentioned, the unpredictability. You would bowl that beautiful line and length, thinking, I've got him… ball shaping away. And that big smile, Sehwag would go bang, hit you over cover for six," he added.
ALSO READ | "Bigger & Stronger"- Twitter reacts as Mumbai Indians goes global; owners announce names of UAE and South Africa T20 franchises
ALSO READ | "Enjoy your break megastar"- Twitter reacts as Australia skipper Meg Lanning is set to take an indefinite break from cricket
Do follow us on: Google News | Facebook | Instagram | Twitter