Cricket is a funny game, so enjoy it. These words from Pakistan skipper Babar Azam after his team defeated and fancied South Africa in the ICC T20 World Cup match on Thursday via the Duckworth Lewis Method sums up the roller-coaster ride now in progress Down Under.
Azam, himself, has not been among the runs but ruins. Yet, as skipper of a side deflated and seemingly looking defeated, the way they bounced back on Thursday has infused life into the tournament. Rain has played a big role in this particular edition of the World T20 but that alone is not the reason Pakistan, the underdogs, won. There was bark and bite plus Babar's byte.
Pakistan scored 185 for 9 in their quota of 20 overs where Shadab Khan was the best man on view. His 52 runs of 22 balls were power-hitting at its best, decorated with three fours and four sixes. Surely, against a potent pace attack of South Africa, his batting brought to the fore what the glorious uncertainties are in rich, instant cricket.
To be sure, the bubble has burst for South Africa, temporarily. They seemed very strong via performances. Yet, what stands out in this event is how it is the day's performance that really matters. The same quickies, Kagiso Rabadda, Wayne Parnell, Lungi Ngidi, and Anrich Nortje looked prosaic in the proceedings. After all, the strength of the South African has been potent pace.
In Sydney, when there was a possibility of rain, Pakistan did well to put on so many runs. The reply from South Africa was meek, to start with. Temba Bavuma did sparkle with a 36, but that was not enough to chase such a huge total. What was needed was solid and fiery innings from Quinton de Kock and Rilee Rossouw. Both faltered. From there began the problems for South Africa. Once there was a rain break, it was going to hurt the favorites on paper, South Africa.
The DLS (Duckworth Lewis System) is a pretty nonsensical methodology. However, despite caustic criticism from many over the years, it has stayed in vogue. The revised target for South Africa was 75 off five overs, which was virtually impossible. Pakistan deserves full marks for making a comeback in this match, where Shadab again sparkled with two wickets.
On this day, there were many errors committed by the Proteas, where spilled catches also were glaring. At the end of Thursday night (Australia time), this ICC World Cup exposed many vulnerabilities and brought to the front uncertainties as well in all the teams. No team is now undefeated, which throws upon so many semi-final match-up possibilities.
Related – 'This is called selfishness' – Gautam Gambhir tears apart captain Babar Azam
India versus Zimbabwe match assumes great significance in the ICC T20 World Cup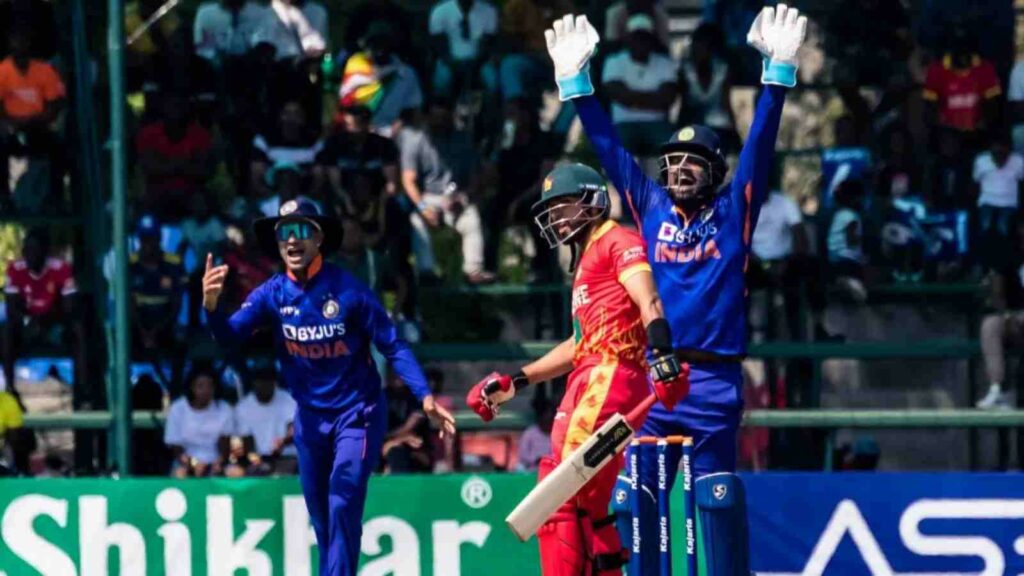 The last set of league matches is going to be a delight. It will determine which teams make the semi-finals from the two pools. New Zealand versus Ireland, Australia versus Afghanistan, England versus Sri Lanka, South Africa versus the Netherlands, Pakistan versus Bangladesh, and India versus Zimbabwe, all these matches are of significance over the next three days. On paper, you may have favorites but the way Pakistan came back today was a revelation.
In a way it is good the tournament is wide open. From an Indian point of view, the last match against Zimbabwe will be vital. A stage has been reached where no team can take it for granted. This uncertainty level at a high end is good. If not, the importance of the last set of league matches becomes diminished.
Also read – Nurul Hasan likely to be sanctioned for criticizing match officials on Virat Kohli's 'fake fielding' matter
For those who think rain is a spoilsport, minus showers, too, South Africa would have lost today. The Law of averages catching up or one blip before the big stage, all that can act as a catalyst. As regards Babar Azam's words that cricket is a funny game, he may also shape up from here on with his batting. After all, you can compare the lack of runs from his blade with that of Team India captain Rohit Sharma.
To say that the leadership table has been prised open in both Pools would not be an understatement. Sport loves the underdog and the T20 format is filled with glorious uncertainties. Pakistan was praying for India to beat South Africa the other day. India failed. Now, they have themselves shown that beating SA is possible. Congrats, Men in Green.
Also read – Know all about one of India's unsung hero – Sidearm thrower 'Raghu Raghavendraa'