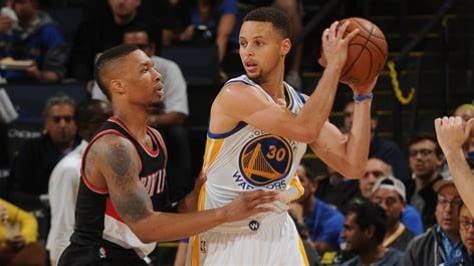 Damian Lillard continues to charm as he scores 10 points in crunch time for Trail Blazers in their latest encounter against Golden State Warriors. Lillard and Carmelo Anthony both scored 22 points each, to maintain a close gap throughout the game against Stephen Curry's Warriors. With just over 13 seconds remaining, Lillard scored a clutch shot from downtown to make Portland Trail Blazers lead over Golden State Warriors.
Stephen Curry led the Warriors with 35 points. His 3-pointer gave Golden State a 101-96 lead with 3:57 remaining. After a 3 by Lillard tied it 103-all, Draymond Green's 3 put the Warriors in front with 1:43 to go. Lillard made free throws to get Portland within a point, then hit a 29-footer to give the Blazers a 108-106 lead with 13.7 seconds left. He took a charge from Green, which prompted an unsuccessful challenge by Golden State. 
Damian Lillard forges Dame-Time as he leads Trail Blazers past Warriors 108-106
The Warriors took a 15-2 lead on Green's layup. Portland chipped away, tying the game at 26 before the end of the opening quarter on Rodney Hood's 3-pointer. Curry had 16 points in the period and 23 for the half.
After this victory, the Trail Blazers have now won their second straight, leaving behind a streak of 4 losing games. All eyes were on the matchup between Lillard and Curry, who are among the NBA's top scorers. Lillard went into the game ranked third in the league with 29.6 points per game, just ahead of Curry at 29.5. Washington guard Bradley Beal tops the list with 32.9.
The Warriors were without Kelly Oubre Jr. because of a sprained wrist. Oubre, who is averaging 15.5 points and 5.9 rebounds per game, was injured in practice yesterday.
Going into the All-Star break, this win would've surely kept the momentum going for the winner.
Also Read: Joel Embiid and Tobias Harris lead 76ers to victory in OT…