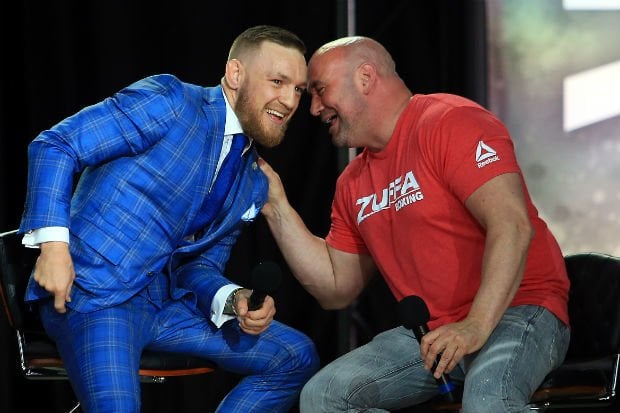 The much awaited date for the Conor McGregor vs Dustin Poirier fight has finally been fixed. According to UFC President Dana White, the date for the clash is Jan 23, 2021. The MMA world went hysteric when Conor and Dustin agreed to fight in a charity exhibition match, with the money made from the fight going directly to Dustin Poirier's foundation. But then, UFC intervened saying that the fight can happen on UFC 'grounds'. Conor too stated that he had accepted the offer made by UFC, but on one condition – the fight should happen at either UFC 255 or UFC 256.
Dana White, recently shed more light on the same. Speaking to ESPN, Dana White confirmed that the fight can only be held in the beginning of 2021 and not 2020, according to Conor's will.
"It's a yes or no answer" – Dana White
In an interview with ESPN's Brett Okamoto, Dana was quoted as saying, "We offered him a fight. We got him his own date. We didn't have a date this year. We have everything laid out for this year, with world champions fighting for titles. He wants to fight Dustin Poirier apparently, so we went to ESPN and got him his own date. He's been offered Dustin Poirier on Jan. It's a yes or no answer."
Dana White also said that he had no clue why Conor McGregor is so hell bent on fighting before 2021. When asked if any of the fights scheduled for either UFC 255 or UFC 256 can be rescheduled to meet Conor's requirements, Dana White replied, "That's not how it works. We laid out this year. He was retired. Would anybody disagree he was retired? Through this crazy pandemic year we're going through, we faced a lot of challenges. There were a lot of things done to make this thing work. We made it happen. We have our schedule laid out. Fighters have committed to it. Fighters have started training for these fights. Conor came back and wants to fight Dustin, so we went out and got him his own date. It's Jan. 23."
It is to be noted that Conor has also set his sights on a boxing bout against the great Manny Pacquiao. In fact, Conor even stated that he took up the Dustin fight because Dustin too was a southpaw like Manny. But, no one has a clue about when the fight will be taking place!
Also Read: Joaquin Buckley has Kanye West's attention!