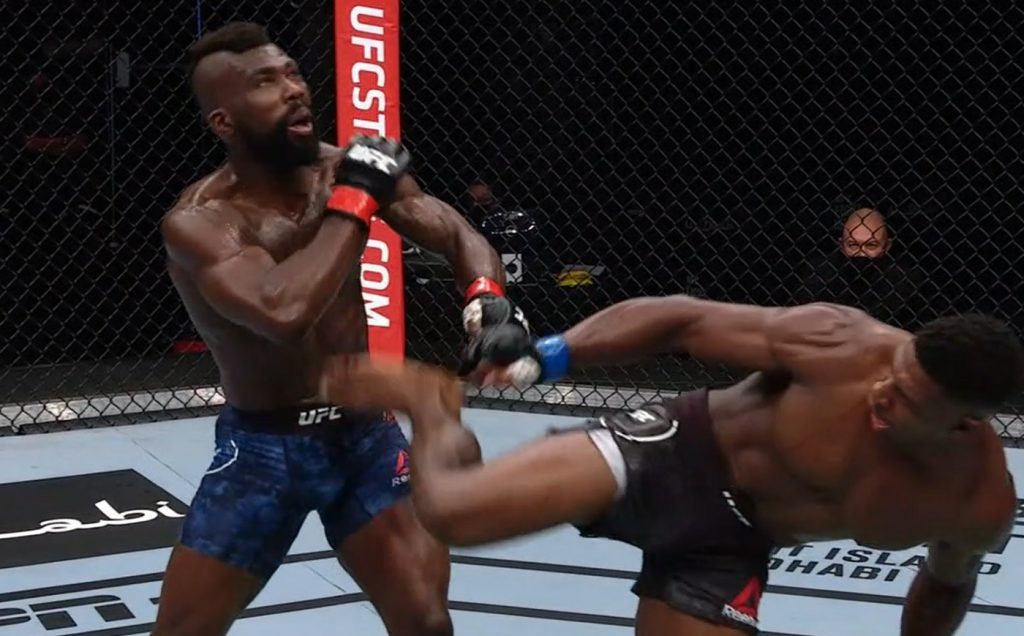 It has been one hell of a week for Joaquin Buckley. His reverse spinning kick KO on Impa Kasanganay, recently at UFC Fight Island 5 has got the whole world talking. Many consider it as the greatest ever KO in UFC history, with the knockout also earning Buckley a massive 50000 US dollars as performance of the night bonus.
The "most unbelievable KO" is going even more places, with billionaire singer Kanye West using the highlight to promote his new track. The video of Buckley knocking the lights out on Kasanganay is featured in a loop throughout the video which runs for roughly 140 seconds. A scene from "Star Wars" also makes a minuscule cameo in the video.
"THE WHOLE TEAM IS SO ENERGIZED THAT I HAD TO RELEASE THEME MUSIC" – Kanye West
Kanye West has been super-busy of late, since he is running as a candidate for the Presidential Election in the US. He has been actively promoting black equality, also stating that only a handful of black people are CEOs of top companies. Kanye discusses about his presidential run as a candidate and his contract dispute with the Universal Music Group, in his song. The song titled NAH NAH NAH – basically a freestyle, was released on twitter with Kanye captioning it, "THE WHOLE TEAM IS SO ENERGIZED THAT I HAD TO RELEASE THEME MUSIC NAH NAH NAH." It has been retweeted a staggering 19.6k times and it is safe to say that Buckley's highlight reel has definitely played its part in promoting the new track.
As for Buckley, he must be a proud lad, as his knockout still continues to take the world by storm. The brawny fighter from Missouri will be looking to carry forward, the same energy and momentum in his upcoming fights.
Also Read: Brian Ortega on his hiatus from the UFC