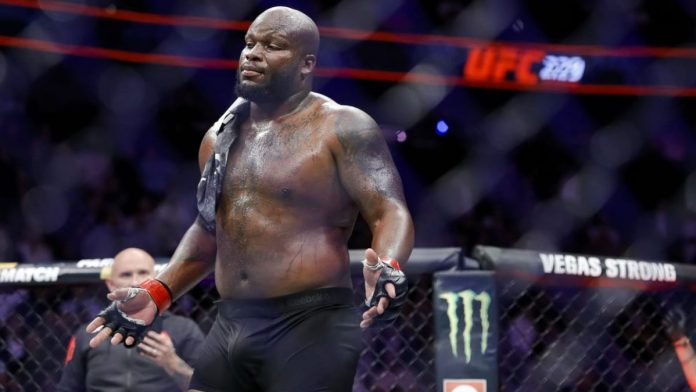 Derrick Lewis has begun climbing his way back to the top of the heavyweight division ladder. The Black Beast recently defeated Curtis Blaydes via. a second-round devastating KO. The victory saw the 36-year old American move to number 2 in the heavyweight division rankings. Although he believes that he can have one last go at the title, just like he had already challenged once for it against Daniel Cormier, in 2018, he right now wants just to make money, since he feels age is catching up with him.
Speaking in the recent episode of the Joe Rogan experience, Derrick Lewis spoke about his willingness to fight anyone who's ready. He also hinted at a possible rematch against number 1 ranked heavyweight contender Francis Ngannou, against whom he won in 2018.
'I'm not young like I used to be'
Derrick Lewis was quoted as saying, "Right now, we're just trying to renegotiate the contract and see where it goes from there. For me, I want to stay active. I don't want to be waiting around to fight anyone. I'm not young like I used to [be]. So I don't want to wait around and fight for the title, or wait around to fight a certain opponent. So I'm willing to fight anyone who's ready."
Speaking about the comparisons of the recently concluded heavyweight match between Ciryl Gane and Jairzinho Rozenstruik to his own fight against Francis Ngannou, Lewis said, "I started getting tagged in the fight [on social media], only because they were saying that [Gane vs. Rozenstruik] still wasn't worse than Francis and Lewis fight. I'm like, 'Damn. OK. Sh*t.'"
He finally said, "I know my window of time is closing … to make money," he said. "I don't have that much time left, so I just want to make money, not just sit around and wait."
Francis Ngannou is currently just a few days away from his rematch against Stipe Miocic. He will be looking forward to getting his hands on the title. Although, the winner of the match will be fighting Jon Jones, according to UFC President Dana White, it would be hard to overlook the surging Derrick Lewis.
What are your thoughts on this?
Also Read : Is it high time that the UFC changed their gloves?