Dortmund vs SC Freiburg: Dortund faces Freiburg at the in Matchday 19 of Bundesliga.
An enthralling game as the wall of Yellow and Black runs riot at home. Dortmund came out guns blazing and it did not take them long to grab a lead as Thomas Meunier scored in just 14 minutes to put his team ahead and doubled their lead shortly after as he scored a first-half brace. It looked like Freiburg had held on well when Erling Haaland further increased the deficit by scoring just on the cusp of half-time. Freiburg did well to pull one goal back courtesy of Demirovic, but a second goal by Haaland took all wind out of their sails as Dahoud scored again for Dortmund to close the show at 5-1.
Let's have a look at the player ratings for the Dortmund Vs Freiburg Player match:
Dortmund vs SC Freiburg Player Ratings
Dortmund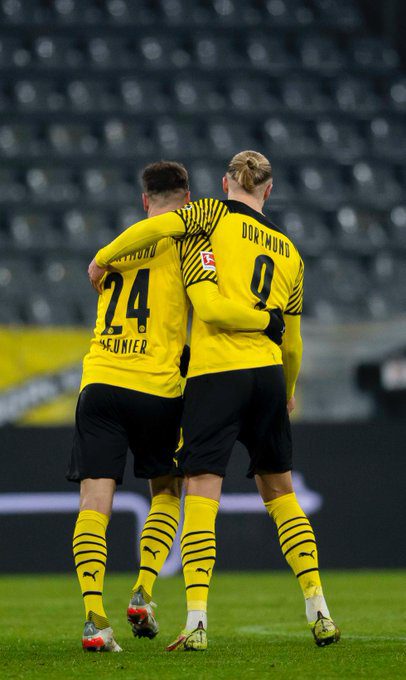 Gregor Kobel (6.6/10): Gregor did a good job with his decent Goalkeeping for Dortmund. He failed to earn a clean sheet as Freiburg attackers pulled only 1 goal past him.
Raphael Gurreirio (5.9/10): Gurreirio maintained a decent flow with his good defending skills and later on he was subbed at the 71st minute of the game.
Emre Can (5.9/10): Emre Can maintain a decent flow in the first half of the game but he was right after the first minute of the second half.
Mats Hummels (6.2/10): Mats Hummels was really well today with his defending, he gave a great effort with good coordination and gave great support to midfield too.
Thomas Meunier (9.0/10): Meunier had a great game tonightl. He scored a brace in the first 15 minutes of the game and he covered both defence and attacking areas in a really Excellent way
Mahmoud Dahoud (9.2/10): Dahoud really played well during the whole game. He provide an assist to Haaland in the 75th minute and also scored a top corner in the last minutes of the game.
Julian Brandt (7.9/10): Brandt moved up midfield area instead of Center Back today, he fulfilled the role much better today as he gave two assists in the game both of them from the corner and both goals were scored by Meunier.
Jude Bellingham (7.4/10): Jude headed into the attack trying to create space in the wing. He couldn't convert a goal but he provided an assist to Haaland by helping him to score his first goal of the game.
Marco Reus (7.2/10): The Dortmund captain had his chances in attack today not being able to convert the goal but he will be very happy with the team's performance.
Donyell Malen (7.2/10): Brandt just loves scoring against Hertha. He ran his way into the gap and placed the ball beautifully in the nets. He had another good game today.
Erling Haaland (5.9/10): Haaland was great in the attack he was struggling hard first but in the second half he scored two goals and raised the score sheet to 4-1. He had an Excellent game tonight and was at his level best.
Substitutions:
T. Hazard (6/10): Hazard was involved well in the attack after entering. He had a good run overall and contributed well.
Nico Schulz (5.9/10): He didn't make much of a difference after entering the field, but he gave a good assist to Dahoud.
M.Wolf (6.0/10): N/A
SC Freiburg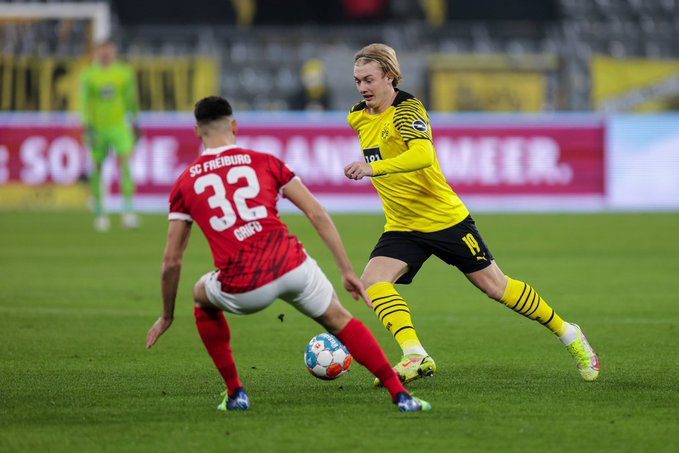 Benjamin Uphoff (6.3/10): The Freiberg keeper was ready for saves but he was not successful he really had a bad night. Dortmund still scored 5 goals past him
Manuel Gulde (6.0/10): Pekarik covered up well in defence in the first half. He looked troubled up and was really exhausted.
Philip Lienhart (7.3/10): He was one of the best players to be seen in the defence but tonight he wasn't able to stop important blocks stopping the attackers from entering the box.
Christian Günter (6.2/10): He had a decent game today. He made some important clearances in the goal-line but failed to stop Dortmund to score.
Lukas Kübler (5.6/10): He ran his way into the wing gathering up some helpful crosses when needed. He was good to be seen providing support to the wing.
Vicenzo Grifo (5.7/10): Darida made a crucial assist in making a passing rhythm alongside. He played a decent part covering the midfield but was not helpful to the attackers.
Nicolas Hofler ( 5..4/10): Hofler made some important tackles stopping Haaland in the mid-area only. He gave a good overall performance in the midfield
Janik Haberer (5.9/10): Harberer tried to strike hist goal for Freiburg but it was not successfull. Even his continuous attempts didn't provide him with the desired result.
Roland Sallai (5.9/10): Roland created some good attacking throughout the game. He went for an early shot just with the start of the game giving trouble to Dortmund.
Lucas Holer (5.8/10): Holer was really looking helpless in this game he was finding a way out to score but didn't manage to score one.
Woo-Yeong Jeong (6.7/10): Yeong Jeong didn't surprise at all in the first half so he was subbed in the second half too early
Substitutions:
Kevin Schade (5.3/10): He didn't make much of a difference after entering the field. he covered the team well though.
Demirovic (5.5/10): He covered the wing well entering in place of Yeong Jeong. He managed to score the first goal for his team which was a deflection from Goalkeeper.
Yainnik Keitel(5.3/10): N/A
ALSO READ: https://firstsportz.com/brighton-vs-crystal-palace-player-ratings/