The M13B is an S-tier weapon in Call of Duty Modern Warfare 2 and Warzone 2. It is a hard-hitting assault rifle which has high damage and a decent firing rate along with mid recoil. This gun is ideal for mid-range combats. M13B is one of the weapons in the game with a relatively fast time-to-kill.
The M13B can be obtained by killing the chemist AI boss inside a radiation zone in the DMZ mode and successfully extracting with it. It can also be purchased in the store. Once the player obtains the gun level it up quickly and unlock all the attachments.
M13B is already stacked with high damage and all the players need to do is optimize its ADS time and recoil control. Here is the perfect loadout and class setup for the M13B:
Related: How To Unlock The M13B in DMZ in Call of Duty Warzone 2.0
Best M13B loadout in Call of Duty Modern Warfare 2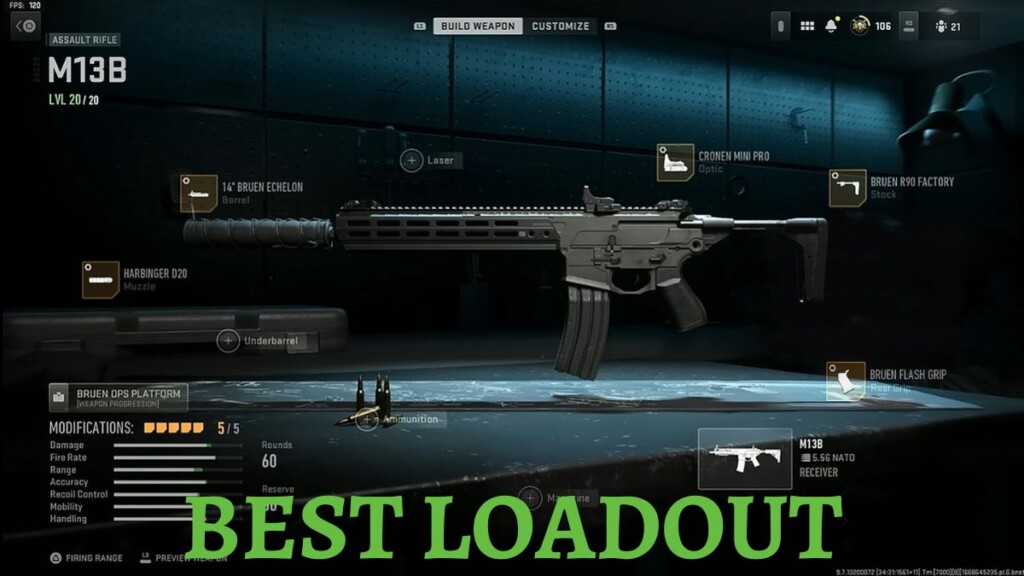 Here is the best loadout for M13B to make it the perfect assault rifle:
Barrel: 14″ Bruen Echelon
Muzzle: Harbinger D20 or Sakin Tread-40 or Echoless 80
Optic: Cronen Mini Pro
Rear Grip: Bruen Flash Grip
Stock: Bruen R90 Factory
Underbarrel: FTAC Ripper 56
Ammunition: 5.56 High Velocity
This custom build will make the perfect M13B. These attachments will help in recoil stability and increase damage and range. This gun will rarely miss its target after tuning the attachments for better recoil stability and the players will have the ideal mid-range gun. This gun will be capable of taking down enemies in 2 or 3 bullets thanks to the muzzle and rear grip. Choosing the optics depends highly on the player's game style. All these attachments need to be tuned to recoil steadiness and damage range or ADS speed and walking speed.
Here is the unstoppable class setup for the M13B:
Secondary: Player's choice
Tactical: Flash Grenade or stim
Lethal: Semtex
Perk 1: Double Time
Perk 2: Bomb Squad
Bonus Perk: Focus
Ultimate Perk: Quick Fix
Field Upgrade: Dead Silence
The M13B is undoubtedly the most versatile gun in MW2 and WZ2. It perfectly suits any gameplay style with its high damage and easy-to-control recoil. This custom build focuses on tuning the gun for better damage range and low recoil.
In case you missed it!