Fortnite is Epic Games' most successful title ever. This game came out as a totally unique edition to the battle royal shooter genre. The game's animated graphics make it a title not just limited to the older age groups but younger ones too. Also, Fortnite is the only game in the battle royale genre that involves active crafting & building. Furthermore, the sheer uniqueness of the in-game mechanics of Fortnite has baffled players to date. And that's not all.
This game has a wide selection of game modes that players can choose from. From casual play to the competitive arena mode and even creative maps, the game modes just don't run out. Recently, for the first time since its release, the game has finally launched a proper Ranked mode and a diverse Ranking system!
Fortnite previously just had a Battle Royale game mode that people used to play to increase their character level. Epic Games released the first game mode that included a division system in Fortnite on December 6, 2018, and then revamped it on August 1, 2019. It was the only competitive game mode till Patch 24.40 replaced it. Now for the first time in 7 years since the game's release, the game has introduced a formal ranking system and a ranked mode. This new mode and system introduced are very diverse too.
The new ranked system is similar to other games in the competitive shooter genre. There's an MMR system, multiple divisions in different ranks, and other features. Devs have released this mode for both the Battle Royale mode and the Zero Build Mode. Players have had loads of fun finally playing Fortnite to grind for ranks. Let's know everything new in this new in-game system.
Related: How to unlock Coldest Circles Quest Pack for free in Fortnite
Fortnite's Ranked Mode Specifications, Rewards & Tournaments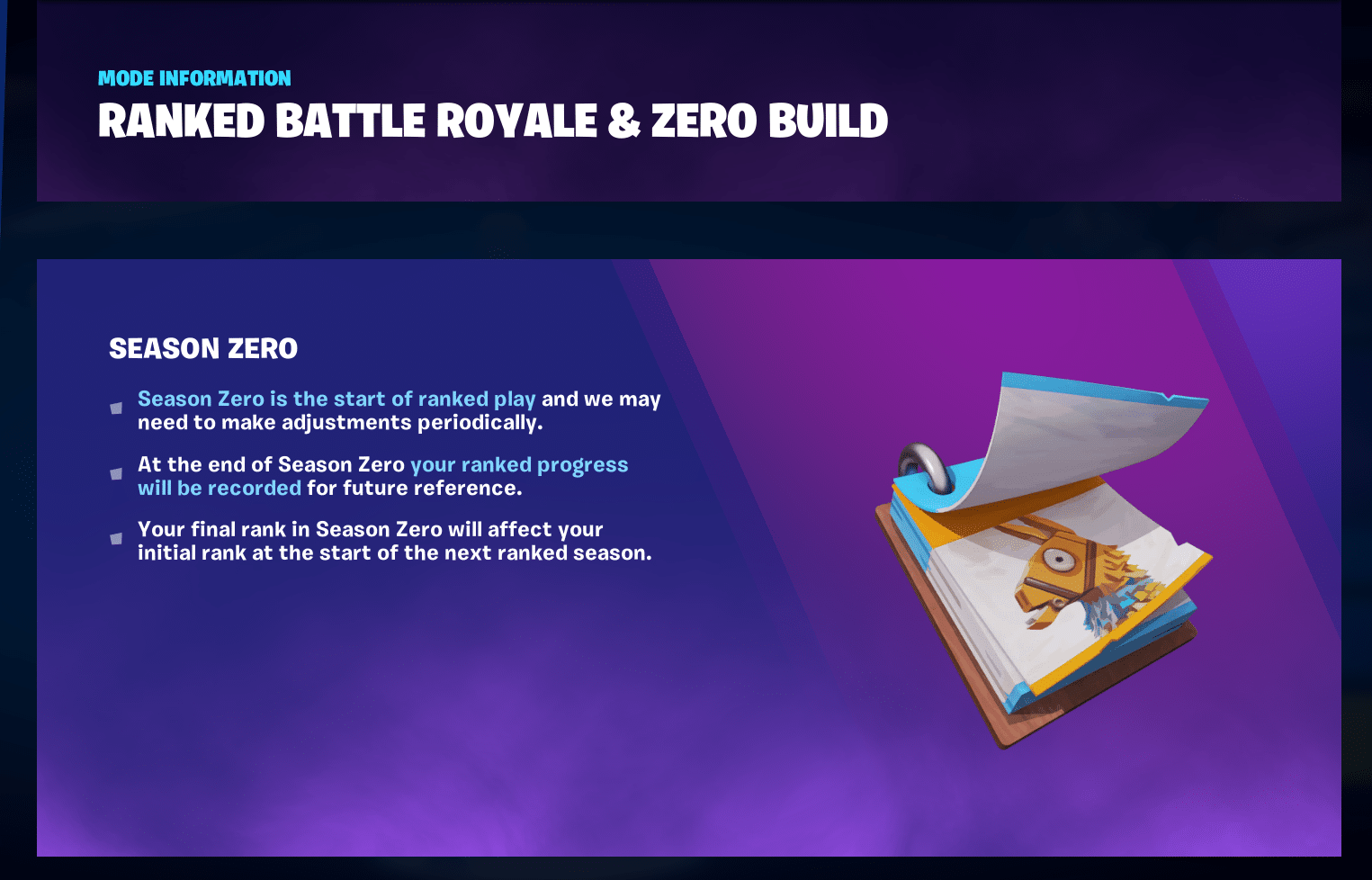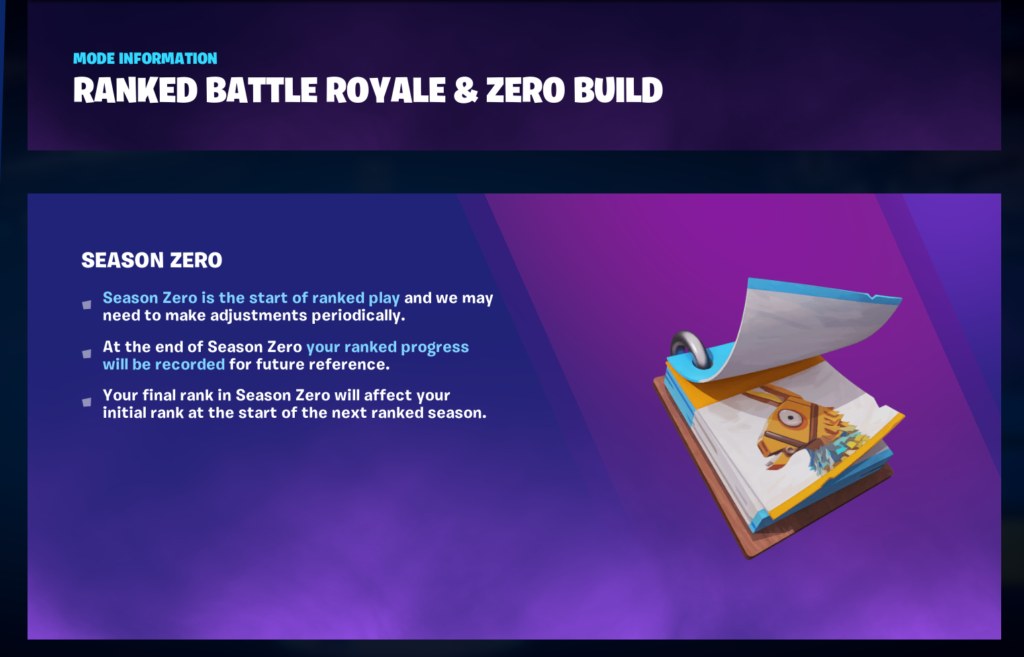 Fortnite has launched the new Ranked play as season 0. The devs labeled this as a test to sort out any bugs that players encounter during matches. This mode is available for both Battle Royale and Zero Build Mode. The game has an intensive ranked play system. There are certain ways by which players can earn MMR Points:
By damaging Players in-game
By eliminating Players in-game
Winning the game mode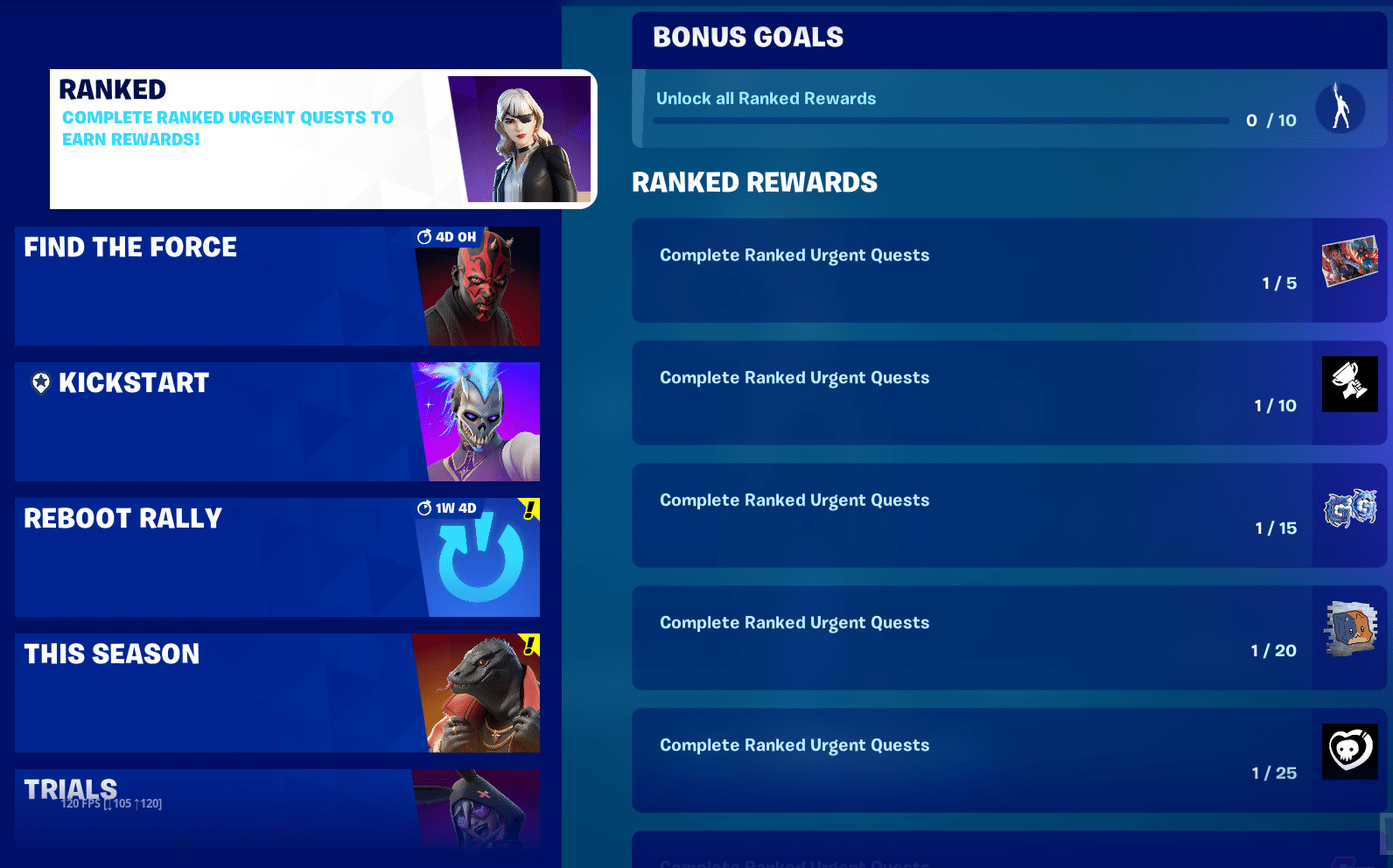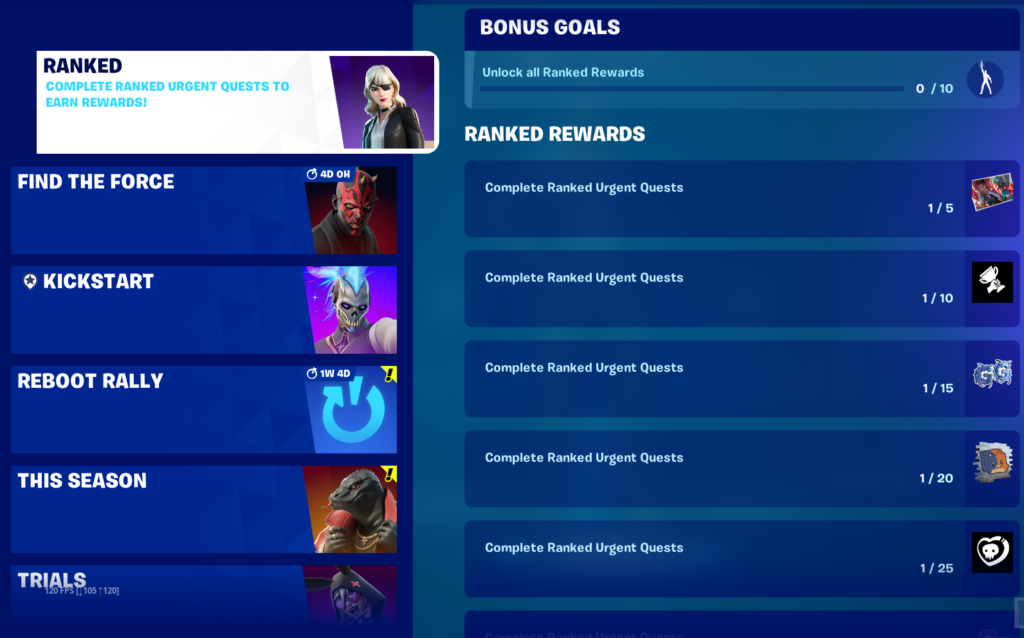 Furthermore, the ranked mode has a lot of really good rewards associated with it. Players can play the mode to avail of these rewards. Furthermore, these rewards are granted through Ranked Urgent Quests which are generated the moment players go into the ranked matches. From players cards to decals and emotes, to character skins, players can win all these by playing the new Ranked plays.
Also, as players go up through the ranks, they unlock more tournaments. Players can compete in these tournaments to test their skills and gain exclusive tournament rewards. Tournaments are based on an eligibility rating. So, players should raise their ranks if they want to participate in tournaments with a higher rank requirement. Tournaments that require players to have a high rank have better rewards than the tournaments on lower stages. So, to get better rewards, players need to grind for higher ranks!
Fortnite's Ranking System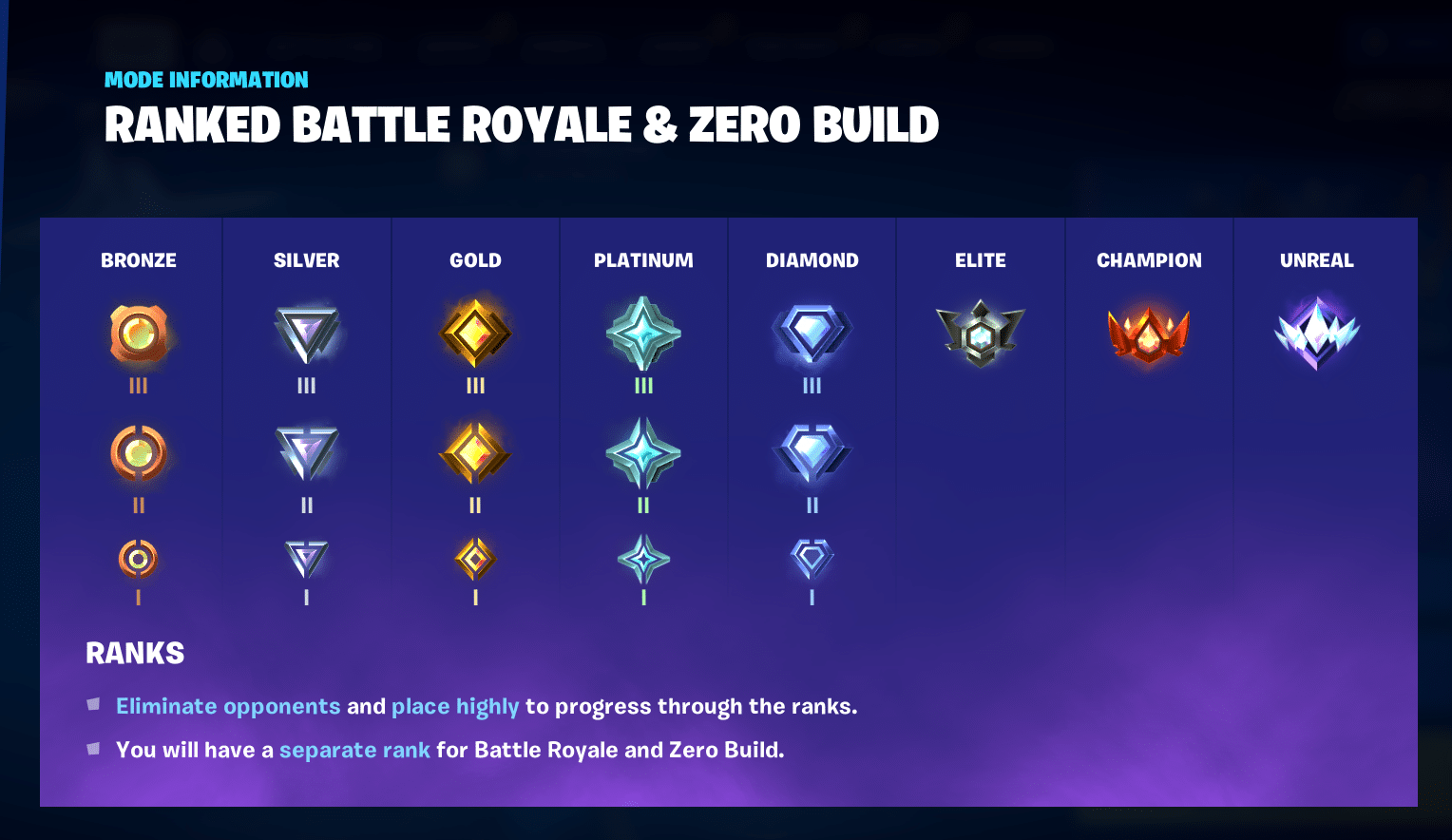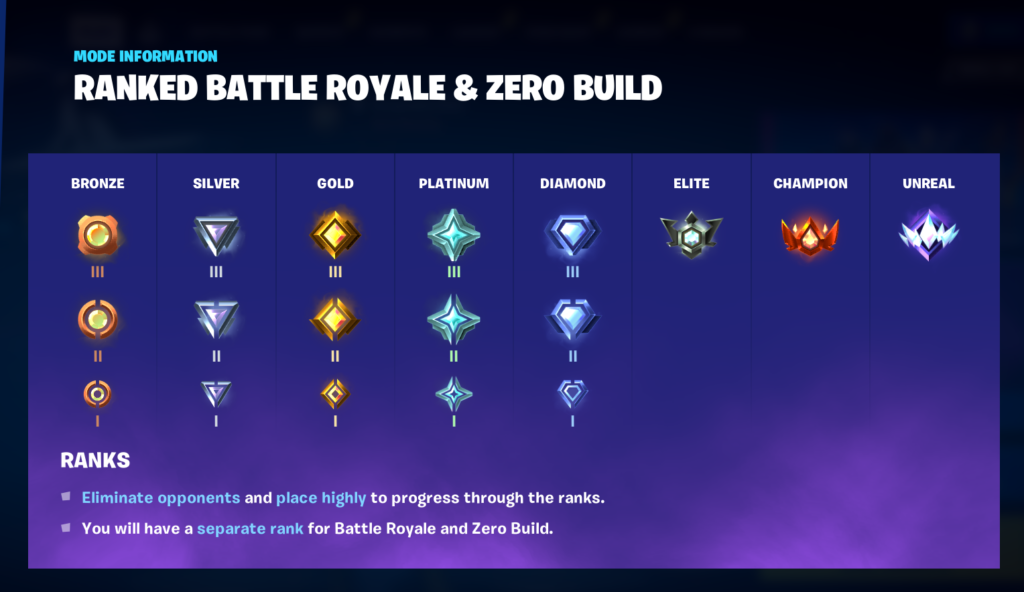 Fortnite's Ranking system is very diverse. There are 8 different ranks that players can grind through. Also, from the rank category of Bronze to Diamond, there are 3 divisions within each rank. Other competitive games like Valorant, CSGO, Rainbow Six: Siege, etc., inspired this system. The lowest rank is Bronze, leading all the way to Fortnite's unique rank, the Unreal Rank. Players can earn these ranks by following the criteria laid out by the devs.
To ascend through each rank, players need to earn 100% progression. This new progression system is inspired by the MMR system from other competitive games. Players can earn these progression points by playing the ranked plays and eliminating other players in-game. Eliminating players in the ranked plays is worth more than damaging them. Also, this is to note that the amount of progression earned and lost by teammates are the same. Furthermore, while matchmaking in a party, the game lobby is based on the players with the highest rank in the party. Moreover, the ranks for both the Battle Royale mode and the Zero Build mode are different. So, players can earn two different ranks by playing both modes.
As of right now, Fortnite has launched the ranking system as a sort of test to see what potential bugs there are. The patch 24.40 that this system was a part of released a lot of stuff. From a Spider-verse crossover to the new ranking system and also some balance changes. The new ranked mode is fun to play with either friends or solo, and players need to grind to ascend through higher ranks. Overall, it's a really good addition to Fortnite that has left players in awe.
In case you missed it: