IShowSpeed is one of the most well-known streamers at the moment, with 27 million subscribers across all three of his YouTube channels. The subscription base of the streamer has been growing significantly. After being released from the hospital following a trip to Japan due to a medical issue, Speed's main YouTube channel reached over 20 million subscribers. However, his recent "IShowMeat" controversy doesn't seem to be leaving the streamer alone. Even Caleb Pressley brought up this topic again during a recent interview with Speed.
It all started when he started streaming the terrifying video game "Five Nights at Freddy's." He had a jump scare at one point, which caused him to jump out of his chair and go bonkers. Spead experienced a wardrobe malfunction as a result, which caused him to break YouTube's terms of service. YouTube did not ban him, so there were no repercussions from the platform.
Moreover, after this incident, the streamer was famous throughout the internet. Even Speed's father reacted to the "IShowMeat" incident. And this time, the topic came up during the Caleb Pressley interview.
Related: Watch: IShowSpeed gets his fan SUSPENDED from school, later gives $500 to student's mother to apologize
IShowSpeed opens up about the IShowMeat incident during an interview with Caleb Pressley
Speed has involved himself in many dramas and controversies. Some willingly and some unwillingly. His banter with KSI and other popular content creators is quite famous. Furthermore, the IShowMeat incident that occurred a while back was definitely something the streamer didn't expect would happen and had taken over the internet. Now that the heat's considerably down, Caleb Pressley brought this topic up again during a YouTube interview with the streamer!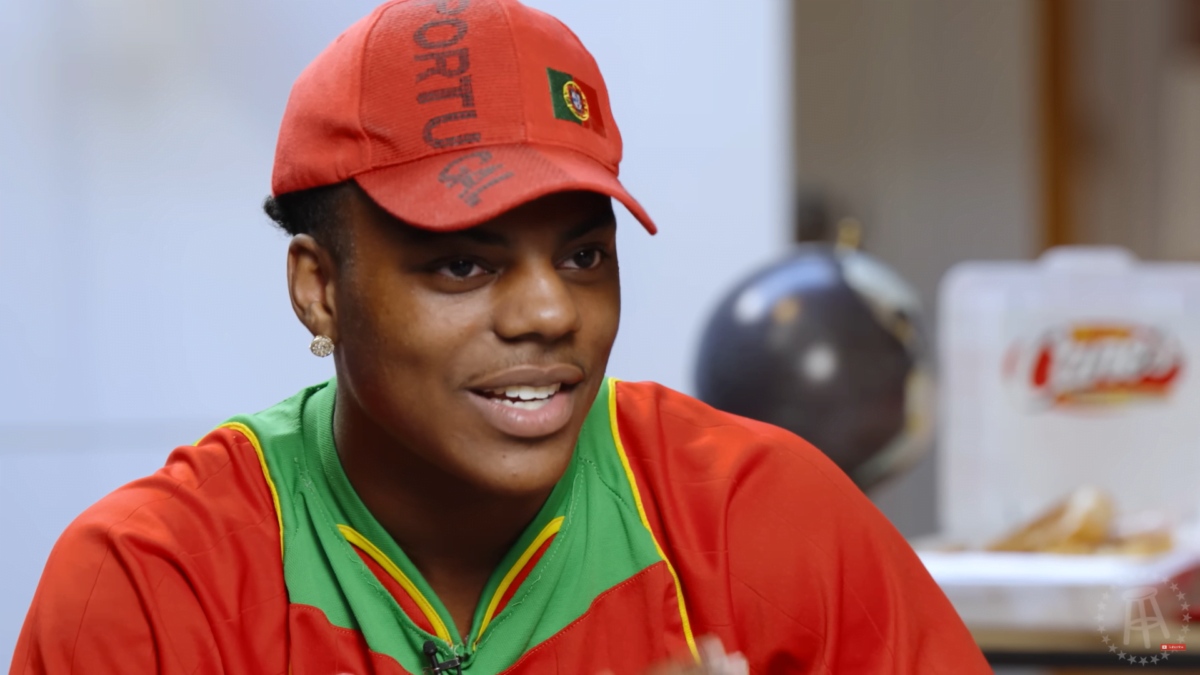 There was a lot said in the interview; however, the IShowMeat incident was definitely the highlight of it all. Moreover, Caleb Pressley is known to trap his interviewers and trolly with them. And that's what he did to Speed during the YouTube interview.
The conversation between the two went on like:
Caleb: Is streaming scary?
IShowSpeed: Yeah, it can be.
Caleb: 'Cause you can say the wrong thing–
IShowSpeed: Yeah! You're done. Anything can happen. Lotta things, yeah. It can happen!
Caleb: You could show the "wrong thing".
IShowSpeed: Yeah You can..
Caleb: Has anything like that ever happen to you?
IShowSpeed: Something yeah— Yeah!
Caleb: When you accidently flashed on camera, was it on purpose?
IShowSpeed: No it was not on purpose. Do you think I would flash my—
Caleb: I said "accidently"!
IShowSpeed: Yeah, you said was it on purpose—
Caleb: But I said "when you acciedently did it."
IShowSpeed: Okay, you did say that.. Okay, my fault!
Caleb: So was it on purpose?
IShowSpeed: You just— You just said "when I accidently showed my p*nis was it on purpose?"
Caleb: Right!
IShowSpeed: It was an accident.
Caleb: Okay.
IShowSpeed: Yeah, that was a hard time for me, you know?
Caleb: It was hard?
IShowSpeed: Yeah— GODDAMNIT!!! It was a "hard time" for me!
This entire conversation was really funny, and fans enjoyed Caleb trolling IShowSpeed a lot. The IShowMeat incident has yet to be forgotten on the internet, and fans find one way or the other to troll Speed hilariously.
In case you missed it: