Bradley Martyn has taken the internet by storm in recent times. The gigantic 260-pound bodybuilder has been one of the most relevant YouTube bodybuilding gurus for the longest time. However, recently he had been making headlines as he claimed he could beat professional boxers like Devin Haney and UFC fighters like Demetrious Johnson in a street fight.
The humorous incident had raised a lot of buzz from the combat sports community. At the same time, many others found it humorous as the phrase "I'm 260 though" had become a sensational meme. However, many have been keen on seeing how the 260-pound athletic giant would do in a fight. It became a bit clear to such fans as Bradley had a light sparring session with popular influencer Sneako.
The recently released footage saw a rough 1 minute of both influencers taking it on each other with boxing gloves on. With no head gear, Sneako at estimated 140 pounds went toe-to-toe with Bradley Martyn. Neither of them have backgrounds in boxing, however, the interesting footage saw the 260 pound bodybuilder knockout Sneako and even chirped his tooth during the spar.
Related: "Boys will be boys," Sneako defends his young fans for shouting sexist and homophobic comments on IRL livestream
Bradley Martyn knocks Sneako down in a boxing sparring session
Even before the fight had begun, Bradley seemed locked in. The Rumble streamer even made a joke saying, "Yo stop looking at me like that bro. He's looking like he's about to go hunt". In fact, Sneako might have spoken his words into existence as the 1-minute sparring session did not end well for Sneako. As soon as they began, Sneako's long-ranged jabs did not get Bradley.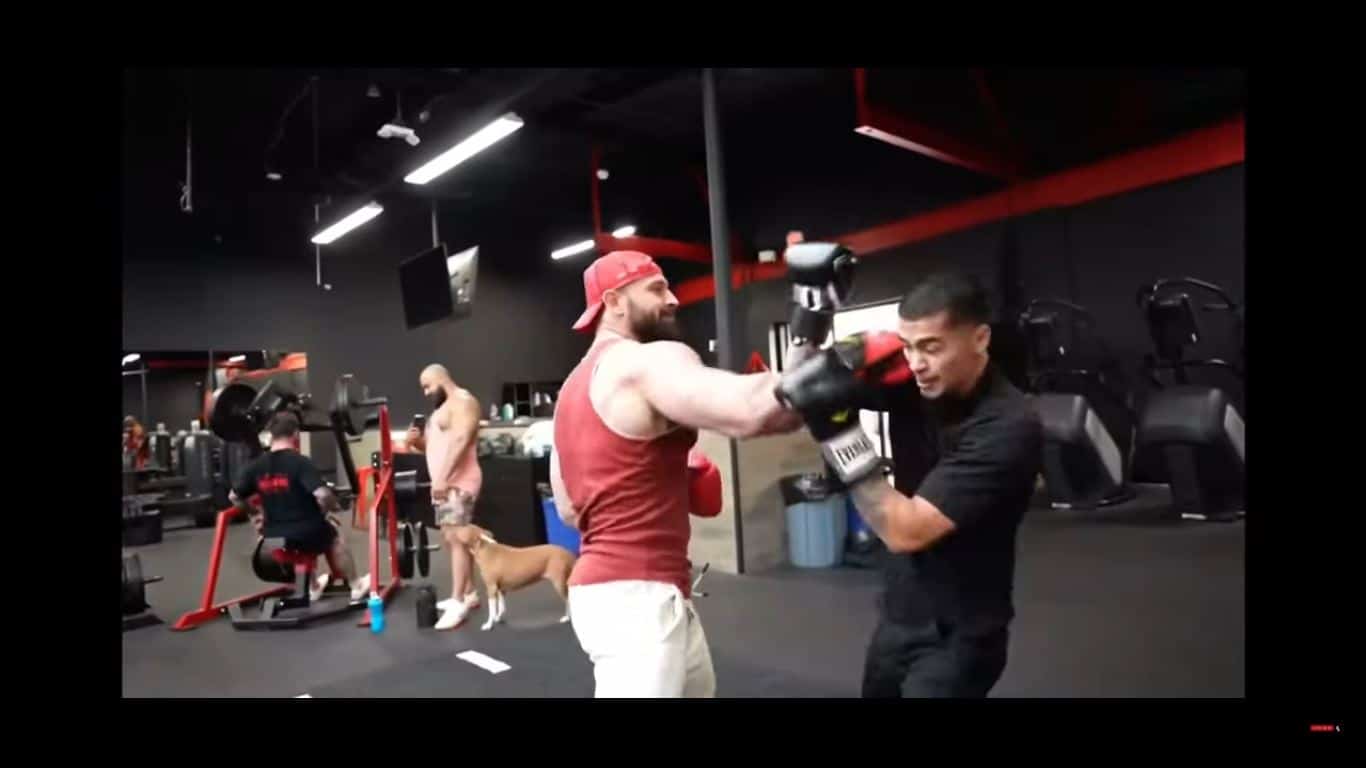 Just after, Bradley followed through with about 10 jabs, all getting Sneako clean in the face before he chirped out his tooth. Sneako still tried with his jabs, however, Bradley would land first almost every time and eventually knocked him down with a body shot. However, fair play to Sneako for taking those punches and continuing despite fighting at a massive 120-pound disadvantage.
Many netizens however are throwing shots at Bradley Martyn following the sparring footage. Despite already having received a wavering number of hate from the MMA and boxing community, this just added fuel to them. Netizens deem this to be embarrassing as the 260-pound bodybuilder had a 120-pound disadvantage and still 'needed 20 shots to take Sneako down'.
In case you missed it: