Day in and out, the countries associated with the premier governing body of football are protesting for their rights amidst the ongoing FIFA World Cup in Qatar. The Footballing nations have been denied their wish to support the LGBTQ+ community and oppose the treatment of the marginalized community in Qatar. FIFA has prohibited the teams from using the "one love" armband or the "Rainbow flag" in protest, threatening them with sporting sanctions.
Countries such as Denmark, Germany, and England faced several issues before the kickoff of their games. Recent reports suggest that Denmark has had a dialogue with the European nations regarding the UEFA Organization in terms of leaving FIFA, as they were denied wearing the One-love armband. A German minister was, however, spotted sitting next to the FIFA President wearing the same armband during their match.
While lining up for their fixture with Japan, the German side made a gesture with their mouths covered with their hands, as if they were being silenced, which is somewhat exactly what the country was feeling at the World Cup. Some of the English legends such as Roy Keane with Alex Scott were also spotted wearing the armband in the stands.
It all started after Qatar's harsh laws against the other minority gender groups were accepted by the apex organization, and no different color shirts and armbands were allowed after that. Belgium was also denied entry if they wore the same jersey, with Collars with the word "Love" written all over it. The countries have been silenced enough and now have joined hands to dialogue with the supreme body or are threatening to quit it.
READ MORE: Naomi Osaka hilariously responds to trolls following Japan's victory over Germany at the FIFA World Cup
FIFA: A Corrupt organization?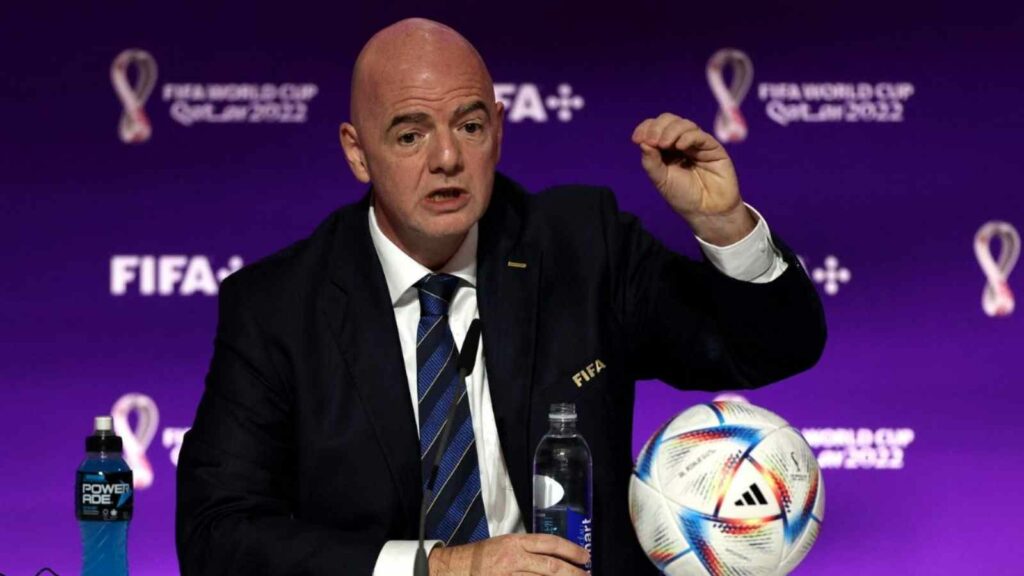 The FIFA organization for World football is not as Saint as it looks, there are some dangerous and extremely criminal minds behind it, playing that bigger games. In the last decade or so, the body has been subjected to huge risk, following a 201 million dollar seizing of their forfeited funds.
It has been widely criticized that the governing bodies of World football have been bribed involving influential officials to gift the World Cups to Russia in 2018 and now Qatar in 2022. For their own good, be it the USA magazines or the UK or even the Spanish, none has left the news alone.
ALSO READ: "No protest without risk"- Iran Wright wants football teams to continue their support to LGBTQIA+ community despite Qatar's sanctions at 2022 FIFA World Cup
ALSO READ: "Did any of them release gas?"- Fans react to Germany's unique protest while taking the team Photo in the 2022 FIFA World Cup opener against Japan