Often termed the "special one", Jose Mourinho's phone lock screen contains visuals of him being portrayed as a Roman emperor on a throne holding trophies. This was revealed during an interview after Jose's club AS Roma secured their place in the finals of the UEFA Europa League. They defeated German club Bayern Leverkusen with an aggregate of 1-0 in the semi-finals.
In the interview, Jose showed the classic "arrogant" Mourinho when he showed off his wallpaper in which he was featured holding the UEFA Conference League trophy. The picture was reportedly depicting Mourinho's first season in Italy's capital during which he won the Conference League. His club defeated the Dutch club Feyenoord Rotterdam with a scoreline of 1-0 in the final.
Mourinho is again at the doorstep of success as his team is again in another European championship final. He might just be tempted to have another trophy in his already so-long list of achievements.
Roma are set to face Spanish side Sevilla. Sevilla reportedly beat Italian giants Juventus with an aggregate of 3-2. Jose's side reportedly got a chance to repeat last season's success in another European competition. The final of the UEL is scheduled for June 1, 2023, at the Puskas Arena which is in Budapest, Hungary.
In case you missed:
Renowned Argentine Journalist joins the list of stars fed up with Wanda Nara and Mauro Icardi, calls both of them 'toxic'
"Protected by our father and faith," Cristiano Ronaldo's sister defends her mother and CR7 amid 'black magic' allegations
Fans give a mixed reaction as Jose shows off his Roman Emperor look in the wallpaper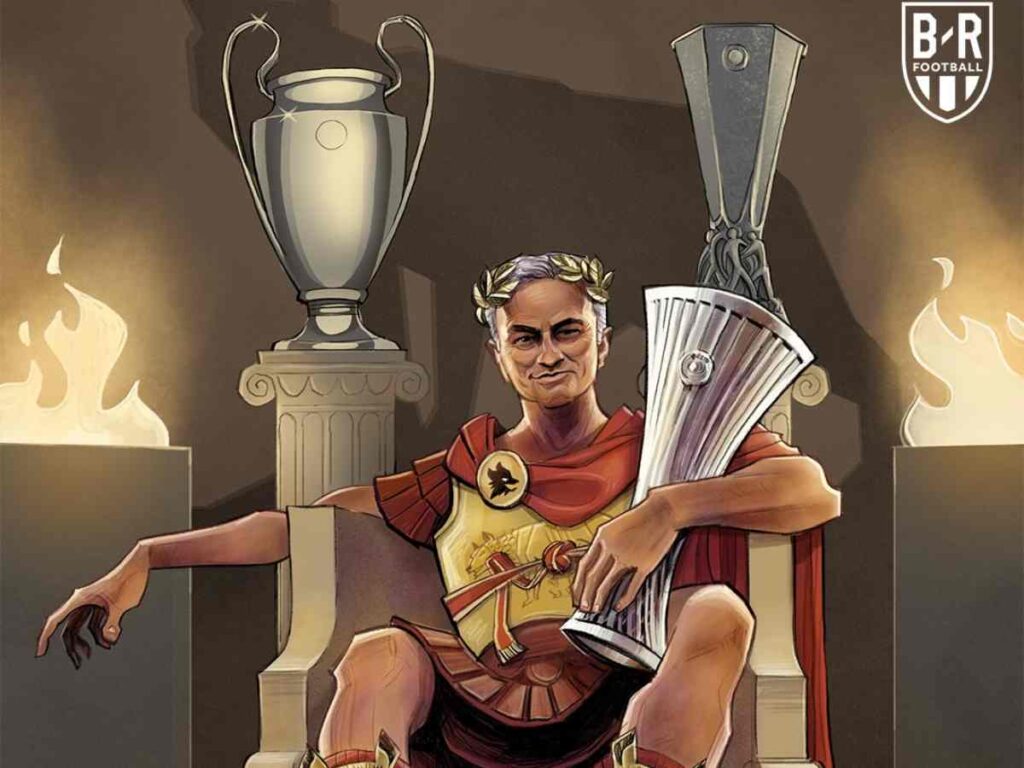 Fans have shown a mixed reaction after the interview where Jose Mourinho showed his "Roman Emperor" avatar. On one side many fans have been happy and all laughing about it. While another group of fans have reportedly been annoyed by this act of Mourinho.
Many fans took it to social media to post their opinions. One fan wrote, "The special sh*t". While another fan wrote, "I just love him for the pure vibes". And a third fan wrote, "Guardiola owns this haramball merchant".
Related news
Joana Sanz and her friends receive death threats on social media following divorce from Dani Alves
WATCH: Cristiano Ronaldo's partner Georgina Rodriguez spotted vibing on Shakira's song 'Acróstico' along with her kids