A 10-year-old tweet of Manchester City was doing the rounds on Wednesday as the fans trolled the team in the wake of their financial fair play investigation. The tweet was a live commentary of Aguero's famous goal in the 2011-12 season against QPR which won Manchester City its first Premier League. 
The final matchday of the season has gone down as one of the best season deciders of all time. Going into the match Manchester City lead their rivals by just a goal difference at the top of the league. If Manchester United did not win by an eight-goal margin, matching United's goal would assure City their first title. 
How it went down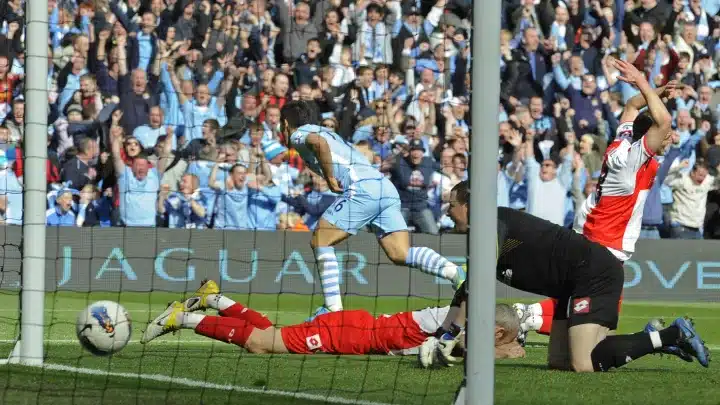 After a first half where both halves of Manchester led their opponents, QPR drew level early in the second half. None but Joleon Lescott was to blame for the goal. This meant that Manchester United occupied the perch. 
However, after a strange Joey Barton challenge that got him sent off, Manchester City had almost 35 minutes to find a second goal to claim the title. Things went from bad to worse for the Cityzens after they conceded a second goal from the counter.
With just four of the five extra minutes left on the clock and Manchester United firmly on top, the frenzy that changed the landscape of English football took place. Edin Dzeko rose highest from a David Silva corner and equalised for City. And then, in the 95th minute and with the last kick of the ball, Sergio Aguero danced his way through the QPR backline and thundered it into the net, a thunder that echoed deep into the heart of the Theatre of Dreams. A thunder that announced the rise of the "noisy neighbours". Manchester City were the champions of England.
In case you missed it: Qatar Sports Investment group ready to bid £4.5 billion for Manchester United: Reports
Why are the fans spamming the post?
What was a moment of nostalgia for the club supporters might turn into a moment of a nightmare as the club is on the verge of facing a huge sanction. An investigation that started back in 2018 has alleged the defending champions of committing financial fraud. If proven, City can face a wide array of punishments. These range from financial penalties, points deductions to a probable expulsion from the league and getting stripped of the championship medals won during this time. 
So taking the opportunity to troll the club, fans of rival clubs decided to have some fun at the club's expense. One fan chose to post a gif of a referee listening to the VAR official to insinuate the cancellation of the trophy.
Some other fans referred to "Fergie time" to come and snatch the title away from their hands. Some other fans also tagged the "Remind me" bot to set a reminder for them to come back after the verdict is delivered. 
Here are some of the funniest tweets
Related News:
Qatar Sports Investment group ready to bid £4.5 billion for Manchester United: Reports
"Dinho 2.0?"- Fans bloom after Ronaldinho's 17-year-son signs for FC Barcelona