Former Manchester United defender Paul Parker has fired shots against ex-United player Jesse Lingard and believes that the midfielder should apologize to Manchester United fans after the reception he got at the time of his substitution in the match last night at Old Trafford. This was the first time Lingard was back on the ground and he finally received his long-awaited emotional farewell from the United fans.
Paul Parker believed that Lingard was never a good player at United and that he had to be released by the club someday or the other. He claimed that the midfielder's behavior towards the club was not at all great. He told BonusBetCodes, "Jesse Lingard wasn't disrespected at all at Man United, and for him to say that is wrong. He is a local boy, and now he is disrespecting the club instead of looking himself in the mirror."
He added, "Jesse wasn't good enough to play for Man United, and he needs to acknowledge that instead of coming up with accusations about the club. To talk about politics as the reason why he was a failure is rubbish. One day, he will hopefully be mature enough to see that he disrespected the club by putting this in the newspaper and then should apologize to the club and the fans,".
Related Stories: "I want the best player in the world to stay," When Ronald Koeman insisted on Lionel Messi's Barcelona contract renewal before transfer blunder
How did the match fare out for Jesse Lingard last night?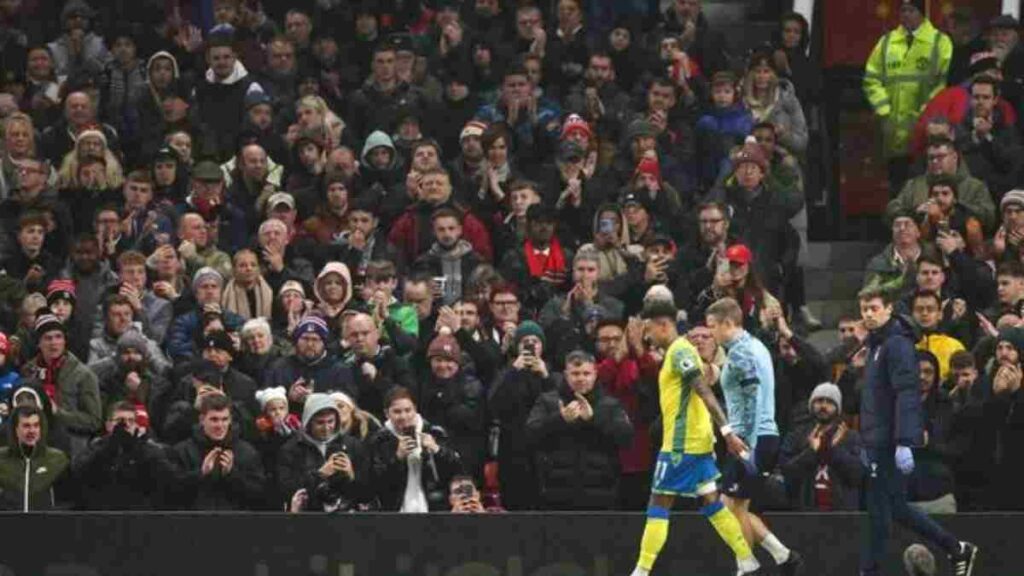 This was the first match for Manchester United and Nottingham Forest after the month-long World Cup break, and both teams had a lot of pressure to start things off on a high. But the main highlight of this encounter was Jesse Lingard, who left United at the end of last season. The reason why he took this decision was apparent, as he was hardly playing regular football in a previous couple of years at the club.
Lingard constantly criticized the club despite making it out of the youth levels and getting 231 caps for the club for their mismanagement of the player. Any of the last few managers hardly picked him: be it Ralf Ragnick or Ole Solskjaer. He always felt terrible about how he ended the relationship with the club, feeling that he deserved the one chance to say goodbye to his fans.
But on the night, Lingard was forced out of the field due to an injury in the 53rd minute, and as he made his way out to the tunnel for treatment, he was applauded back by the Manchester United fans by which he felt overwhelmed and it was like an actual farewell for him.
Related Stories: Xavi snubs legends while crowning Ousmane Dembele as the 'greatest winger' he has ever seen playing for Barcelona
Related Stories: "A class act," Alan Shearer hails Casemiro following his solid performance for Manchester United against Nottingham