Dermot Gallagher, a former Premier League referee, explains why only Casemiro received a red card during Manchester United's win over Crystal Palace on Saturday, while Jordan Ayew did not.
Andre Marriner, the referee, sent off Brazilian midfielder Casemiro during Manchester United's 2-1 win against Crystal Palace. Marriner showed Casemiro the first red card of his Premier League career for an altercation with Palace midfielder Will Hughes after Jeffrey Schlupp fouled Antony.
United boss Erik ten Hag acknowledges Casemiro "crossed the line" but claims other players should have received red cards too. On Monday's "Ref Watch" segment on Sky Sports News, former Premier League referee Dermot Gallagher supported Marriner's decision, despite an angle indicating less severe contact from Casemiro on Hughes.
Gallagher also explained why Ayew was not sent off after his altercation with United midfielder Fred. He says: "It's the worst nightmare for a referee. There is so much going on. It's impossible to police yourself. I think the VAR picked up Casemiro, and people are asking why Ayew wasn't picked up. I think there is only so much they can pick up at the time."
He continues, "I think Casemiro is a red card. The reason I say that is because you can't condone a player putting both hands around somebody's throat. I think VAR has looked at it and recommended that it is a red card. The FA will look at the situation today to see if they have to process anything else."
Gallagher, who refereed in the Premier League between 1992 and 2007 also added that the FA will look into the situation to see if they need to process anything further.
Casemiro's Stats for Manchester United this season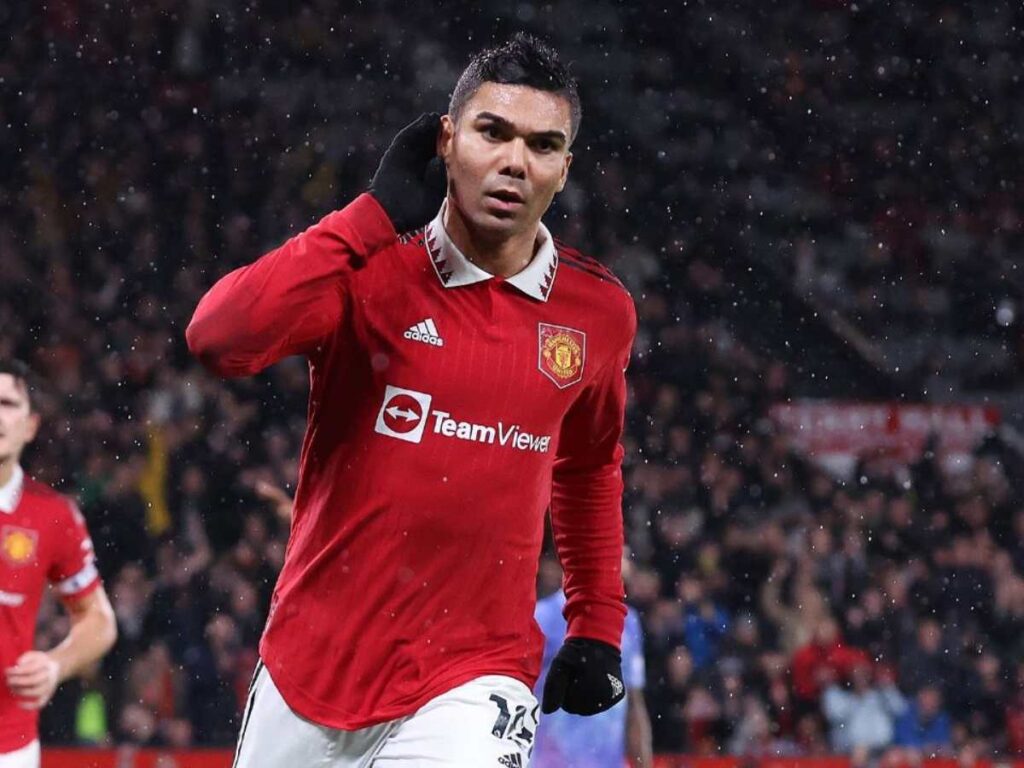 Manchester United fans hail Casemiro as the signing of the season because he has become a key player this season and has delivered impressive performances in a number of competitions. He has contributed to both the attacking and defensive aspects of the Red Devils.
In the Premier League, Casemiro has made 13 appearances and played 1229 minutes, scoring two goals and delivering three assists. He has received five yellow cards and one red card, with a shot accuracy of 78.7%. He won an average of 1.9 aerial duels per game and was named man of the match twice, with a rating of 7.19.
In the Europa League, Casemiro appeared in five matches and played 451 minutes. He had a shot accuracy of 82.2% and won an average of 3.2 aerial duels per game, receiving a rating of 7.17.
In the Domestic Cup competitions, Casemiro played over 500 minutes in five matches for Manchester United, scored two goals and delivered two assists, received one yellow card, had a shot accuracy of 83.5%, and won an average of 1 aerial duel won per game. He was named man of the match twice and received a 7.18 rating.