Every little bit of information about Lionel Messi is worth memorizing, almost like the verses from the Holy Bible. On Saturday night, in a cauldron-like atmosphere, despite the air cooling, the 35-year-old man sporting the N0. 10 jerseys for Argentina showed his left foot magic to boot out Australia 2-1. This was a knockout, a real one, where there was no chance for redemption in the FIFA World Cup in Qatar as Australia took the long flight back home and the Latin American heroes entered the quarter-finals.
A 2-1 score-line can be misleading, you would think it was close. Agreed, Australia is fairly new to this kind of a stage where the pressure can make your blood vessels burst and the energy is electrifying. You need to be ice cool, possess the calmness of a monk in meditation, and yet be in motion. That's what Leo Messi showed, pumping in a goal with such a smart angle, you were left in a daze.
To be sure, this World Cup has all been about two of the biggest superstars in contemporary football. No. 10 Messi versus CR7 Cristiano Ronaldo. Both are rock stars and both are chasing a similar dream, winning the elusive World Cup for their nations, Argentina and Portugal. Views are contradictory if Messi has aged or Messi has mellowed. Then again, some say, at 35, Messi is past prime, he is good for club football, not Argentina.
Is that a curse or an abuse, we do not know. Those who see Messi as a messiah will vouch he can deliver. By pumping in his ninth goal in the World Cup in his 1000th match, Messi has breached another milestone. Yet, the golden standard will be if he can win the Jules Rimet trophy for Latin American magicians. The pressure of expectation can sometimes be tough and sometimes normal. In the case of Messi, he has been under pressure in all his five World Cup appearances. Billions of Argentines want him to deliver, for, the wait to seize the trophy, dates back to 1986.
Argentine fans at home and those lucky enough to be at the stadia in Qatar are blessed to see Messi in motion. The goal he scored against Australia cannot be described in words. It has to be felt, like an emotion, which can make the hair on your arms rise or make you sweat. The way Messi used that left foot execution was like watching a ballet dancer. Out there, there was no dance floor, but the grass pitch where Messi created an angle and used the right pace. The ball rolled into the goal after flummoxing an Aussie defender, whose legs were wide open like the Gateway Of India.
Related: "Messi is the man"- Andy Murray, Piers Morgan, and others hail Lionel Messi after his brilliant performance in the 2022 FIFA World Cup pre-quarters
Lionel Messi and Argentina show their class against Australia in a match where the Latin American flair and feel makes the difference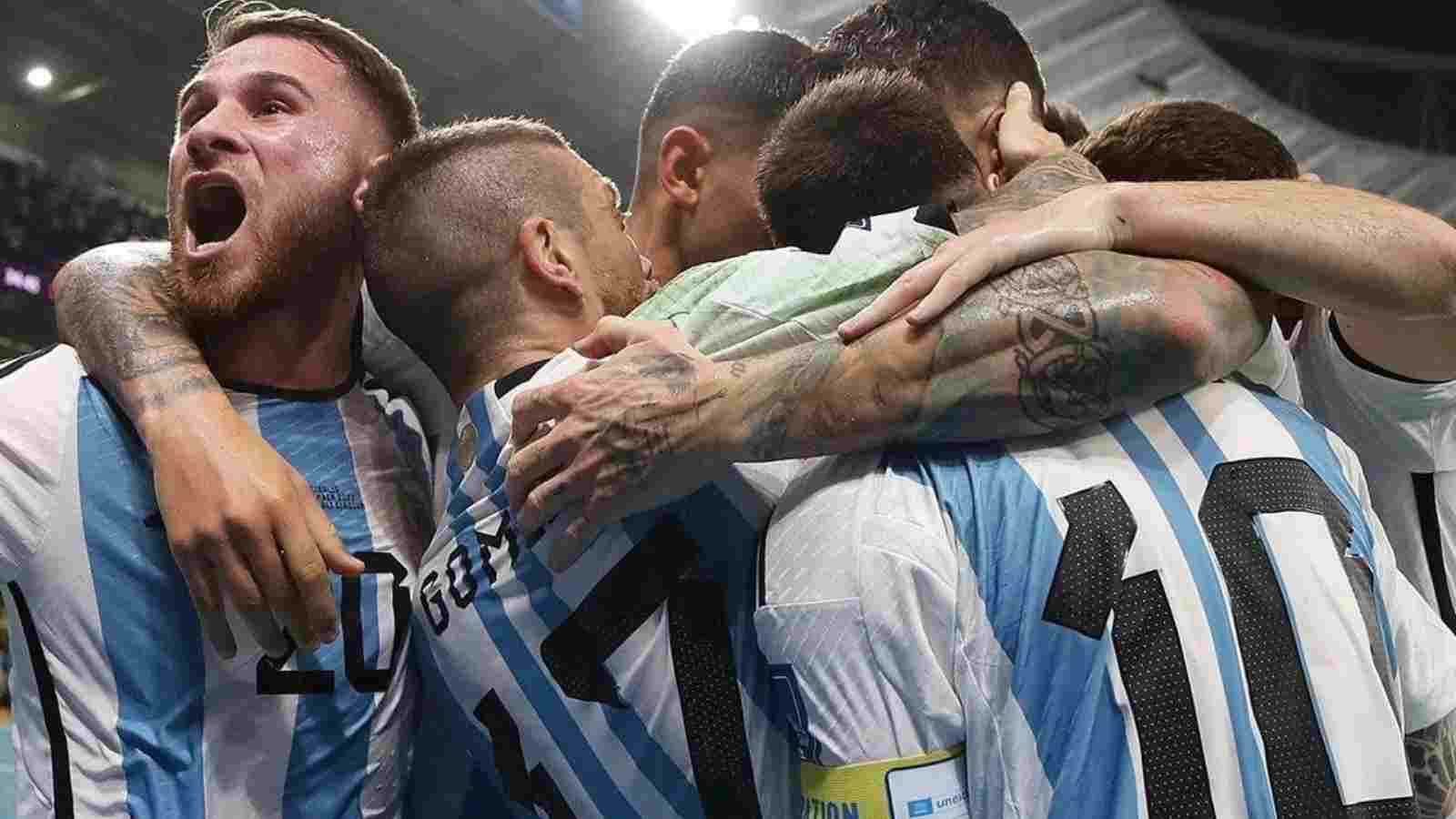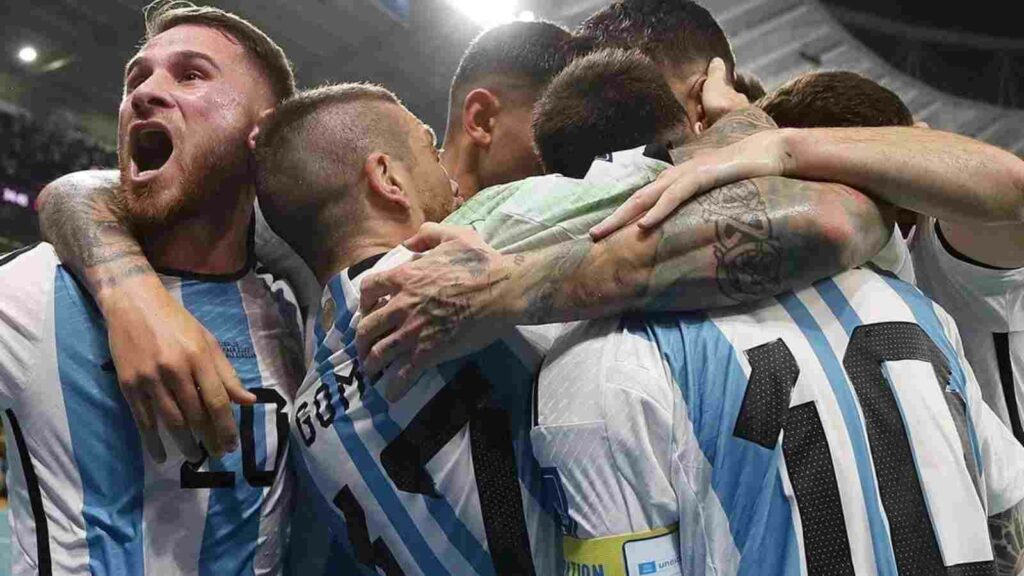 Messi raced to the sidelines, hugged and kissed by teammates, even as the blue and white fans lapped up the moment. They had seen their boy-turned-man rise like a phoenix. Again, one stat popped up. This was the first time Messi was scoring in a knockout match in the World Cup. For those who have been making comparisons between him and the original No.10 king, Diego Maradona, the facts are mind-blowing. Both Messi and Maradona have created 67 chances in the World Cups. The two rock stars of different eras for Argentina had 48 open chances each in the World Cups and 103 touches each. What do these stats mean?
For those who like to compare, two humans can never be the same and two superstars can never be the same. Yes, the Argentine blood flows through their veins, which makes their football skills so silken to view, almost like a velvet touch. That, is, provided, you are not a defender getting beaten at the other end of the ground.
If Messi had been the influencer for Argentina in the first half with a goal, two more Argentines also contributed very well in the second half as they denied Australia the equalizer. Lisandro and Emi Martinez showed they could block and save as Australia were playing as well as they could. They do not belong to this league, Round of 16, but still showed they had not strayed this far but worked hard for it.
Fans have seen various shades of Argentina in the decades gone by. Yes, Messi is their talismanic scorer and go-to man for creating chances. This time, we have seen more of a team effort from Argentina, where it is not just Messi and Di Maria who hog the limelight. The current bunch is sturdy and capable of dealing with the opposition which comes in various forms, some with a great pedigree and some who have that X factor to cause a surprise.
Also Read: "Hurts a lot," Luis Suarez shares an emotional message to fans following Uruguay's disappointing 2022 FIFA World Cup exit
You could well ask why the narrative is always around Messi. Is football not a team sport, after all? Yes, it is, but this 35-year-old bearded bloke with tattoos all over his right arm stands like a colossus. If you want to know why he makes you go gaga, see the goal he scored against Australia. Creativity, anticipation, a peripheral vision for creating angles, and a left foot that treats the Adidas ball like his servant! Hail Messi.
Also Read: Watch: "It should have been the referee standing there"- Fans react to Edinson Cavani knocking out the VAR screen following Uruguay's 2022 FIFA World Cup exit