Arsenal hosted Tottenham Hotspur as the Premier League witnessed the first North London Derby of the season. In an explosive clash, either side shared the spoils in a game that ended 2 goals apiece. In the much-anticipated clash, Bukayo Saka and James Madison were the center of attraction. Saka scored a penalty while Maddison provided 2 assists.
However, it was not just their goals that turned heads, but rather their emphatic goal celebrations as well. Bukayo Saka was seen imitating National teammate James Maddison's 'dart' goal celebration after he gave The Gunners the lead through a penalty in the second half. However, James Maddison was 'on fire' on Sunday, as the Englishman produced 2 spectacular assists in the game.
When asked about Saka's celebration after the game, Maddison came up with a humorous response. "He must have still been doing it when I turned him for the first goal," said the Englishman with a cheeky grin on his face. The reporter also clarified that the celebration was purely banter and nothing else.
Related: Gary Neville backs Arsenal to win the 2023 Premier League over Man City and Liverpool
Arsenal held at home after Maddison's brilliance
Tottenham took on Arsenal at the Emirates on Sunday. In the first North London Derby of the season, neither side shared the spoils in a 4-goal thriller. Ange Postecoglou's side stood true to their coach's words, as the away side 'scared the life out of' Arsenal in the second half. After Bukayo Saka forced the opener off of Cristian Romero's deflection, Son Heung-min pulled Spurs level.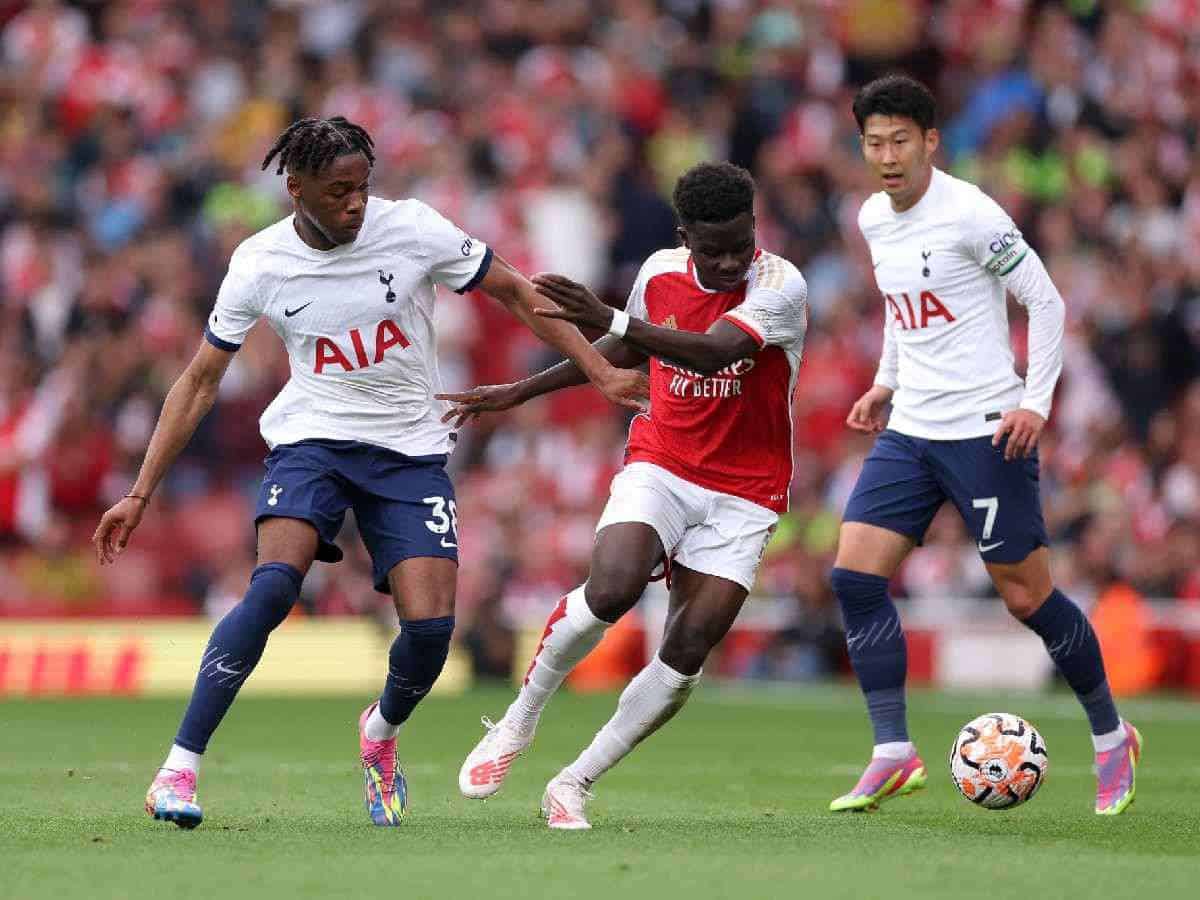 James Maddison was involved in both goals for Spurs as the new signing proved his worth. Arsenal were awarded a penalty early in the second half after Cristian Romero's handball inside the box. Bukayo Saka found the net with ease. However, Arsenal saw their lead evaporate after a solitary minute. James Maddison picked the pocket of Jorginho in midfield before finding Son to bring the team level.
Either side had chances to go ahead, but the game ended 2-2. Either side remains undefeated in the Premier League with 4 wins and 2 draws in 6 games. Arsenal are 5th in the table while Tottenham are one spot ahead.
Tottenham faces a real challenge in Liverpool on Saturday, as the Reds are on an 18-game unbeaten streak, the longest in the Prem.
In case you missed: