Joao Félix Sequeira is a Portuguese professional footballer who plays forward for La Liga club Atlético Madrid and the Portugal national team. He is one of the bright prodigies from the famous SL Benfica academy. He won the Portuguese Premiera league in his first season with Benfica at the tender age of 19. He scored 15 goals in 26 appearances and led Benfica to the 2018-19 title. That year, he was awarded the Golden Boy for his exceptional performance.
The teen sensation is dating Portuguese actress and model Margarida Cordeiro. he met his girlfriend in 2019 while topping the scoring charts for the Portuguese giants. The 20 years old has been part of numerous assignments with renowned fashion houses, thanks to her seductive appearance and endearing nature. Her broad reach has also aided in securing offers from well-known companies. She has modeled for famous clothes and jewelry firms across Portugal and Europe.
She gained stardom with her television debut in the TV show "Prisioneira,". Cordeiro has been employed by the TVI project Bem me Quer since 2020. The brunette gained notoriety in 2020 after a video of a passionate kiss between Margarida and Pedro Porro, a player for Sporting Lisbon, a rival team to Benfica, went viral in Portugal. You can make out their faces despite the blur.
Read More: Who is Sergio Ramos's wife Pilar Rubio? ALL YOU NEED to know about the famous couple
Joao Felix and Margarida Corceiro, their family and where are they now?
The Portugal sensation met his girlfriend while his time in Benfica in 2019. its since then they have been inseparable and the wag has been spotted numerous times cheering for her boyfriend from the stands in matchdays. Considering Felix's and Margarida's career they both earn really well and are also supportive of each others occupation. They currently reside Spanish capital Madrid of Madrid.
Joao Felix is the son of Carla Felix, a teacher by profession father. He has a younger brother named Hugo Felix, who inspired him to pursue a career in football. At 18, just like Joao, he represents Benfica under 19 and plays deep laying midfield, contrary to his brothers, who play in the attacking mid.
Margarida's family life is a bit secretive, unlike his beau. There's no knowledge about her mother, father, or either of their occupation. There's neither any information regarding any siblings she has, so a lookout for possible sources to know about her family is still on.
Also Read: Who is Antoine Griezmann's wife Erika Choperena? Know all about France and Atletico Madrid sensation's wag
Joao Felix's young and fast-moving career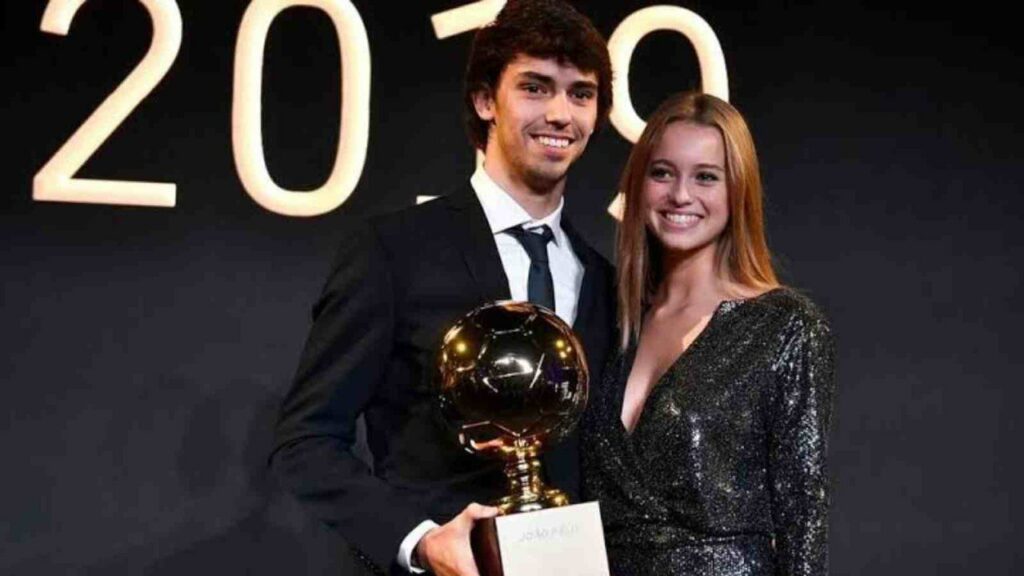 The 23 years old young Portuguese also plays as a winger or an attacking midfielder if it is demanded of him and is renowned for his versatility, finishing, inventiveness, and dribbling. Nicknamed Joao, he was the golden boy award winner in 2019 and Primeira Liga's Best Young Player of the Year in his first season.
His instant achievements at the age of 19 made Atletico pay a whopping 126 million Euros, making him the fourth-highest signing in football history. It was a complete team shuffle that year for the Spanish giants that made them sell and raid many clubs from different countries. The price tag demanded a lot, with fans and management keeping high expectations from him.
The player has been able to show glimpses of his valuation in the form or important goals and assists but could not exactly replicatre the form he has for his previous employers. With Alvaro Morata, Antoine Griezmann, Matheus Cunha and Angel Correa among the players fighting for a starting role in the front two, the playing time has been harsh for him to show and built his reputation which has made him link to a move to Manchester United in the recent days.
Also Read: Who is Vinicius Jr's Girlfriend Maria Júlia Mazalli? all you need to know about the Brazilian influencer
Also Read: Who is Antony's girlfriend Rosilene Xavier Silva? ALL YOU NEED to know about the couples dating history