Javier Tebas, the La Liga president, has opened up on Real Madrid's pursuit of Kylian Mabppe. As the president of one of the most significant leagues in the world, Tebas would be interested in the commercial investment. Since it would again put La Liga back on the global map.
Despite links relating to Mbappe signing another potential extension and staying in PSG. Tebas has said he is not entirely convinced this would be possible. In an interview with Moviestar+, Tebas mentioned that there is a strong chance that we could get to witness Mbappe in the La Liga next season.
He believes there is a 70% to 80% chance that Mbappe could be featured at the Santiago Bernabeu for his dream destination in Madrid. Mbappe's contract is set to expire with PSG post, and he will be a free agent. Tebas believes that while the transfer looks highly plausible, there is no definite outcome currently.
However, he would go on to applaud Florentino Perez. He said that Real Madrid's President 'never loses.' Perez is in an ideal situation to sign one of the best players in the world for free. As the transfer saga seems to reach its last phase, seeing if Mbappe finally makes the switch will be exciting.
Related: "Ivan Provedal did better than him!" – Ousmane Dembele faces fans' WRATH for not recording any goal or assist in his last 5 matches for PSG
Tim Cook visits Real Madrid
Apple CEO Tim Cook visited Real Madrid's Valdebebas training center in Spain alongside club president Florentino Pérez. Cook toured the training facilities and viewed the trophy room, which displayed an impressive collection of 25 European Cups, including 14 for football and 11 for basketball. Cook also engaged with head coach Carlo Ancelotti and extended his greetings to the players amid training.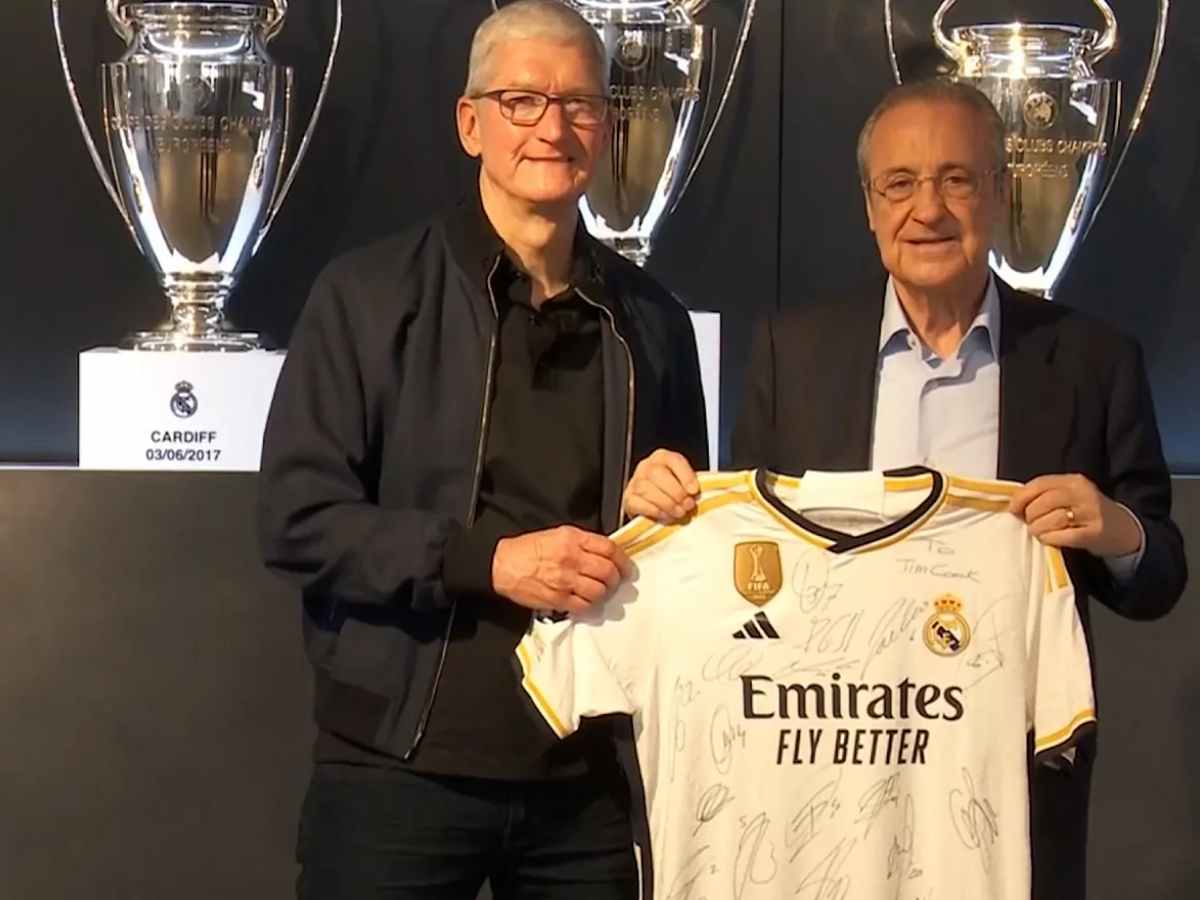 Real Madrid's groundbreaking feat of exceeding 500 million social media followers, a first in sports history, was a notable highlight of the visit. Tim Cook's presence at Real Madrid's facilities underscores the club's global prominence and appeal. Cook's visit to Real Madrid's training center is a testament to the club's enduring significance globally.
Tim Cook's visit, where he interacted with the president, explored the top-notch training facilities, and engaged with the players, underlines Real Madrid's commitment to excellence. It solidifies the club's iconic status, reaching a global audience and maintaining its reputation as a renowned sports institution.
In case you missed: