Jordan Henderson has 'been removed' from the Liverpool Training ground after the England International secured a move to Saudi Club Al Ettifaq this summer. The image showcasing Henderson lifting the Premier League title has been replaced by current vice-captain, Trent Alexander Arnold lifting the UEFA Champions League trophy with the quote, "I'm just a normal lad from Liverpool whose dreams have just come true."
Jordan Henderson's move to the Middle East meant his 12 years at Liverpool had finally drawn to a close. The England International had captained Liverpool during their most successful period in Premier League history lifting every trophy at the club level including a 6th Champions League, in club history, and a long-awaited Premier League title. Now at Al Ettifaq – being managed by Liverpool Legend Steven Gerrard – many fans have felt betrayed.
Jurgen Klopp had stated that he did not wish for Henderson to leave, however, he had no choice. "If I would have told him 'you will be the main man in midfield,' he would have stayed but…. I couldn't say," he revealed in a press conference.
Henderson's departure means Virgil Van Dijk now wears the captain's armband with Trent being designated as vice-captain. Now with the removal of his mural from Liverpool's AXA Training Centre, the club seems to be preparing for life without Jordan Henderson. 
Liverpool play Tottenham Hotspurs on the 30th of September as the two sides will look to catch up with league leaders, Manchester City, who sit at the top with a perfect record.
Related: Dimitar Berbatov takes a BRUTAL dig against Jadon Sancho amid performance woes for the United star
Jordan Henderson's controversial move to Al Ettifaq
Henderson's move to Saudi club, Al Ettifaq, is but one of the many European exports to join the Middle East. However, the player has especially received immense criticism from fans online due to the nature of his past actions indicating a hypocritical decision in the present.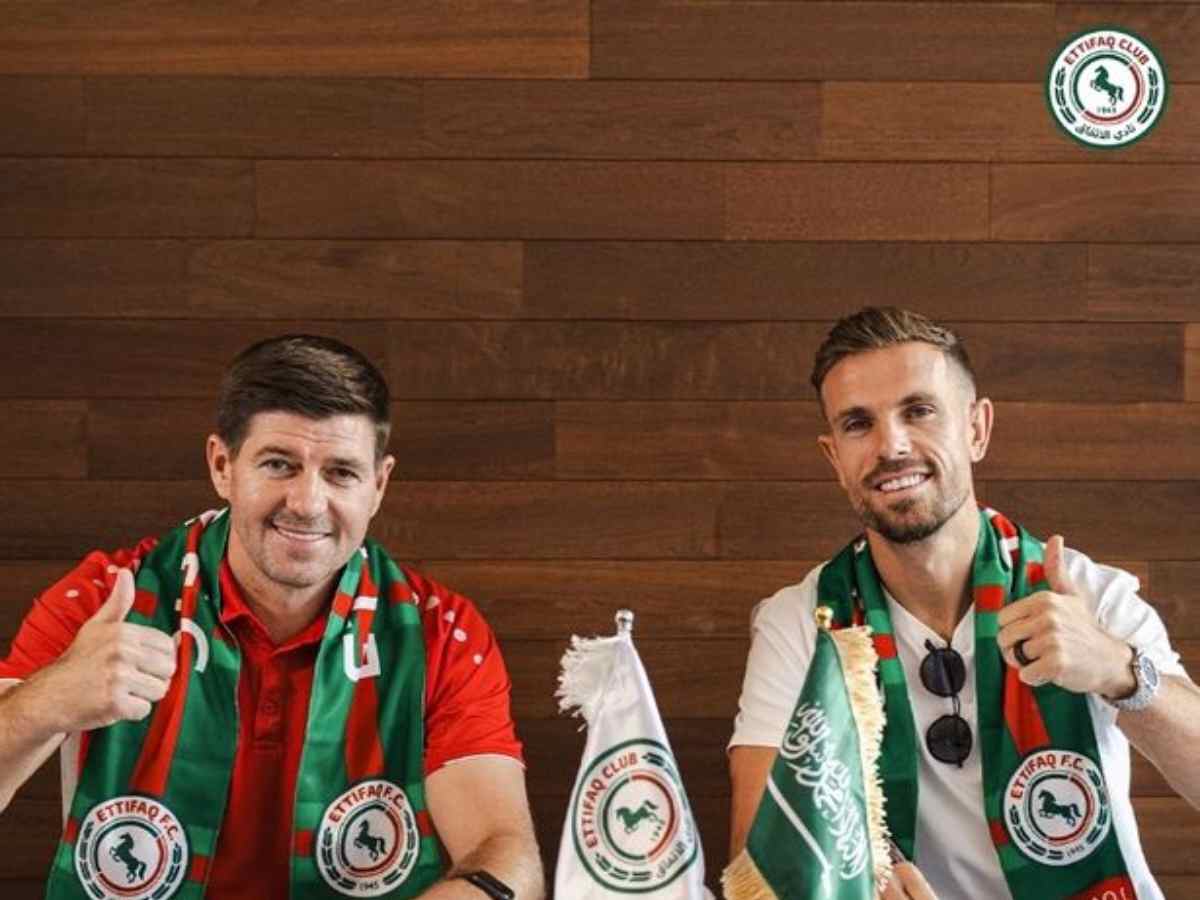 Jordan Henderson, in November of 2021, came out in support of the Rainbow Laces Campaign. "The idea that any of them would feel excluded from playing or attending a football match, simply for being and identifying as who they are, blows my mind," the player stated showing his support for the LGBTQ+ community. Fans online displayed their admiration for having a captain who they believed was a man of principle.
Fast-forwarding 2 years, the player has now accepted a move to a nation where homosexuality is condemned. Although, the player came out in defense of his actions. But, the fans no longer saw him in the same eye.
In case you missed it: