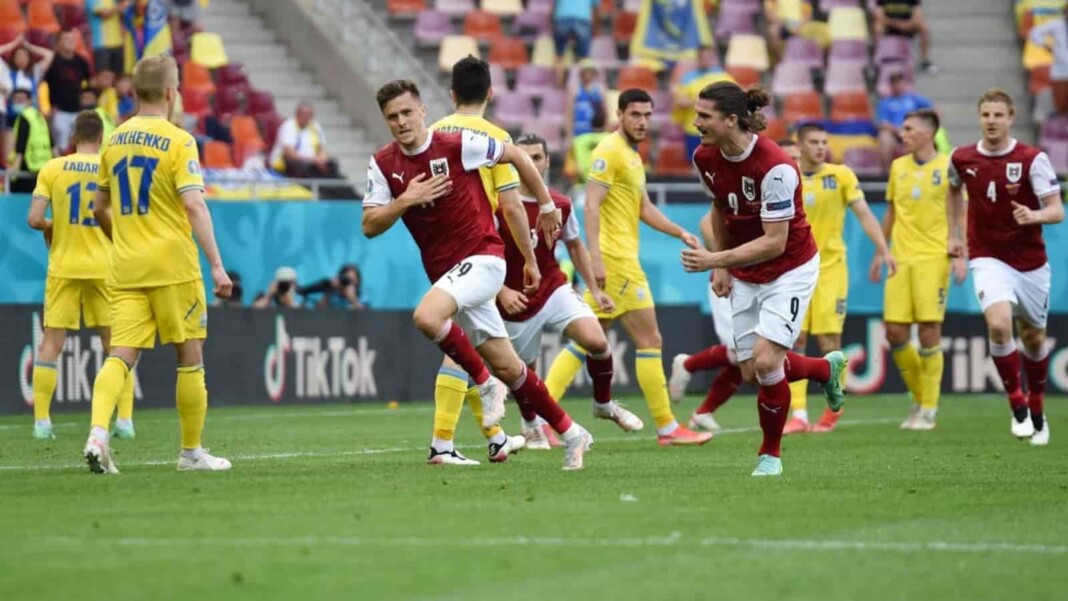 Austria triumphed over Ukraine in their final group fixture. A crunch tie which would have put the winners through to the knockout was outrightly dominated by Austria. Ukraine didn't grow into the game, and now their knockout hopes depend on other teams. Chris Baumgartner gave Austria the well deserved lead from a David Alaba corner. Austria had chances to increase their lead but a wasteful Arnautovic scuffed his chances.
Austria would face Dark horse Italy in the knockout stages as the qualify for the knockouts for the first time.
Ukraine vs Austria Player Ratings
Here are the player ratings of the must win match dominated by Austria well .
Ukraine Player Ratings:
1 Georgiy Bushchan (GK)- 6.7/10
The Ukranian goalkeeper had a decent showing in the match as he managed to put few saves, however it was not enough to see his team cross the line
21 Oleksandr Karavaev- 7.2/10
Karavaev had a poor showing out on the pitch, he was not able to perform either attacking or defending wise as his game looked out of sort.
13 Illia Zabarnyi- 7.2/10
Zabarnyi had a decent outing, but liked rest of his team mate lacked resolve and concetration coming into the game
22 Mykola Matviyenko– 6.4/10
He had a really poor outing through out the match as he looked out of sorts, and was subbed off.
16 Vitaliy Mykolenko- 6.2/10
He had a avergae outing in the match as he came up with few blocks, but looked vulnerable way top often
5 Serhiy Sydorchuk- 6.9/10
He had a very poor performance at the middle of the pitch as he failed to get hold of the midfield and create any chances.
7 Andriy Yarmolenko (C)- 6.4/10
He looked like a shadow of the player we have witnessed so far in this EURO 2020.
8 Ruslan Malinovskyi- 6.4/10
He was very wayward throughout his showing, before he was subbed off at half time
10 Mykola Shaparenko- 6.0/10
He too had a very impactless games, with misspasses strewn all over, before he was substituted in the second half
17 Oleksandr Zinchenko- 6.0/10
The Manchester City man looked lost in the match. He played the entirety of the match on the left side of midfield and failed to register any chances or key passes.
9 Roman Yaremchuk- 5.6/10
In a match that expected him to step up, he fell way beyond the standards of performance that he has showed in the first two games of EURO 2020.
SUBSTITUTES:
15 Tsigankov– 6.1/10
11 Marlos– 6.0/10
19 Biesiedin–6.0/10
Austria Player Ratings:
13 Daniel Bachmann (GK)– 8.0/10
The Austrian goalkeeper had a very good performance between the sticks, he came up with two saves and commanded and organised the Austrian defence.
3 Aleksandar Dragović–7.7/10
Dragovic put up a decent performance , as he was pretty solid in helping Austria see out their 1-0 lead
4 Martin Hinteregger– 7.5/10
Hinterreger had a very good game, he was solid throughout the match and matched Yarmolenko for pace when he looked set on breaking through to score
21 Stefan Lainer- 6.7/10
He had a decent game on the right side of the defence, however he needs to step his game up massively as Austria will face Italy in the Round of 16
8 David Alaba (C)- 8.2/10
David alaba was really strong in defense, and was great going front, he was a constant attacking threat with his crosses and assisted the opening goal from a delightful swinging corner.
9 Marcel Sabitzer– 7.3/10
He had a decent match, as he set up Arnautovic for a good chance, however for a player of his quality much more is expected from him.
10 Florian Grillitsch– 8.5/10
Bossed the midfield with 85% passing rate and also grabbed the man of the match award in the important match.
19 Christoph Baumgartner-8.1/10
He scored the all important goal for Austria to fire them to their first ever knockouts.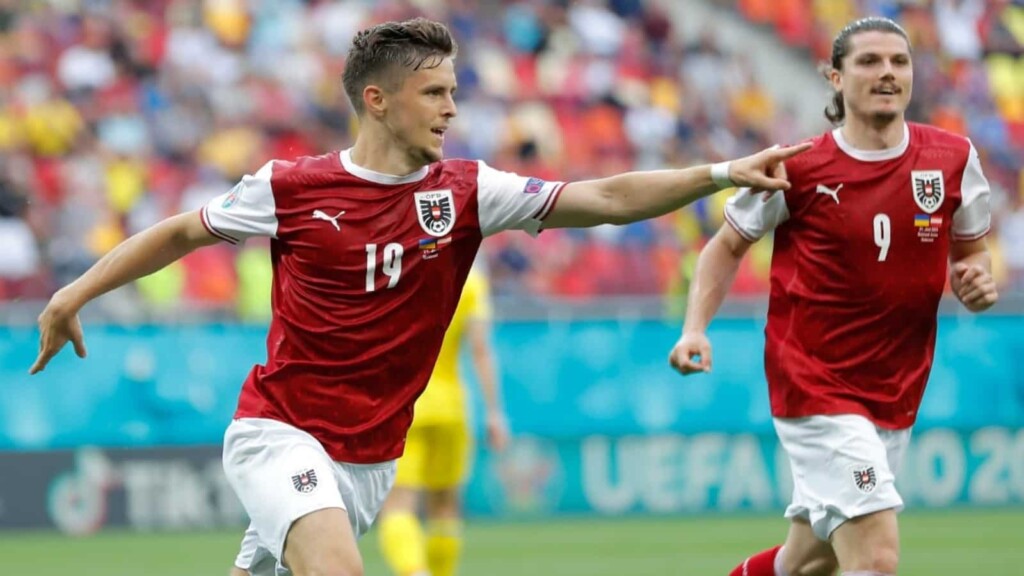 23 Xaver Schlager- 7.5/10
Played as the second pivot alongside Grillistch and able supported his midfield partner in taking reigns of the midfield as they didn't leave any space for Ukraine to utilize.
24 Konrad Laimer-6.7/10
The RB Leipzig man had an okaysih performance, before he was subbed off. Even he needs to pull his sock before he faces Italy in the Round of 16.
7 Marko Arnautović- 7.2/10
Had a sub par outing today, as he missed two glaring opportunities in the first half, one a simple tap in and another scuffed effort just before half time.
SUBSTITUTION:
18 Schopf- 6.4/10
6 IIsanker- 6.8/10
25 Kalajdzic- 6.3/10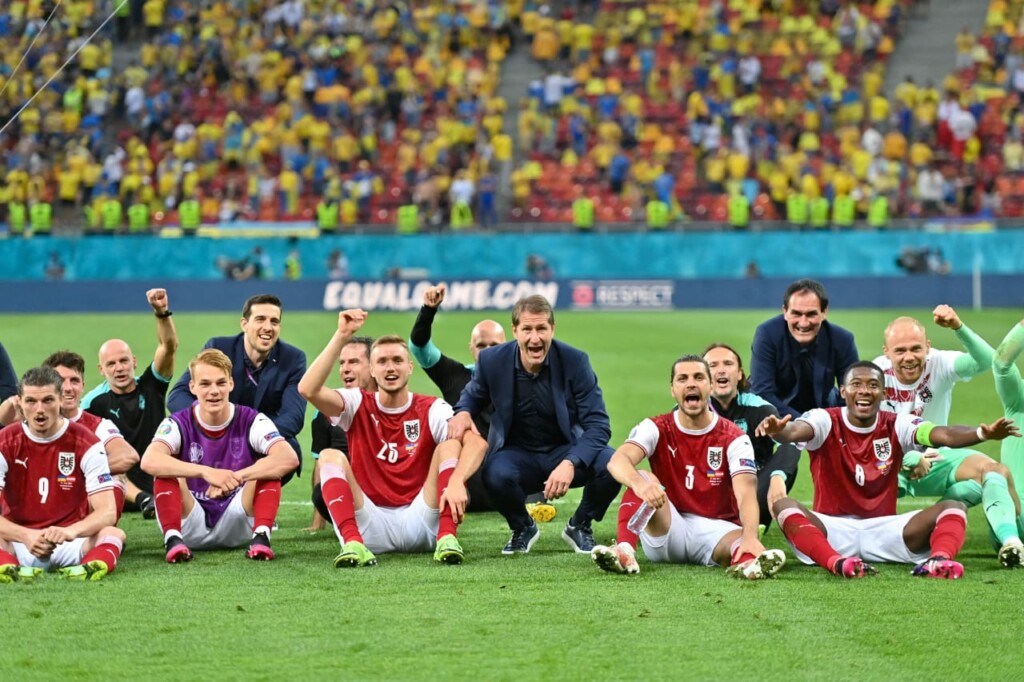 PLAYER OF THE MATCH:
Florian Grillitsch– 8.5/10 (AUSTRIA)
ALSO READ: Euro 2020 Belgium Vs Finland Player Ratings as Belgium trumped Finland 2-0 to top their group standings, winning all three on the way