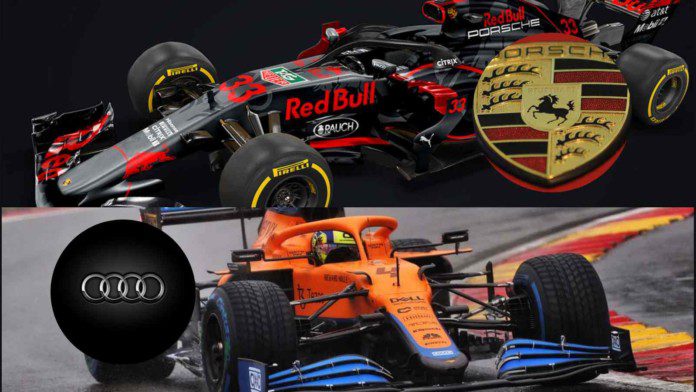 Formula 1 is or is among the pinnacle of motorsports racing with a global audience and top constructers being part of the spectacle. This market reach has always attracted top motor vehicle manufactures to enter the world F1 as constructers, engine or power unit providers…etc. to showcase their products technological and reliable features.
Volkswagen Group, the German multinational automotive manufacturing corporation who owns super car brands like e Audi, Bentley, Bugatti, Jetta, Cupra, Lamborghini, RUF, Porsche, SEAT, Škoda and Volkswagen other marques. Being one of the largest companies in the world they have now planning to enter via its co brands in formula according to recent reports to challenge the Red Bull and Mercedes teams who have been dominating the F1 scene since 2010.
Found out about the reports on Audi and Porsche potentially entering F1 partnering with McLaren and Red Bull
Volkswagen subsidiaries will become Audi and Porsche are in discussion to secure their way into F1 in 2026 . The 2026 season will introduce new rules for engine manufacturers in F1, the disappearance of the MGU-H and a budget cap for engine manufacturers means the right time for new brands to enter F1. F1 want to introduce semi-electric and CO2-neutral engines to achieve F1's more climate-friendly ambitions.
As reported by Frankfurter Allgemeine, Audi and Porsche are  likely to set up new F1 teams which they hope will have maximum impact in terms of reputation and advertising. Audi is heavily linked to a buyout of  McLaren F1 team (reports previously denied by both parties in 2021) and Porsche is planning to partner with Red Bull on their F1 entry. The Austrian team is now reportedly building a factory to start developing its own engines with availability of the whole Volkswagen resources to thrive.
The entry of Audi and Porsche means more competition in F1 to be the top dog which will in terms  make F1 more interesting. The financial impact of the potential move will be beneficial for both F1 and the brands with increasing revenues at their disposal.
Also read : Did Mercedes win the Lewis Hamilton – FIA battle? Micheal Masi misses out on the 2022 Organisation chart