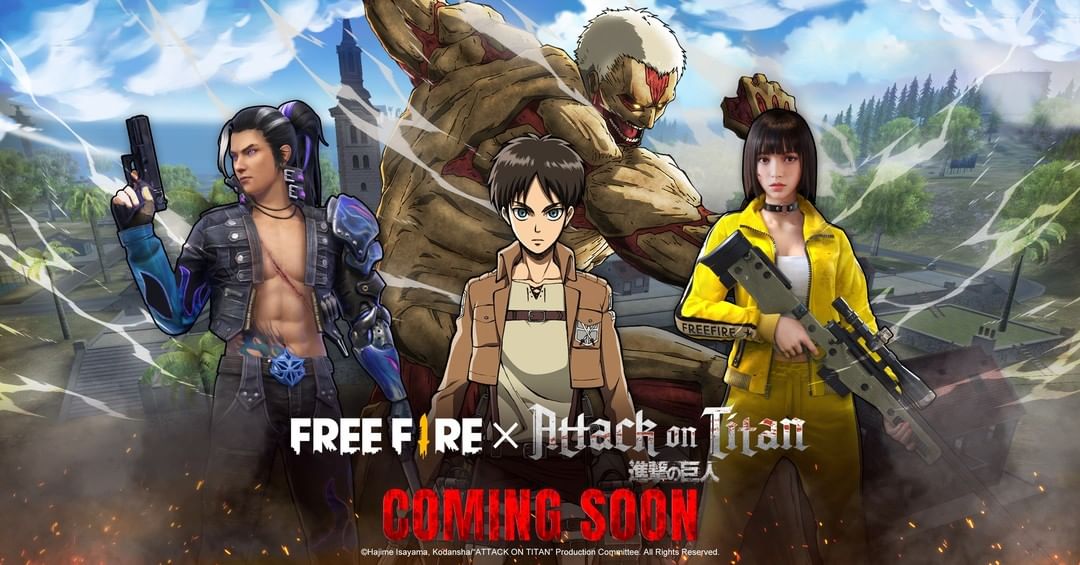 The Garena Free Fire is collaborating with the most famous Anime series 'Attack on Titan'. The announcement comes in the latest Free Fire OB26 update which also includes updates like Mystery Box, Vending Machine, UAV Lite, War Chest, and Revival Card. The collaboration might increase the popularity of Free Fire worldwide.
With Attack on Titan coming into the pictures, we will see a lot of new elements in the future update. Attack on Titan is the most trending series based on fiction about the fabled Titans. The final season of the series is about to end soon. A story of twist and turns, Attack on Titan is a series worth watching.
Free Fire Collaboration in the Present & Future
Earlier, they have collaborated with 'One-Punch Man' to boost the popularity. As per the reports, the success of that collaboration is a big reason for Fire Fire-Attack on Titan collaboration. In a social media posts of the Garena Free Fire, the team quoted saying,
"Garena today announced a global partnership with Kodansha to bring Attack on Titan content into Free Fire. The partnership unites one of the most recognizable modern Japanese anime series and one of the world's most popular mobile games. It also builds on Garena's strategy to elevate the Free Fire experience for players by partnering with some of the world's most prominent names. The crossover event will go live in March."
Free Fire's partnership with Attack on Titan will offer players the opportunity to get their hands on content inspired by the series once the collaboration goes live in March. They further said,
"Fans of Attack on Titan can look forward to charging into battle wearing the colours of the Survey Corps division, as well as costumes inspired by the fearsome man-eating Titans. There will also  be plenty of other exclusive collaboration content, including gun skins and other in-game items and collectables."
The expected date of release of this collaboration is March 2021. Gun skins, bundles, and theme are some of the inspiration taking from the Attack on Titan. There will be new colors of the Survey Corps division or costumes in the future Free Fire updates.
Also Read: Free Fire OB26 Update: How to Download Using Activation Code?