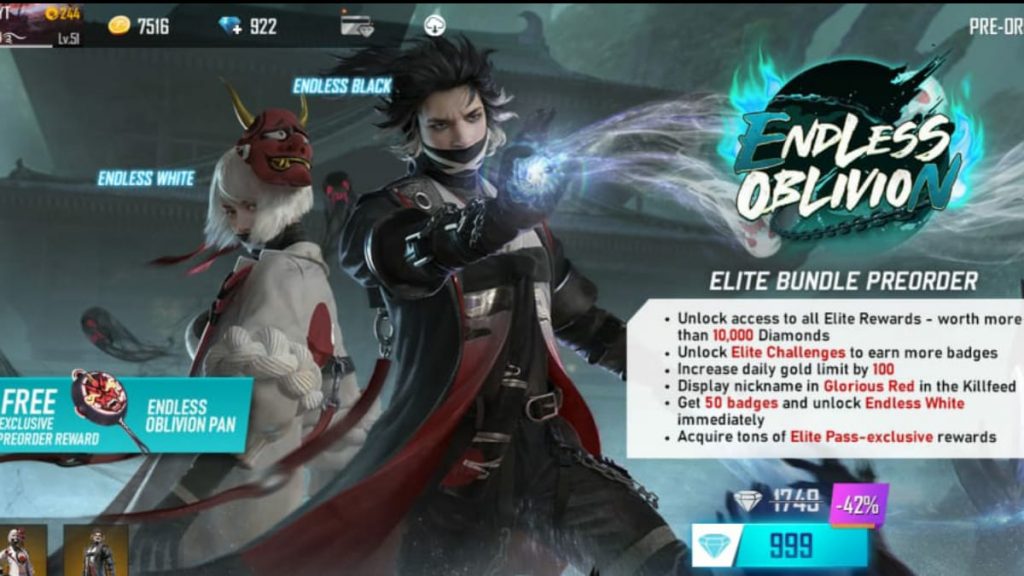 The Elite pass season 31 will now be available in Free Fire for preorder named Endless Oblivion. As usual, Free Fire as every other Battle Royale game also has a season pass. Which has many gifts, skins, and other items in it. All the skins and items in the Elite Pass will be based on the theme of that particular season's Theme.
The Oblivion means the state of completely forgotten about yourself and acting. It can also be said as the act of dying out.
The Season 31 Elite pass says "Defenders of the earth have fought for centuries against the vengeful ethereal spirits. It is the sole duty of the group of select heroes to push the invaders back into the nether realm where they came from. will you put on your spirit masks and spirit gloves to join the fight against the unknown? "
The last line says "will you put on spirit masks and gloves" the developers have given a hint to all players of Free Fire that there will be spirit Gloves and Masks available in the elite pass season 31.
Related: Top 5 Best MP40 Skins in Garena Free Fire
All you need to know about Free Fire Elite Pass Season 31 preorder: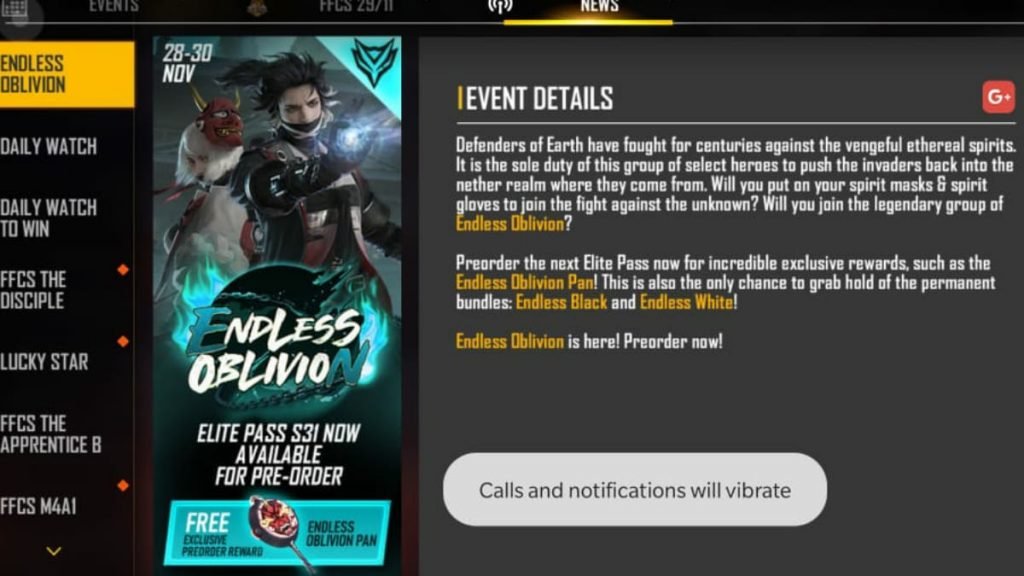 Free Fire has given players a chance to preorder their Elite pass season. Players who wish to preorder the Free Fire Elite pass season 31 will also get an Endless Oblivion pan for free as an exclusive reward. This Pan will not be available after season 31 releases.
On preordering the elite bundle of Unlock access to all elite rewards- worth more than 10,000 diamonds.
Unlock elite challenges to earn more badges.
Increase daily gold limit by 100.
Increase daily gold limit by 100.
Display Nickname in Glorious Red in Killfeed.
Get 50 badges and unlock endless White immediately.
Acquire tons of Elite pass- exclusive rewards
The Elite Bundle will cost you 999 Diamonds which was 1749 Diamonds before with a discount of 42%.
Also Read: Garena Free Fire: 'Swordsman Legend Bundle', All you need to know and how to get it for Free!