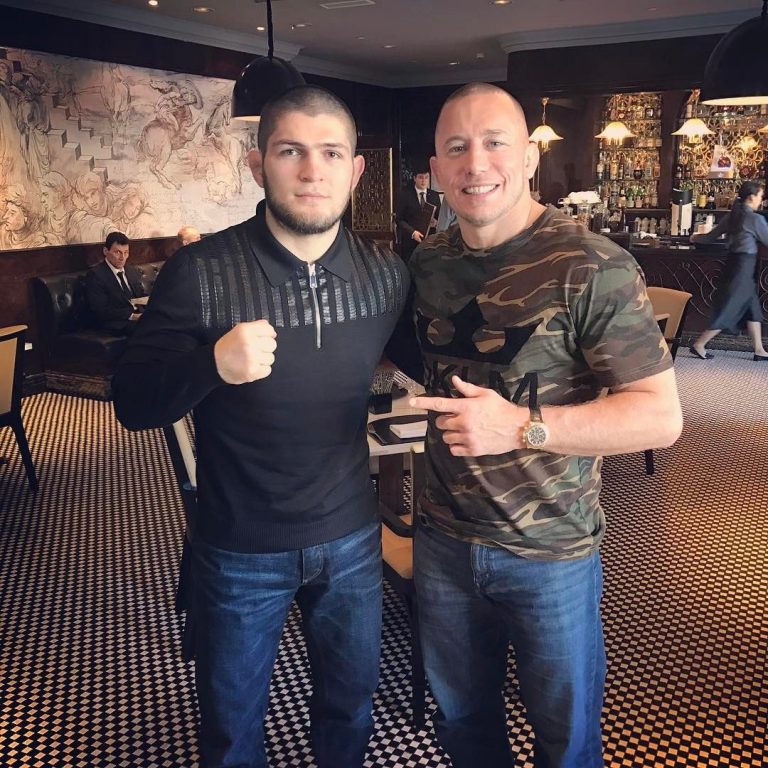 Khabib Nurmagomedov has retired from the sport he dominated right from the beginning. Right after a routine clinical win over American, Justin Gaethje, Khabib decided to hang up his gloves. In an intense emotional post-fight interview Khabib revealed that he had promised his mother that the fight with Justin will be his last one, adding that the absence of his late father was too much to bear for him. His retirement was met with a plethora of reactions from fans, celebrities and the MMA community, since the man was just 32 when he decided to hang up his gloves. Imagine the super fights that would have been waiting for him!!!
One of the greatest mixed martial artists of all time, Georges St-Pierre gave his opinion about Khabib's retirement. The former two division UFC champion is always a class act, and likewise speaking of Khabib he said that he would never ask Khabib to come out of retirement, adding that he totally respected Khabib's decision.
"One day if he wants to come back and do it, our managers will talk" – Georges St-Pierre
Speaking to Ariel Helwani's MMA Show, Georges was quoted as saying, "Khabib did an amazing decision, I think. In life, everything has a beginning and an end. The life of a professional athlete, even an elite athlete, has a window. If you fight past that window, that's when the problems arise and appear."
Now there were a lot of talks about a possible bout between Georges St-Pierre and Khabib Nurmagomedov, with GSP even touted to come out of retirement. But, Khabib's shock retirement has put an end to all of this, speaking of which GSP said, "I don't want to say anything that will speculate in any way that we could make a fight. Because I don't want the reporters to put that in his headline, 'What about Georges?' It's a disrespect to the turn of events that has happened to his life. I want him to go with his family and peace and have peace of mind. Not thinking about fighting … just relax and enjoy your retirement. One day if he wants to come back and do it, our managers will talk, whatever. But man, what a great way, what a legacy, what a model in the sport. It's unbelievable."
As GSP says, let the GOAT enjoy his retirement in peace!
Also Read: Khabib had a broken foot, toe and even had mumps prior to his fight!