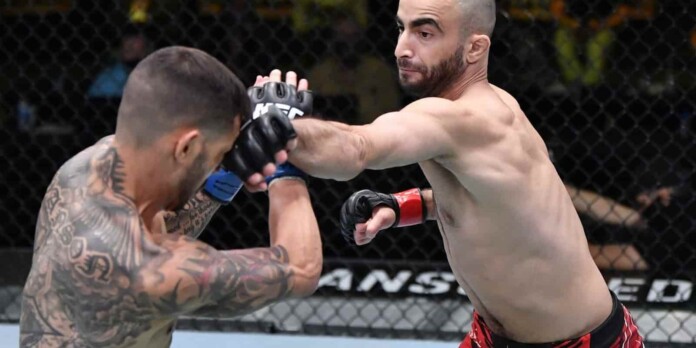 Giga Chikadze produced a stunning leg kick liver shot that dropped the experienced Cub Swanson in less than two minutes of the first round of their co-main event at UFC Vegas 25. The Georgian thereby extended his UFC win streak to 6 and might probably break into the top 10 of the featherweight rankings.
At the post-fight press conference, he called out the number 1 ranked featherweight contender Max Holloway, saying he has always admired him as a fighter, and believed that he might get to fight him after such a performance. Chikadze said, "I enjoyed this fight, and every time he did something nice, [I said], 'Oh, how I want to fight him. I feel like after this type of performance, I might get it. And if not, maybe I can get his opponent."
Chikadze then called out two more fighters, one during the post-fight press conference and the other on Twitter. The first one was Yair Rodriguez and the other, veteran fighter Donald Cerrone.
'It has to be real Mortal Kombat' – Giga Chikadze
At the post-fight press conference, Chikadze said, "I'm going to say something I really want to say: If the fans and [UFC President] Dana [White] and [UFC matchmaker] Sean [Shelby] really want to see … something special, I think [me] versus Yair Rodriguez will be a real ninja fight. At some point, I believe this fight has to happen. It has to be real Mortal Kombat. I would love this fight, and plus, he's been pulling out of fights for the last few times, and I'm not that dangerous." [via MMA Fighting]
Yair Rodriguez just recently served a suspension and was eligible to compete again from the 8th of March, this year. His last fight was way back in 2019, against Jeremy Stephens.
'I'm here in Vegas ready' – Giga Chikadze
Donald Cerrone was supposed to fight Diego Sanchez and end him violently. But then Diego Sanchez was released by the UFC in double-quick time following a huge medical-record controversy. The UFC haven't found a replacement yet for Cerrone.
In the wake of this, Chikadze tweeted after his win over Cub Swanson that he would like to face Donald Cerrone next week.
His tweet read: "Hi @Cowboycerrone I know you need someone to fight for next week i'm here in Vegas ready it will be an honor Samurai style.@seanshelby @danawhite."
Also Read : "Snake Paul' is literally a bum' – Colby Covington has no respect for Jake Paul
Also Read : Bob Arum not confident about Anthony Joshua vs Tyson Fury going ahead