Wedding Bells are ringing for Simone Biles, as she and her fiancee Jonathan Owens get closer to achieving their dream wedding soon. Biles announced her engagement to football player and long time boyfriend Jonathan Owens. Owens and Biles started dating in March of 2020, and announced their engagement in 2022.
The couple have been thoroughly enjoying themselves recently, with Biles posting several pictures showing their affection for each other. They often post photos of themselves on Instagram and other social media platforms. As the wedding gets closer, Biles is off to her bachelorette party.
In a recent photo that she posted of herself, it showed how well she backed her fiancee- literally. Biles brought a rather interesting pair of jeans to her bachelorette party- ones that caught the eye of many.
Related: Simone Biles celebrates bachelorette party with games and surprises prior wedding to Jonathan Owens
Time comes closer for Simone Biles and Jonathan Owens to tie the knot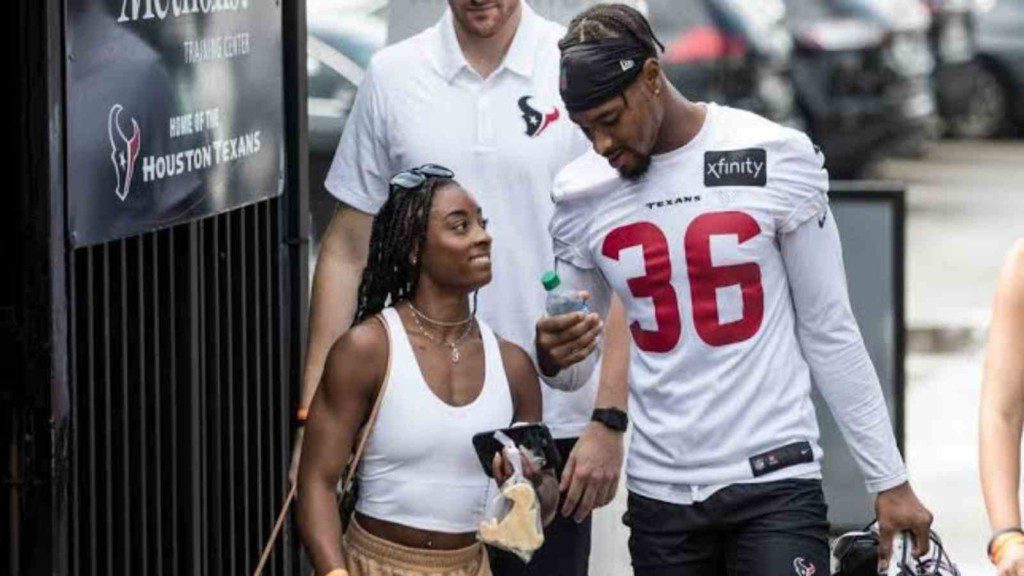 Her jeans showed off her love for Jonathan Owens, as on her backside was clearly mentioned- Mrs. Owens. She also posted a photo of herself on Instagram wearing the jeans on Thursday. The jeans, from Bal Apparel were also extremely beautifully embellished with pearls down the side.
Biles has been documenting her entire bachelorette trip on Snapchat, and has been giving live updates. As the wedding is coming closer, the bride and groom are very excited. During her bachelorette party at Belize as speculated, Biles has a lot of fun with her friends.
Biles also donned a white wedding dress during the trip, and her friends wore black alongside her. She has been enjoying drinks, dares and games with her entire bridal party, quite well fulfilling the criteria of a bachelorette trip. However, she also does love her fiancee, and cannot wait to get married now.
I can't wait to spend forever & ever with you, you're everything I dreamed of and more! let's get married FIANCÉ." We sure are excited to see Jonathan Owens and Simone Biles tie the knot. The lovebirds have been in the limelight for a long time, and their support for each other in the relationship is commendable.
Incase you missed it:
Simone Biles ready to be swept by Jonathan Owens as EXTENSIVE wedding plans with her mom is in process
Elite athletes speak out – Mental health takes center stage in Olympic Games podcast episode