In the main event of UFC Fight Island 4 (Holm vs Aldana) Holly Holm presented a spectacular show for her fans where she completely dominated Irene Aldana in all the 5 rounds. Holm showed that she is still a threat in the women's bantamweight division.
She was very happy after the win, during the post-match conference, she said, " I know the match can go up to five rounds, it was a part of my game plan, I tried not to do anything stupid just tried to stay controlled, listen to my team and stay focused whole time".
When she was asked what was her motivation in this fight she said, "So much effort has been putten in flying all the way over here and get in the ring for that 25 minutes. I want to get in the ring and make it worth something and I don't want to go home with a loss, which was my motivation tonight".
Holm is turning to be 39 soon but she showed that there is still much gas left in her tank; she can outlast any fighter any day. Holm announced with this win that she is still in the race for the Bantamweight title.
Holly Holm and Irene Aldana creating history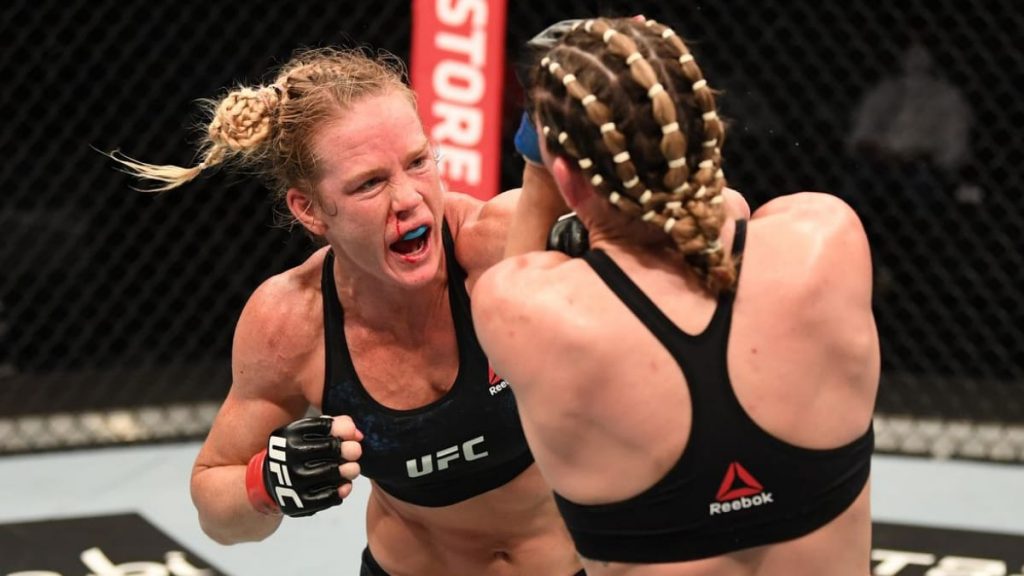 Holly Holm and Irene Aldana became part of the history today as they became the first-ever women fighters to feature in the main event at UFC Fight Island, Dubai. Holm felt proud to be a part of history.
After the fight, she said, "It's always an honor to be a part of something historic and the fact that we were the first female to headline the card at Fight Island, I carry this with a lot of pride and I want to thank Dana White and UFC for believing in us."
Holm has set her eyes for the future fights and this win over the rising contender in the women bantamweight division will give her a lot of confidence.
Also Read: UFC Fight Island 4 Holm vs Aldana: Holly Holm won against Irene Aldana by Unanimous Decision of judges