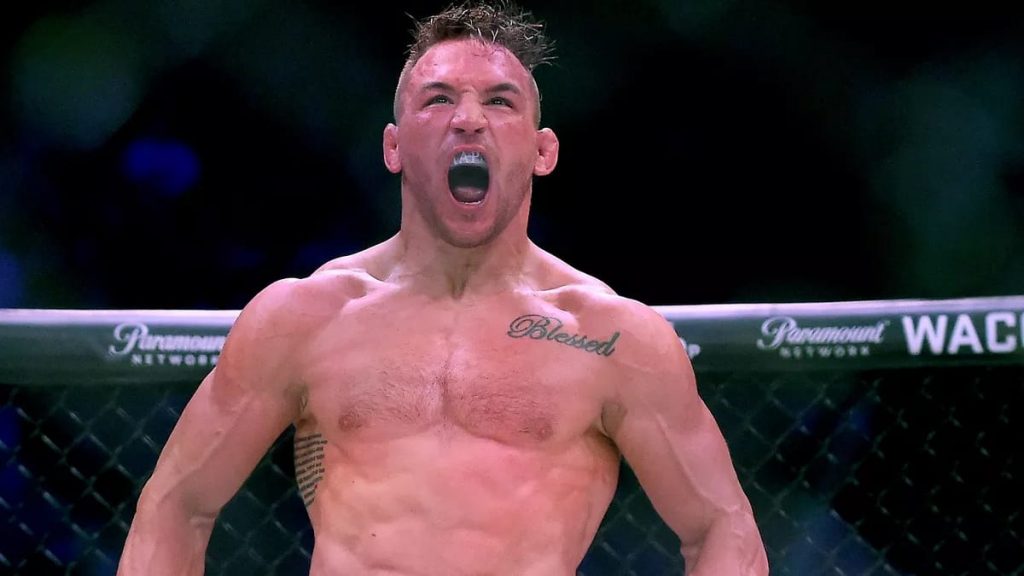 Michael Chandler got off to an astounding start in his UFC career. The former Bellator star made his UFC debut, in the co-main event of UFC 257, against top ranked Dan Hooker; and all it took Chandler was 150 seconds, to knock the Kiwi out. The win propelled Michael Chandler to number 4 in the lightweight division rankings. And, now he is all set to make a statement in arguably the toughest division in the UFC.
Speaking in an episode of BELOW THE BELT with Brendan Schaub, Michael Chandler discussed shedloads of topic, and Khabib Nurmagomedov was one among them. Speaking of the retired fighter, Chandler believed that he could be the man to 'entice' Khabib to come back out of retirement. He also vowed to put on a champion's performance in the upcoming fights.
'Hats off to Khabib for what he has accomplished'
Michael Chandler was quoted as saying, "Hats off to Khabib for what he has accomplished. I think it's time to move on obviously. And now we're going to see what the heck happens. I wanna show the world that I'm not a guy who's just got hands. I wanna show the world that I'm a well-rounded mixed martial artist. I can pick you up, put you down. I can control you there; Submission, doing damage, controlling guys, and knockin 'em out. I think I could probably be the guy who entices Khabib to come back. But, that's at least a year down the line, at least!"
Being a top ranked fighter, there is a legion of talent, Chandler can fight against viz. Dustin Poirier, Justin Gaethje, Charles Oliveira, even Tony Ferguson. A win in his next fight, against any of these fighters, will surely put him, one step closer to the title shot.
Khabib, on the other hand, has remained tight-lipped about coming out of retirement. UFC President Dana White is trying his best to persuade Khabib to come out of retirement. They are soon to meet in Vegas, where White will be giving it all to convince 'The Eagle'. In case it fails, will Chandler be the man who entices Khabib to come back?
Also Read : 'U trying to get TrailBLAZEd?' – Kevin Holland calls out Nate Diaz