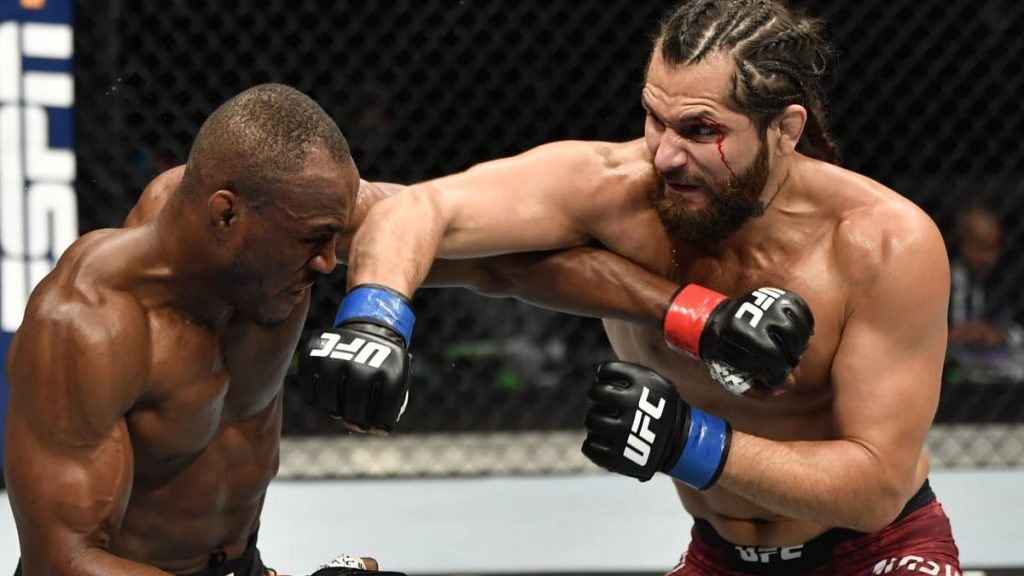 Kamaru Usman is on a roll, having conquered the welterweight division to the fullest. The 'Nigerian Nightmare' defeated his former teammate and sparring partner Gilbert Burns at the recently concluded UFC 258, thereby successfully defending his welterweight title for the third time. He also went past UFC great – Georges St-Pierre's record for the most consecutive wins in the UFC (13 wins).
At the post-fight conference Usman called out Jorge Masvidal for a rematch, after having defeated Masvidal only, as recently as UFC 251. There have also been talks of the pair being the coaches for the upcoming season of the ultimate fighter (TUF).
Speaking about Masvidal in an interview with John Morgan of MMA Junkie, Usman revealed that no trolls and jibes aimed at him (by Masvidal) would affect him. He also added that, no one especially Jorge Masvidal, can accuse him of not being able to fight.
'What could he possibly say?'
Kamaru Usman was quoted as saying, "As a competitor, obviously not – I don't want to deal with any of that because I'm a simple guy, fairly. I just want to be in my house, on my couch. I don't want to have to deal with any of that other stuff. But this is part of the job. This is part of my goal of this year, is big, big things that I need to do, I want to do. I want to do them this year, and this is just a stepping stone towards that, and he can't troll me. I don't give a sh*t about that guy."
He continued, "What could he possibly say? That's the thing now. What could you possibly say about me? What? What could he say? How could he troll me? What? 'You can't fight.' Wrong. I can fight – because I have a big shiny thing up here that says that I can fight. 'You can't beat me?' Wrong. I beat your ass from start to finish. You can't say that.
Addressing the trolls aimed at his hairline, Usman exclaimed, "What else do they say? 'Oh, your hair, you have no hair. Guess what? I shaved it all. Bald now. What these dudes going to say about me? You can't say nothing."
Despite beating Masvidal comprehensively at UFC 251, Usman has maintained that he's hell bent on facing Jorge again in a rematch, since he didn't finish him last time (won via unanimous decision). And, going by the look of things, we might very well have a rematch soon.
Also Read : Rafael Alves misses weight by a staggering 11.5 pounds; fight scrapped; Alves later blames it on salmon