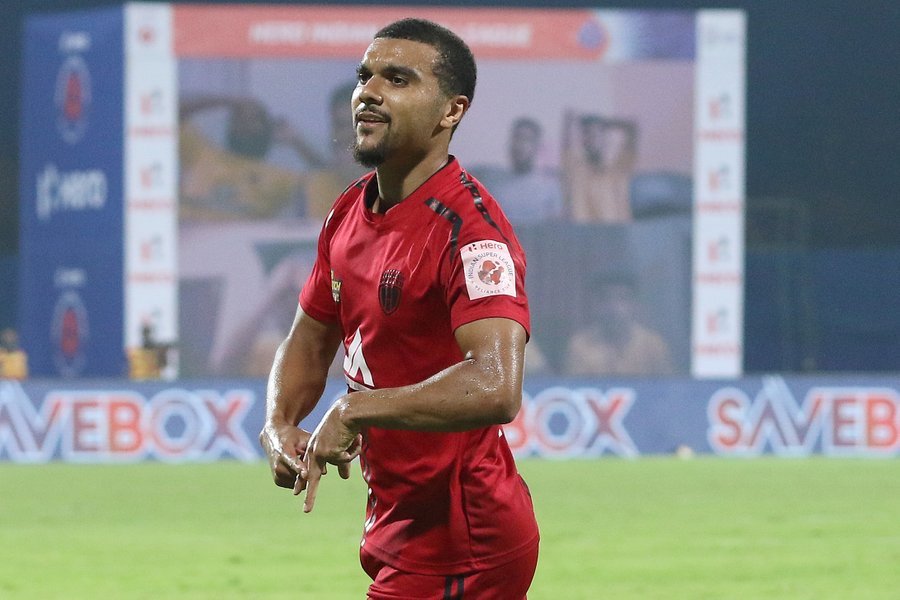 In a game of strikers where both the strikers of North East United wasted two chances, Kerala Blasters will consider themselves lucky to have escaped with a point. Kwesi Appiah and substitute Idrissa Sylla both missed glorious chances to give the lead to North East United and as a result failed to win their second match.
Swinging halves for both sides
Kerala Blasters dominated the first half while North East United dominated the second half. Prior to the match starting, a minute's silence was held for late Diego Maradona, known to many as the God of Football. Kerala Blasters struck really early in to the match as Sergio Cidoncha scored a header from a free-kick taken by Seityasen Singh.
Kerala kept building on their momentum and had a glorious chance to solidify their lead in the 23rd minute. Striker Gary Hooper had an open net to fire the ball into after a clever one-two with Sergio Cidoncha. However the striker was able to fire the ball over the bar only and spurred an easy chance. Later he got a penalty which he fired straight down the middle. North East United keeper Subhasish Roy Chowdhury almost kept the ball out with his foot, but the shot was too powerful.
North East United striker Kwesi Appiah scored in the 51st minute to reduce the lead of Kerala. The team played well enough and threatened Kerala a lot of times. In the 65th minute they had the chance to draw level with Kerala when a penalty was given. However Kwesi Appiah hit the ball into the crossbar and missed another glorious chance. He was substituted within minutes with another striker Idriss Sylla. North East United kept toiling until the end and right at the death they were rewarded as Idrissa Sylla equalized from an assist by Gurjinder Kumar. It was a long ball that he controlled impressively with his chest before firing past 'keeper Albino Gomes.
At the end of the match, Kerala Blasters sit in 8th place with 1 point while North East United sit up at the top with 4 points. Next match is Robbie Fowler's East Bengal taking on Antonio Habas's ATK Mohun Bagan.
Also read: Thiago Silva set to receive contract extension after an impressive start to life at Chelsea