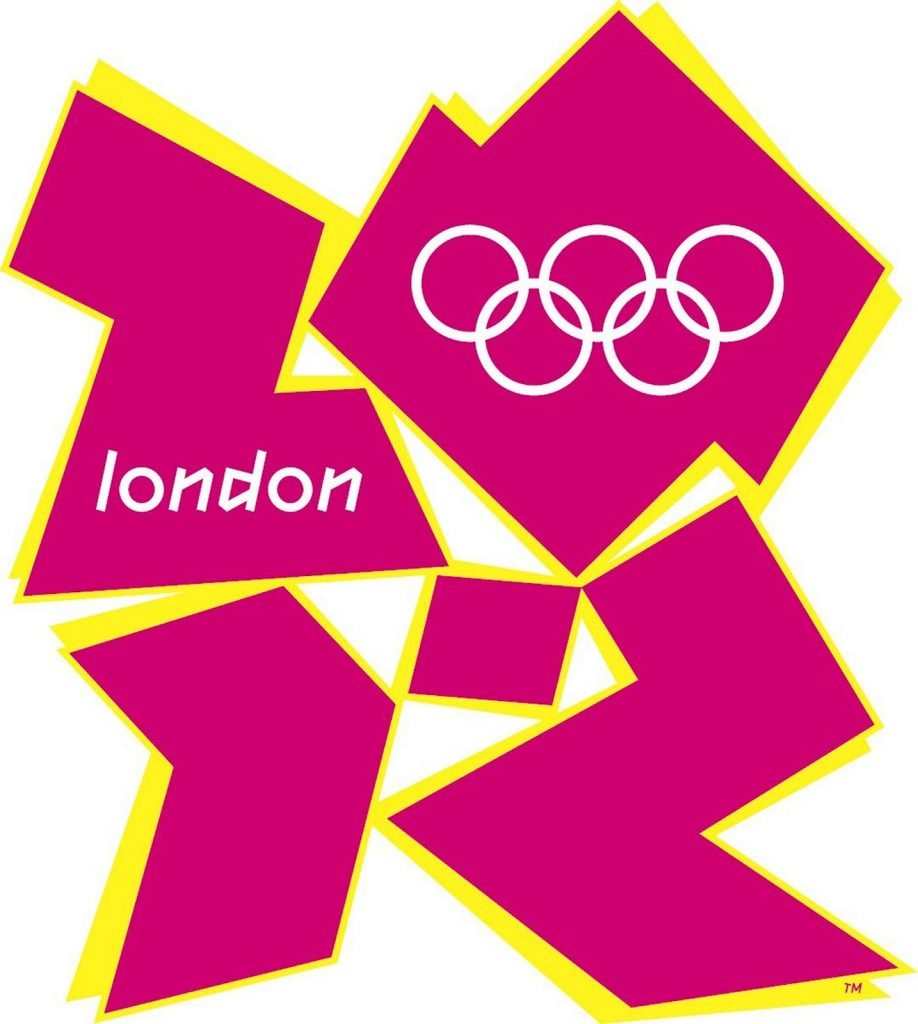 The momentum gained at Beijing 2008 was continued into the 2010 Delhi Commonwealth Games. Although the 2010 CWGs were marred by controversies and corruption scandals, for Indian sports they were a landmark moment. For the first time in history, India finished 2nd in the CWG medal standings, winning more than a 100 medals. They were a life changing event for athletes such as Gagan Narang, Saina Nehwal and the Phogat sisters.
Delhi 2010 was followed by India's best ever showing at the Asian Games in Guagzhou 2010. For the first time in history was there so much optimism surrounding Indian Olympic sports heading into London 2012.
'Inspire a Generation'
London became the first city to be hosting the Olympics for the third time. Hosting the Games for the first time since 1948, the UK aimed to make the 2012 edition a celebration of the new 'cool Britannia'. The quirky opening ceremony featured British pop culture icons such as Mr. Bean, Harry Potter and James Bond. The Queen herself made a cameo appearance as a Bond girl. The national contingents were welcomed with the sounds of classic British rock.
On the sporting front, the Games were as last time, again dominated by Michael Phelps and Usain Bolt. Hosts Great Britain recorded one of their best ever Olympic tallies. Chris Hoy, Mo Farah and Nicola Adams were among the many names who became overnight stars.
A look at India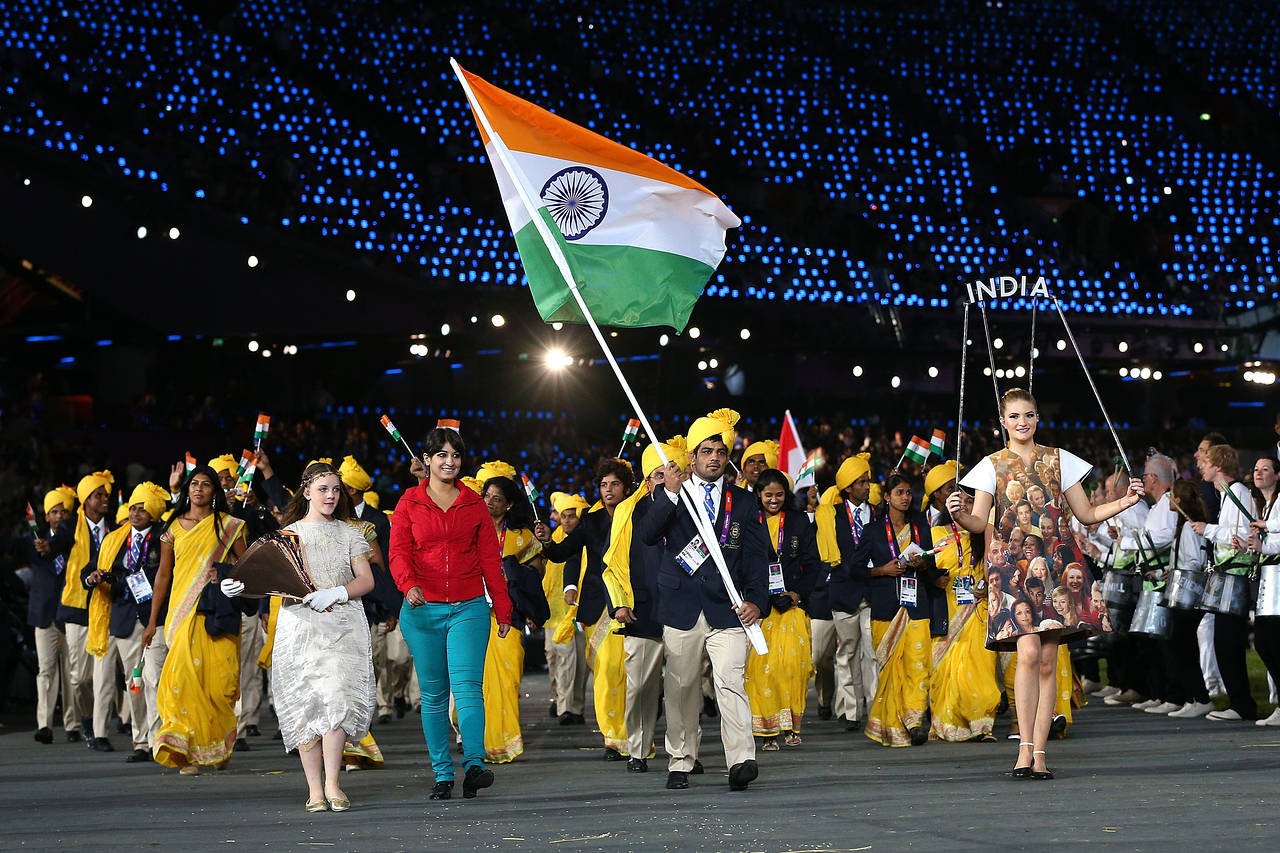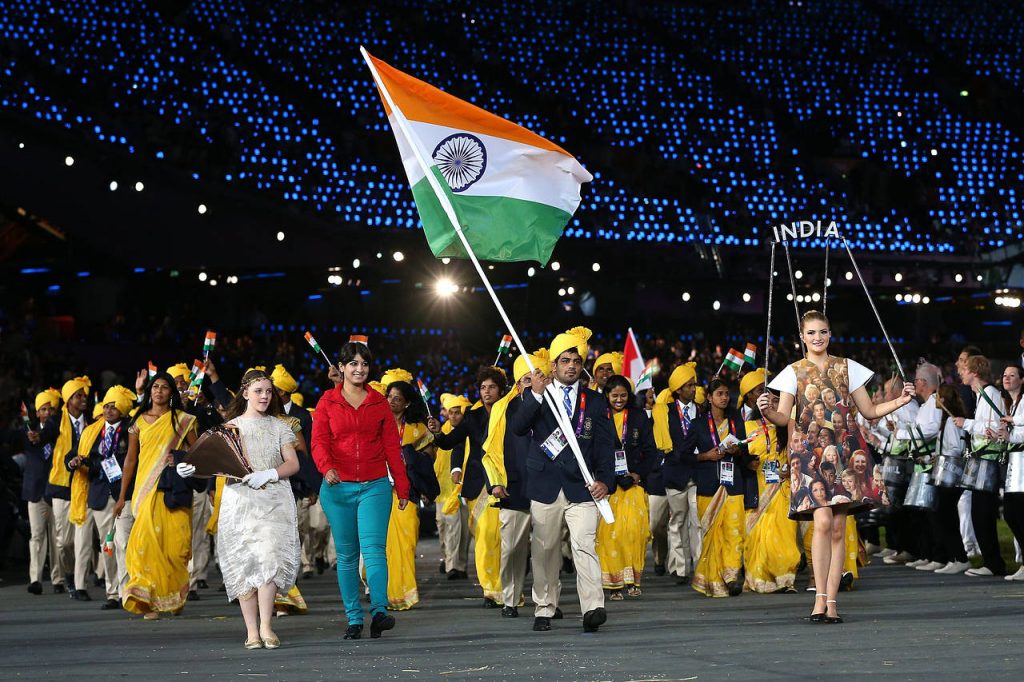 Pre-Games expectations:
The Indian squad comprised 83 athletes in 13 sports. For the first time ever were there so many medal contenders from India. From shooting to tennis to boxing to badminton to wrestling to archery, almost half the sports India participated in featured at least one genuine medal contender. The men's field hockey team was also back after 8 years though expectations from them were minimal.
To add to the positivity, the Indian contingent for the parade of nations entered into the best-dressed lists of quite a few publications. Bizarrely however, an intruder Madhura Honey was allowed by the British organizers to sneak into the parade along with the Indian contingent.
The flagbearer at London Olympics:
Sushil Kumar, who won a wrestling bronze in the previous edition was chosen to be the flagbearer.
Notable debuts:
Indian athletes making their Olympic debuts included archer Deepika Kumari, tennis player Rohan Bopanna, shooters Heena Sidhu and Rahi Sarnobat and boxer Mary Kom since the sport of women's boxing itself was being held for the first time at an Olympic Games.
Dentist-turned-shooter Heena Sidhu was among those featured in the official documentary on London 2012 titled 'First'.
Medalists: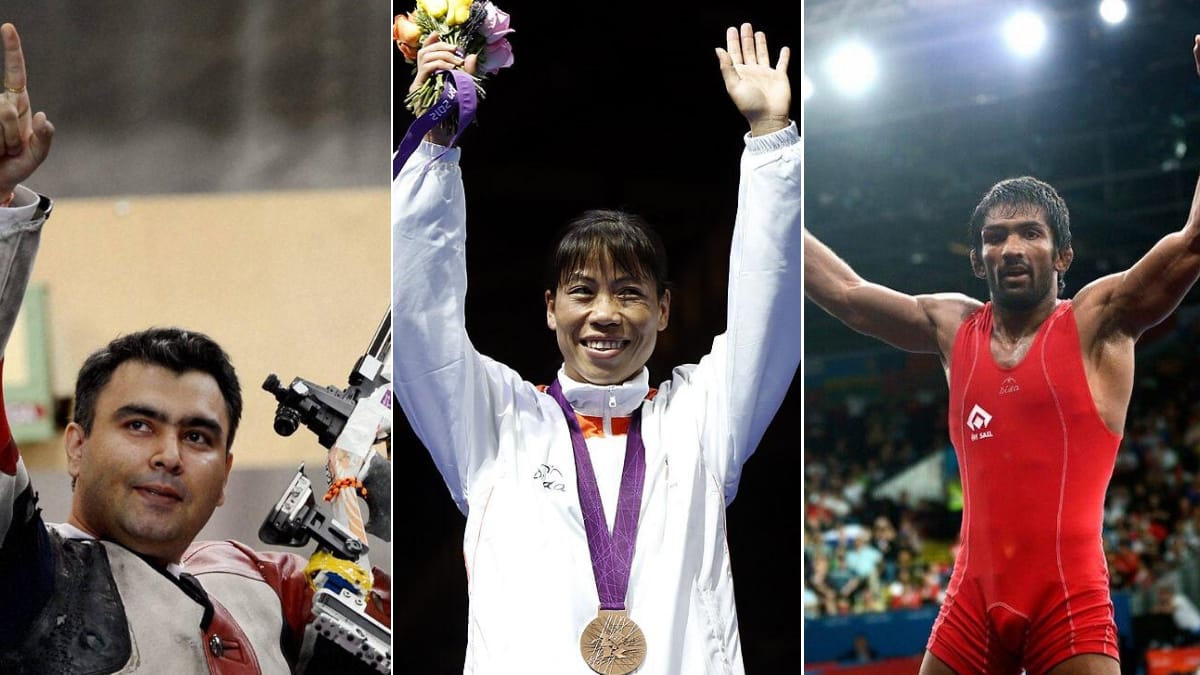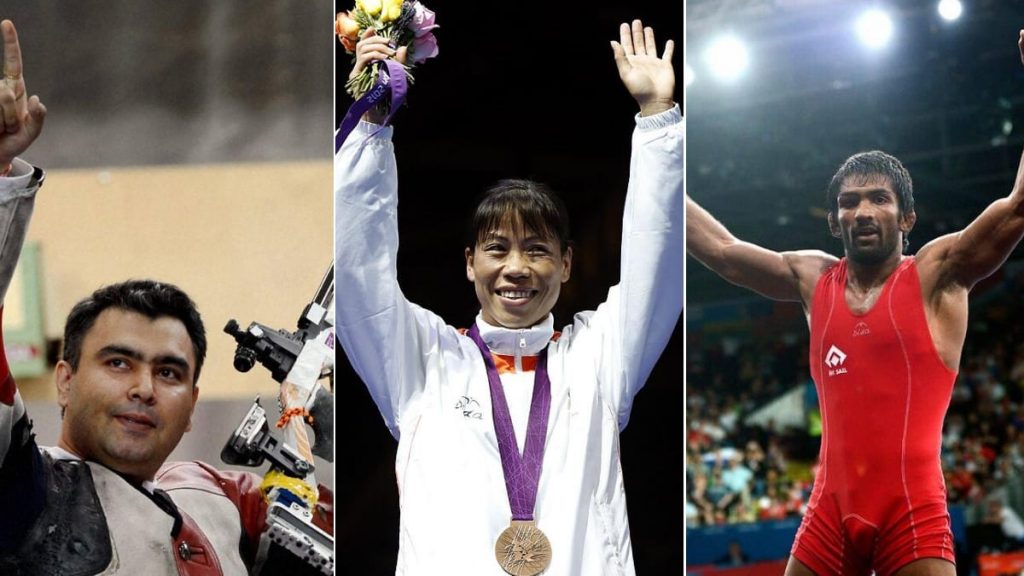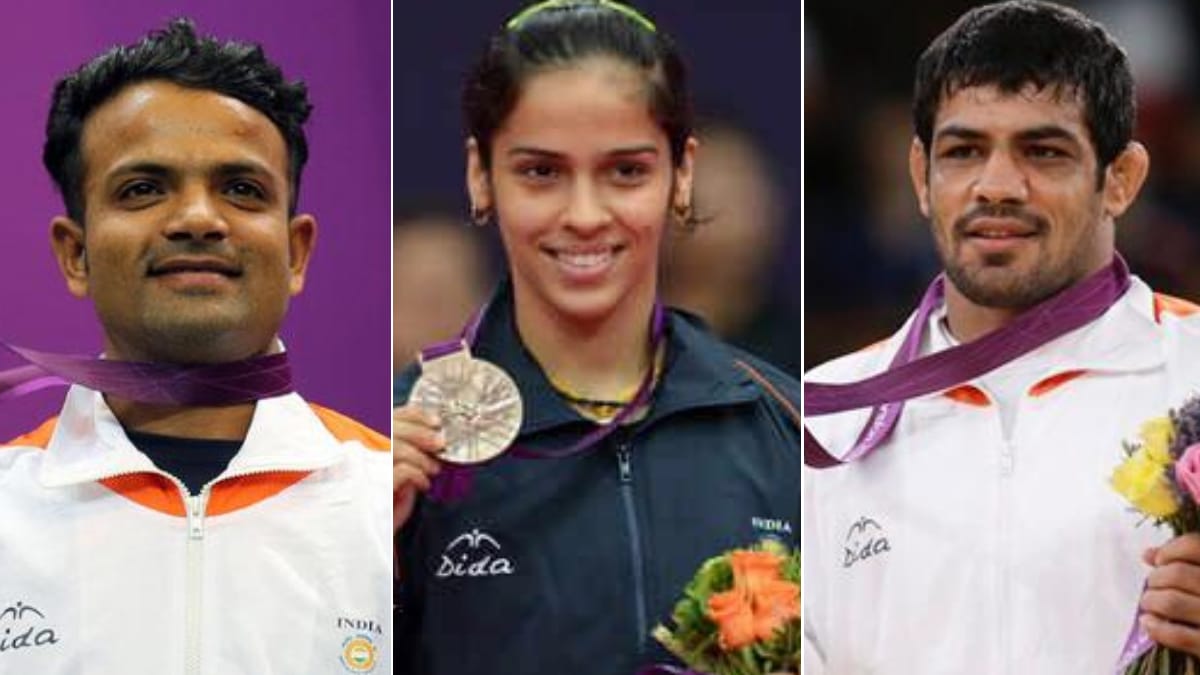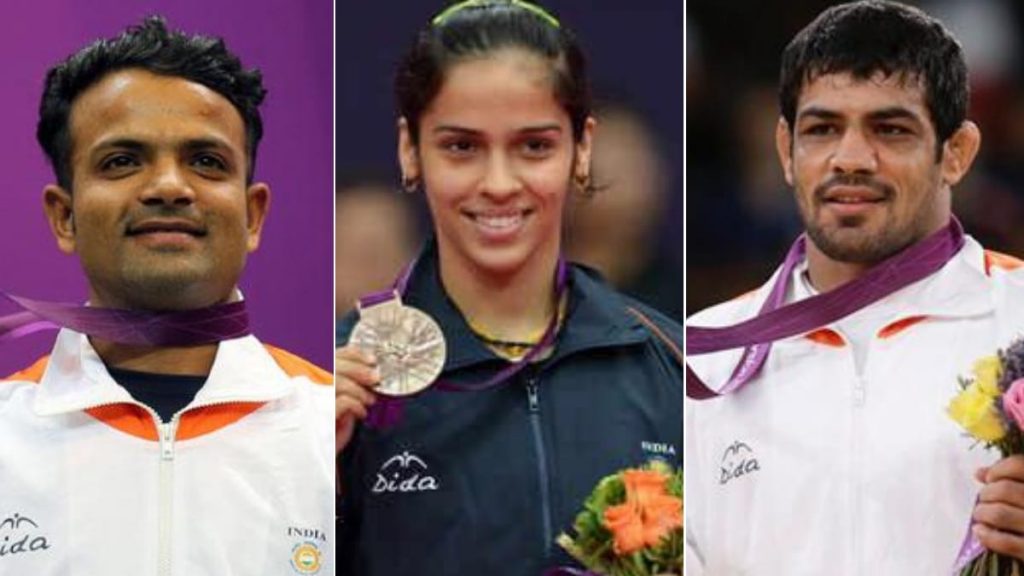 India won six medals, double of the previous Games' tally and their highest total ever.
Shooters:
India's first medal was from shooter Gagan Narang. Narang was one of the world's top air rifle shooters since 2010 and made his good form count on the biggest of stages. After qualifying third in the men's 10m Air Rifle competition, he continued to shoot well consistently in the finals and soaked up the pressure from his Chinese and Dutch competitors. He finished with a well-deserved bronze after a total score of 701.1.
25m Rapid Fire Pistol shooter Vijay Kumar went largely unnoticed during the buildup to the Games. After his event though, he became a household name. Vijay qualified in fourth place for the finals with 585 even as Russian Alexi Klimov set a Qualifying World Record with a score of 592. But this accounted for little as the qualifying scores weren't counted for the medal round. Vijay was ice-cool in the finals, always being in the medal position even as his competitors left one after another. He ultimately edged out Klimov and Chinese Ding Feng and finished with a score of 30, only behind Cuba's Leuris Pupo who was undergoing a dream run with a Finals World Record of 34. Vijay's silver was the first Olympic medal won by an Indian pistol shooter.
Saina Nehwal:
There were lot of expectations from the player-coach duo of Saina Nehwal and Gopichand. And they sure did not did not disappoint their fans. Saina was brilliant in the Group Stages, Round of 16 and the Quarterfinals, beating Yao Jie and Tine Baun in straight games. In the semis however, she was easily beaten by nemesis Wang Yihan. That meant the bronze medal match would be her only shot at a medal. A few fans say the bronze she won after her opponent Wang Xin got injured midway was lucky, though it should be said that she was the only shuttler standing up to China's WS dominance in that era, and the medal was well-deserved for her years of grit and hard-work.
Mary Kom:
As mentioned earlier, Women's Boxing was making it's Olympic debut at these Games, and there was no better platform for MC Mary Kom to make a global statement. Mary was a bit unfortunate as the pinweight category where she won all her World Championships wasn't contested. She had to graduate to flyweight which already had favourites in Nicola Adams of Britain and Ren Cancan of China. Mary though successfully won the two bouts which were required for a bronze medal. Her semifinal loss to Adams notwithstanding, an Olympic medal added to her ever growing legend.
Wrestlers:
Wrestlers Yogeshwar Dutt and Sushil Kumar put the icing on the cake for India. The gritty Yogeshwar won a bronze through the repechage route in Men's 60 kg freestyle, same as Sushil had done four years earlier. His come-from-behind wins in the repechage bouts against Iran and North Korea were one of the highlights of the Indian campaign.
Sushil himself did one better than last time, winning a silver in Men's 66kg freestyle, having only lost to Japan's Yonemitsu in the final. He thus became the first Indian ever to win two individual Olympic medals, the first to do it in consecutive Games, and the first Indian wrestler to win an Olympic silver.
Disappointments:
India could not win a single gold medal unlike last time. Defending champion Abhinav Bindra finished a lowly 16th in Men's 10m Air Rifle. Double-trap shooter Ronjan Sodhi, of whom much was expected, could finish only 11th.
Tennis disappointed yet again. Though Bhupathi-Bopanna got their desired pairing in Men's Doubles, they could not progress beyond the second round. The same happened with Paes and Vishu Vardhan. Sania Mirza too did not make an impact, be it in Women's Doubles with Rushmi Chakravarthi or in Mixed Doubles with Paes.
The men's hockey team finished 12th and last.
Men's boxing was a major disappointment, though a few judgements did not go India's way. Vijender Singh and Devendro Singh lost in the quarters, while Shiva Thapa and Vikas Krishan Yadav lost their first bouts. The archery contingent led by Deepika Kumari choked when it mattered.
Creditable performances by Indians:
The unheralded shooter Joydeep Karmakar put up a terrific final round performance to finish fourth in Men's 50m Rifle Prone.
In athletics, Krishna Poonia and Vikas Gowda reached the finals of their discus events, finishing 6th and 8th respectively. Women's 800m sprinter and PT Usha protege Tintu Luka made it to the semifinals.
In badminton, Parupalli Kashyap became the first Indian male shuttler to reach the Olympic quarterfinals, where he lost to the great Lee Chong Wei. Jwala Gutta and Ashwini Ponappa were unlucky to not progress beyond the group stages despite winning 2 of their 3 matches.
In a nutshell:
The London 2012 Games are till date the best ever Olympics for India. The generation which debuted at Athens 2004 reached their peak at London. Additionally, new stars such as Saina Nehwal and Vijay Kumar made their presence felt. Non-cricket sports was seen as a viable career option after the generous cash prizes and endorsements handed out to the medal winners. It seemed that after many decades of independence, Indian sport was finally arriving on the world stage.
Other articles in this series: