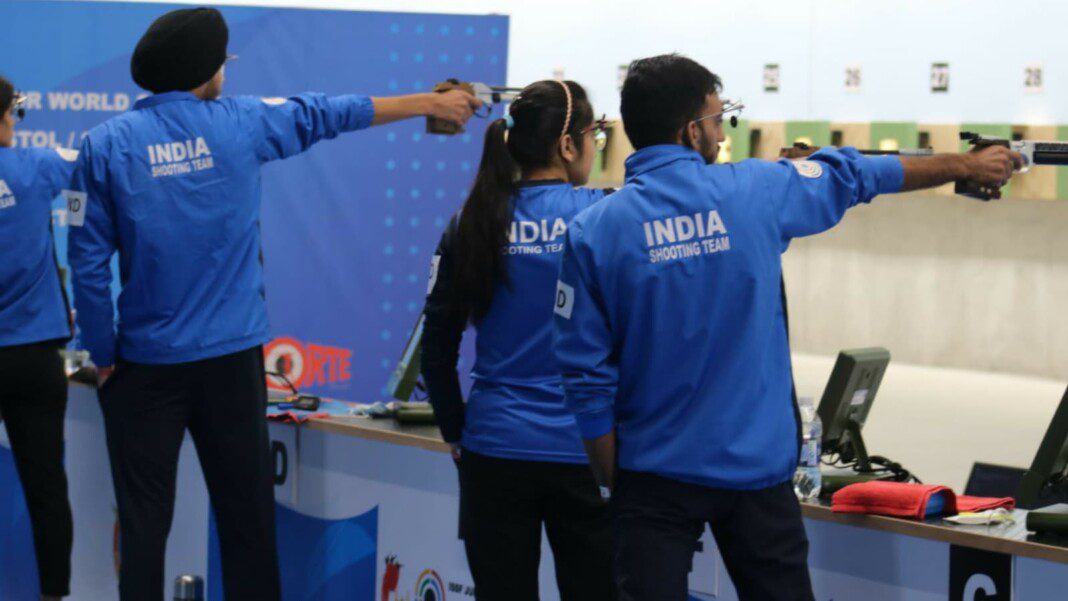 India were guaranteed 6 medals at the end of the qualifications of rifle/pistol Mixed and Team events and the country's shooters converted 4 of those opportunities into gold medals at the 2021 ISSF World Junior Championships held in Lima, Peru.
Manu Bhaker, subject of much criticism after Tokyo 2020, helped herself to a hat-trick of golds from 10m Air Pistol events amid an admittedly weak field. She will get more medal chances from the Women's 25m Pistol events.
Sarabjot Singh, who missed out in Men's 10m AP individual, picked up 2 golds from Mixed and Team events.
The rifle shooters were relatively less successful, winning 1 gold and 2 silvers.
Mixed Events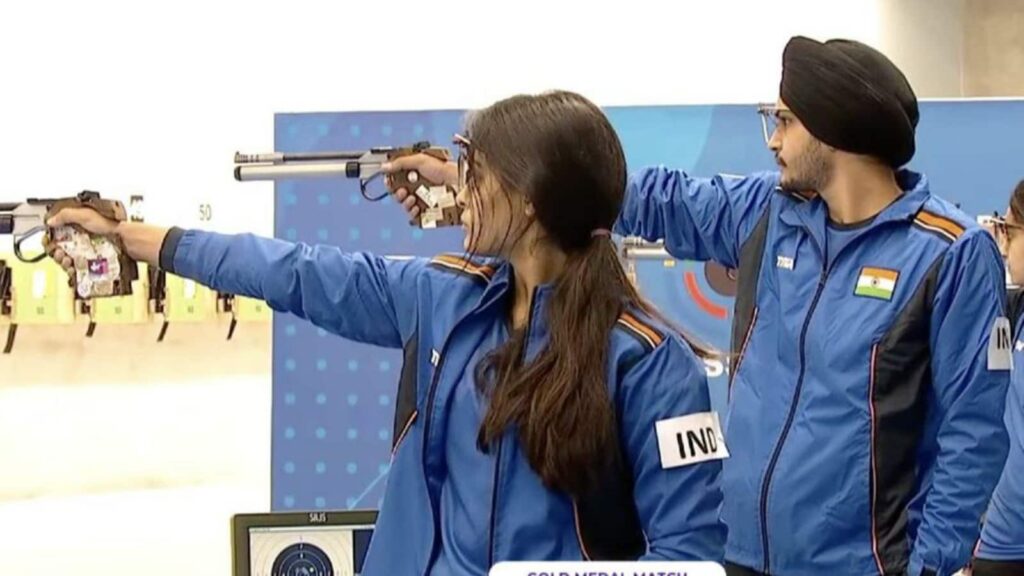 10m Air Rifle
Atmika Gupta and Rajpreet Singh were always going to be the underdogs against an American team comprised of Tokyo Olympic Champion Will Shaner and Olympic medalist Mary Tucker.
The Indians nonetheless gave a good account of themselves and competed toe-to-toe before losing by a narrow margin of 15-17.
Italy beat Czech Republic 16-6 in the bronze-medal match. The other Indian team of Paarth Makhija and Zeena Khitta were eliminated from the first qualification stage itself.
10m Air Pistol
In an-all Indian final, the team comprising of Manu Bhaker and Sarabjot Singh prevailed 16-12 against the less-experienced duo of Naveen and Shikha Narwal.
A few 9s scored by Shikha in particular were to the detriment of her team.
Romania defeated Ukraine 17-13 in the bronze medal match.
Skeet
Neither of the 2 Indian teams could qualify for the medal rounds in the non-Olympic Skeet Mixed Team event. India 2 comprised of Raiza Dhillon and Ayush Rudraraju placed 7th with a score of 131 while the India 1 team of Areeba Khan and Abhay Singh Sekhon placed 10th out of 12 teams with a score of 126.
Interestingly both Indian female shooters outscored their male counterparts. This trend was seen yesterday as well with the Indian women's team winning a gold and the men getting a bronze.
The Italian team of Cristian Ghilli and Sara Bongini set a new World Junior Record of 144. They will face Romania in the gold medal match. Italy 2 will take on Greece for bronze.
Team Events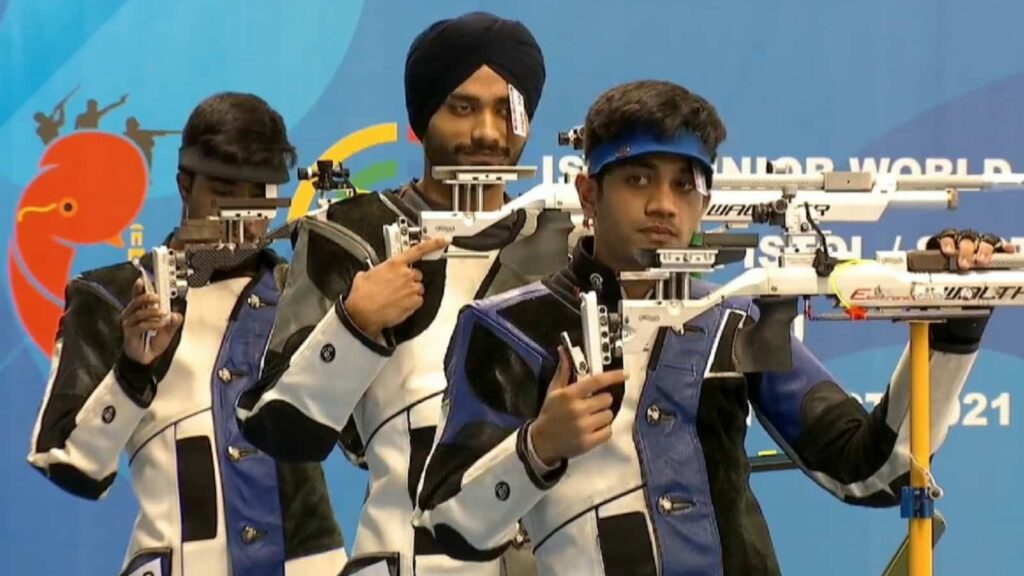 10m Air Rifle Men
In this non-Olympic event, the Indian team comprising of Dhanush Srikanth, Rajpreet Singh and Paarth Makhija enjoyed an easy 16-6 over Team USA despite the latter containing Will Shaner and 2021 World Juniors individual bronze medalist Rylan Kissell.
In the bronze match, Spain beat Germany 16-10.
10m Air Rifle Women
The Indian team of Nisha Kanwar, Zeena Khitta and Atmika Gupta lost by a narrow 14-16 margin to a Hungarian team that included World Cup medalists Eszter Meszaros and Eszter Denes apart from Lea Horvath.
France defeated Germany 16-14 in the bronze match.
10m Air Pistol Men
Sarabjot Singh won his 2nd gold of the tournament while Naveen finally got a gold after the disappointments of individual and mixed as Team India, also containing Shiva Narwal (brother of Shikha and Paralympic gold medalist Manish), beat Belarus 16-14 in a close match. Team Belarus included individual gold medalist Abdul-Aziz Kurdzi.
USA defeated Turkey 16-10 to win bronze.
10m Air Pistol Women
Yet another India vs Belarus pistol match went in favour of the Indians. The Indian team of Manu Bhaker, Rhythm Sangwan and Shikha Narwal won 16-12 against the Belarusians.
Ukraine beat USA 16-14 in the bronze match.
Thanks to today's gold rush India lead the overall medal tally with 14 medals including 6 golds, 6 silvers and 2 bronzes. USA are second with 10 medals including 4 golds, 4 silvers and 2 bronzes while Belarus with 1 gold and 2 silvers are a distant 3rd.