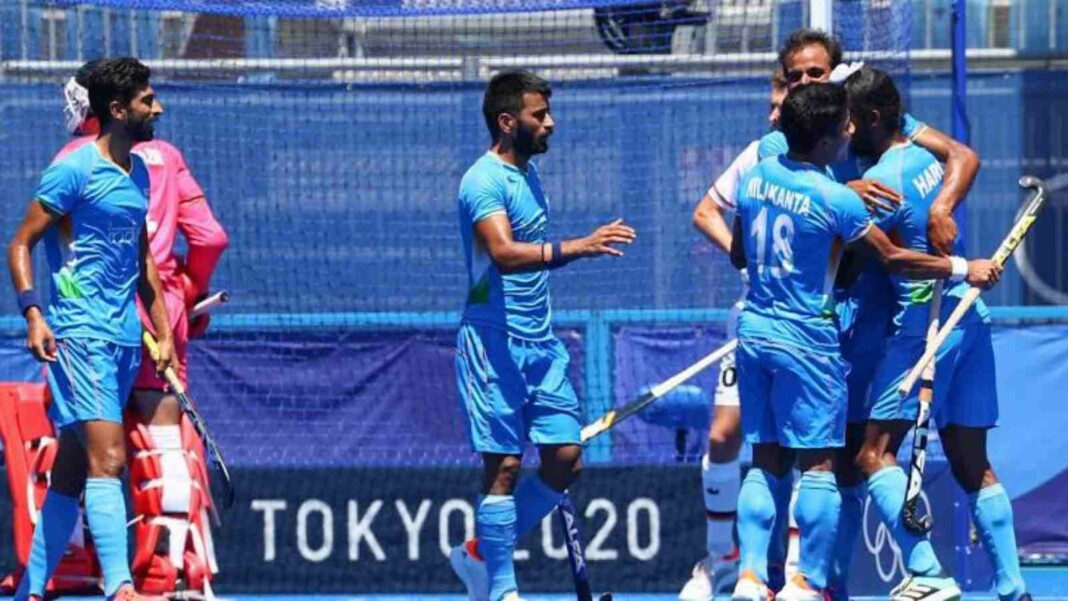 The bronze medal match of hockey at the Tokyo Olympics saw the Indian men hockey team to take on Germany in a fast paced and tight match. India lost to Belgium in the semifinals, while Germany lost to Australia. Both teams were going in strong in order to bag a medal.
Germany started off play incredibly aggressively while the Indians had quite a slow start comparatively. They attacked hard and to India's surprise, Germany breached India's citadel and scored an early first goal from Herzbruch. India's goalkeeper Sreejesh held off the Germans very well, and kept calm and defended the Indian goal as a flurry of penalty corners came India's way. While India did get a penalty corner in the first quarter, they missed and India was trailing at the end of the first quarter.
The Indian men hockey team looked much stronger in the second quarter, almost rejuvenated. They came on strong and immediately went on to attack the German goal. It was a fantastic goal from India's Simranjit Kaur. The German's continued to press on and breach the Indian circle, and the Indian defence did a good job, until there was a series of 2 successive goals, and India was now down by two goals, Germany leading 3-1.
A penalty corner for India was earned by Simranjit and India had a chance to put a ball in the post. Hardik Singh came across quickly, and got the ball in the net, and the deficit was reduced to 3-2. Another penalty corner for India, and this time Harmanpreet Singh made a fantastic score, levering the match 3-3, and keeping India's hope alive. The second half would be an important one, as India would give its all to end the drought and bring back glory.
Indian Men Hockey Team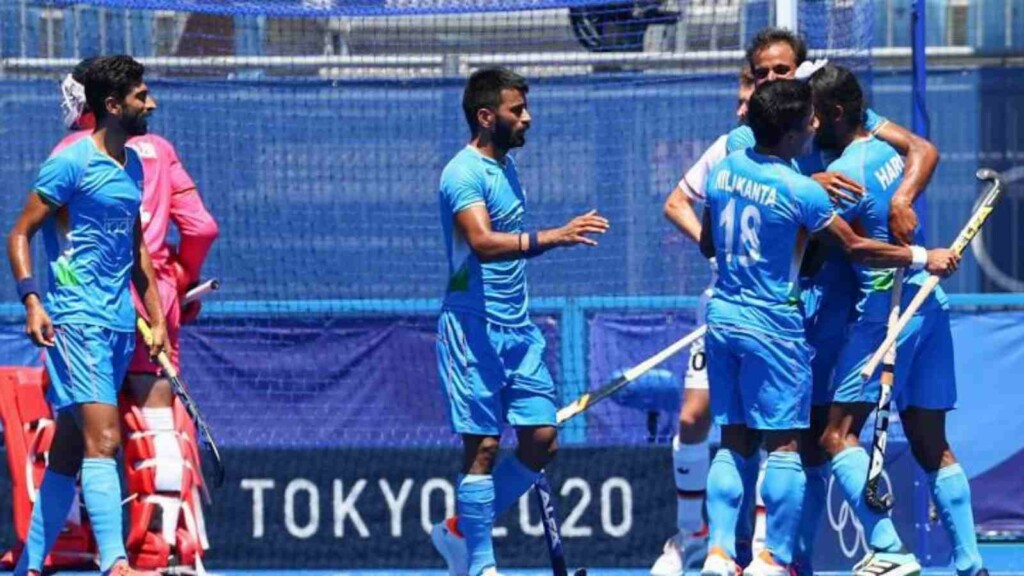 India needed to strengthen its defence, as Sreejesh was doing an excellent job, but the defence was causing errors and allowing Germany to score. A penalty corner for India started in dramatic fashion, as Mandeep got a penalty corner for India in the first minute of the match, and Germany lost their video referral as well. Rupinder Pal Singh delivered, and took the ball through the net. It was a goal for India, and they were leading 4-3.
The Germans tried to attack soon, but India kept up a strong defence and did not let them breach the cirlce. One free hit from India saw it getting converted into a goal by Simranjit Singh, an India was up 5-3. A fantastic interception from Mandeep saw India take possession of the ball and keep the pressure on the Germans.
Nilakanta managed to get a penalty corner for India, which was successfully blocked, but it resulted in another penalty corner. It was defended again, but there was another penalty corner for India which they hoped would get converted. It was deemed as dangerous play, and India lost their video referral.
It was a penalty corner for Germany as there was a stick check inside the circle. Another penalty corner for Germany, which was unsuccessful, but one more penalty corner went the way of Germany. The strike from Wellan went wide and India held on to a two goal lead at the end of the third quarter.
The last and most important 15 minutes for modern Indian hockey came into play. A penalty corner for Germany posed a threat for India. It was a goal for Germany, and they made up some deficit, but were still leading by a narrow margin of 5-4. Aggrressive play from the Germans saw their captain get a yellow card, and a long corner for India. It was another penalty corner for Germany, but it was successfully defended by Sreejesh as the ball went wide. Sumit suffered an injury with just 5 minutes left for the match.
The anticipation was building as there was a penalty corner from Germany in the last three minutes. The goal was exceptionally defended by Sreejesh, and India got a long corner just outside Germany's circle, and another free hit for India with just one minute left. With just 5 seconds to go, Germany got a penalty corner but it did not matter anymore. India finished the match leading 5-4.
It was an emotional victory for Indian men hockey team, as they bagged the bronze medal after 41 long years, and the wait was over. The hopes of 1.5 billion people were kept alive, as hockey was revived once again.
Also read: Indian Women Hockey Team will Fight for Bronze After They Bow Out of Semifinals Despite a Valiant Effort