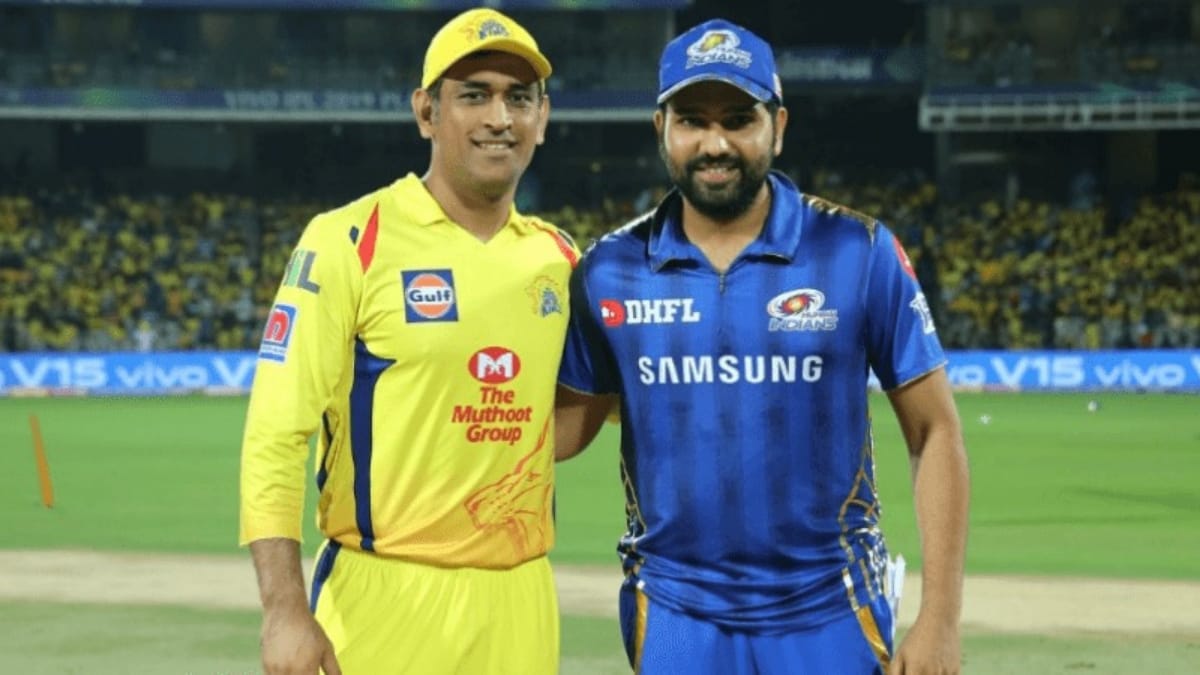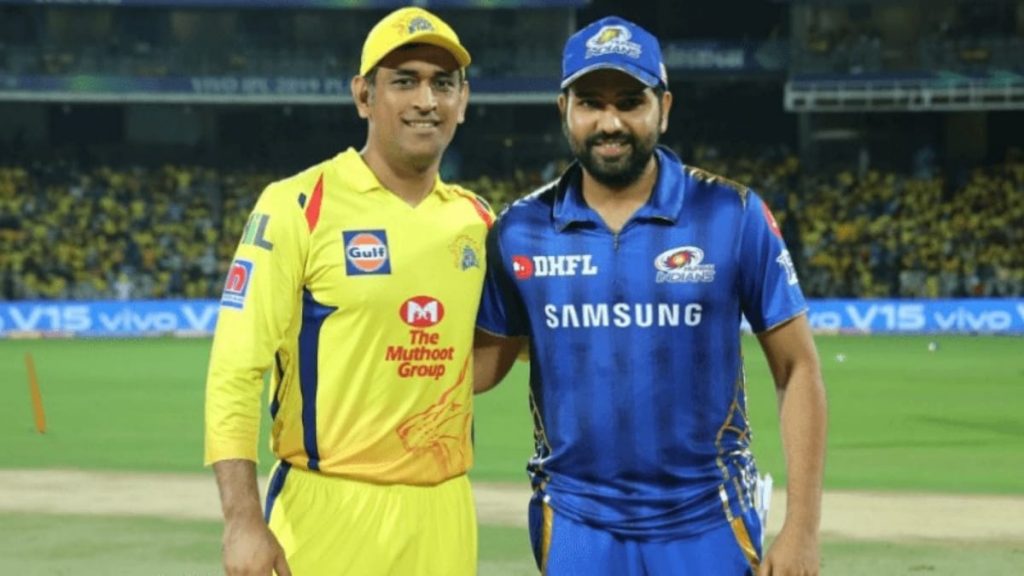 IPL 2020 LIVE Updates: Mumbai Indians (MI) Vs Chennai Super Kings
That's all for today guys. Thank you for joining us live at FirstSportz. We will see you tomorrow for the big match. And its Delhi Capitals and Kings XI Punjab at 7.30 IST at Dubai Internation Stadium.
Sam Curran (Man of the Match): I was actually really excited when I was coming to Chennai. Haven't met a lot of guys, haven't had much to think, landed two days ago and straight out there. To be honest, very surprised I went in but he's a genius, he obviously thought something. I think so [left-right combo], that was the over we wanted to target – a six or out approach.
Rohit Sharma at the post match presentation: Batsmen didn't carry on once they got in like Du Plessis and rayed did. That's something we failed to do. But credit to CSK bowlers, they kept us guessing all the time. Something for us to learn. Still early days, but credit to CSK. We all want to start really well, it's crucial in this tournament to get that balance right. A few things for us to learn from this game, we made mistakes. Hopefully we can rectify those and come back stronger. It was completely from what we're used to, having so many people cheer for us at the stadium. But I think IPL did a great Jon making sure there was some noise going around the stadium. We've got to understand and adapt to the pitches. The pitch got Better towards the end with end ew coming. It's not that we've not played at bigger grounds. We've got to hit those gaps and make sure we get singles and doubles, it's not just about hitting the shots. It's all about understanding what one needs to do.
Chennai Super Kings (166/5) beat Mumbai Indians (162/9) by 5 wickets. Ambati Rayudu (71) and Faf du Plessis (58) stiched a crucial partnership to take the team aground. A later flourish by Sam Curran put them on the drivers seat and du Plessis finished the job by scoring two consecutive boudaries off Trent Boult in the last over.
A comfortable win for Chennai. With this, they register their first win in the last six matches against MI. A good start for Chennai in the tournament.
Last over: du Plessis takes Chennai home in style by scoring two consecutive boundaries off Trent Boult's last over. Chennai register comfortable victory over defending champion.
19th over: CSK need five runs to win their first match.
19th over: Fifty for du Plessis.
19th over: Dhoni, the finisher has arrived!
19th over: Curran is out with a thrilling cameo of 18.
19th over: Sam has got 18 off five deliveries. Six off Bumrah on the first ball.
18th over: What an over for CSK! Sam Curran shows his true worth and explains why Dhoni decided to promote him ahead of himself. CSK needs 16 off 12 balls.
18th over: Curran smaks it for six. And a big one! 81 metres it is.
18th over: Jadeja is out. Krunal Pandya takes the wicket. The ball was angled in, Jadeja tried to work it away but misses completely and the umpire had no hesitation in raising his finger.
17th over: Ravindra Jadeja is on the crease and comes up with a leg glance to get a boundary. Cuts another for four off Patinson. CSK needs 29 runs now.
16th over: Rayudu is out at 77 runs. Rahul Chahar takes the catch, and a good one by the young man. Are going to witness an upturn in MI fortunes? CSK-121-3
15th over: A mixed-bag over by Bumrah. Some balls were right on money whereas Faf comes with a beautiful backward puch and hits hit through covers for four. There was appeal for run out by MI team but was denied by the umpire as Ambati Rayudu was well inside the crease. CSK: 116/2.
14th over:Partnership is 99 runs and Rayudu and Du Plessis are cruising towards the target. Both are playing with caution but scoring boundaries whenever the opportunity arises. Dhoni's calming influence always seems to have rubbed off on the team, which is on display right now here in UAE with both batsmen taking calulative risks.
13th over: CSK: 99-2
12th over: Bumrah is back in action as Rohit looks to break the partnership of Faf and Rayudu. 4th ball was an absolute beauty but Rayudu comes up with something ever better. Rayudu steps out and hits Bumrah straight towrads the fence.
11th over: Chennai ups the ante. Six by Rayudu between mid-wicket and long-on.
10th over: CSK is 70-2 at the end of 10 overs.
9th over: Kruna mixed the pace of the ball well and kept the batsman guessing. A good tight over by him. Rahul Chahar misses a catch that would have cost Chennai a wicket. Chennai: 58-2.
8th over: 50 is up for Chennai. Faf advances, dances and hit Rahul Chahar over long-off for a boundary. Chennai has still a long way to go. CSK 51-2.
Seventh over: Chennai at 43-2. A good over by Krunal Pandya. No boundaries conceded.
Sixth over: Bumrah bowls well, nipping the ball back sharply. But was hit for the boundary, which was also a no ball, by Ambati Rayudu. His last bowl was cleared for a six by Faf du Plessis. CSK 38-2.
5th over: Boult is showing his class! Taking deliveries away from the batsman while Rayudu and Faf look to steady the innings. It's just a matter of time that the ball takes the edge. CSK is 23-2. Bumrah is up next.
4th over: How well is Pattinson cramming the batsman? A good over by him. CSK is struggling at the moment. CSK 19-2.
TV Screen shows the LBW decision was missing by quite a margin. Faf did suggest referral but to no avail. End of third over, CSK is 12-1
2nd over: Rohit Sharma introduced James Pattinson instead of Bumrah. A close leg-before appeal was denied by the umpire. Fifth bowl and Murali Vijay is gone,LBW! Mumbai Indians could not have expected a better start than this. Ambati Rayudu on the crease now.
1st Over: Trent Boult has delivered for his team. Takes crucial wicket of Shane Watson in the first over. CSK is 5-1. Faf du Plessis is on the crease.
Mumbai Indians players and Chennai Super Kings opening batsmen on the field now. Chennai will expect to get them to a flying start.
Thank you for joining us in the first innings. We look forward to provide you with all the updates. Stay tuned!
Last over: Well, not-so-decent score on a strip that looked perfect for batting. Deepak Chahar bowled brilliantly and it would be upto the Dhoni-led batting line-up to register their first win of the tournament.
Last over: Chahar misses hat-trick.
Last over: Swing and a miss. Trent Boult is out! The yellow army doesn't look rusty at all after a long gap of cricket.
Nineteenth over: What a comeback by Ngidi! Takes wicket after conceding a boundary. James Pattinson has gone back into the pavilion. Mumbai is 156-8.
Nineteenth over: Kieron Pollard is out! Ngidi take the most important wicket of the match.
Eighteenth over: Who better than Sam Curran to go for at the moment? But the Englishman concedes two boundaries in the over. Nothing wrong with the deliveries but it's T20, a format where batsman have no alternative but to go gung-ho against the opposition.
Seventeenth over: James Pattinson did well in rotating the stike to Pollard. Pattinson has come in to fill the big shoes of Malinga. Pollard will have to take on the proceedings henceforth. Mumbai is 140 for six at the end of seventeen overs.
Seventeenth over: Krunal Pandya is out. Caught by MS Dhoni and the wicket goes to — Lungi Ngidi.
Sixteenth over: Strategic timeout! What's in store for both the teams now? Will Chennai take full control of the match? It's time that Mumbai goes for some explosive hitting and who's better than Pollard?
Sixteenth over: Six! Pollard Power!
Fifteenth over: An over with two crucial wickets. What an over by Ravindra Jadeja. A brilliant comeback by the CSK all-rounder. Mumbai is 126-5 after 15 overs.
Fifteenth over: A repeat from the South African player Faf du Plessis and Hardik Pandya is out! Brilliant stuff by one of the most athletic fielders of our time.
Fifteenth over: Kieron King Pollard on the screen ladies and gentleman!
Fifteenth over: Spiderman catch by Faf du Plessis. Saurabh Tiwaritries to go for a biggy but fails to clear the fences.He is gone for 42.
Fourteenth over: Piyush Chawla's appeal for referal failed as the bowl was not seen hitting the stumps. How good is he bowling this season? More googly than his original leg spin. Mumbai at 121-3.
Thirteenth over: Mumbai are 116-3. Saurabh Tiwari steps up this time and attacks Ngidi big time. Two boundaries in the over.
Twelveth over: Woo-hoo! Huge sixes over mid-wicket and on the longest part of the ground deposited into stands by Hardik Pandya.More fireworks to come. Mumbai is at 111-3.
Twelveth over: 154 stike rate is something in any format. Will Pandya get going? We will see as the innings progresses!
Eleventh over: Dhoni back to Deepak Chahar. Suryakumar innings comes to end at 17 off 16 deliveries.
Tenth over: Saurabh Tiwari and Suryakumar Yadav are trying to stich a partnership. Piyush Chawla bowled the over with varying deliveries. It would be intersting to see who Dhoni turns to. At the end of 10 over, Mumbai is 83-2.
Ninth over: Strategic time out. Mumbai is 83-2.
Eighth over: Suryakumar is on a rampage cutting on the fourth ball. A brilliant stroke. Saurabh Tiwari looks cautious and trying to asses the pitch before get going. 8 runs in the over. Mumbai is 68-2.
Seventh Over: Another change. Gun fielder, sharp bowler takes the centre stage. A decent over by him conceding just one boundary by experienced campaigner Surya Kumar Yadav. MI: 60-2.
Sixth over: Mumbai Indians 51-2.
Sixth over: Quinton De Kock is out!He tried to for a big shot but found a fielder. Both the openers are in the dugout now.
Fifth over: Thala Dhoni turns to spin to break the opening partnership. The "grassy pitch" doesn't seem to be assisting the fast bowlers. Rohit Sharma is out on the fourth ball. He tried taking on Piyush Chawla and was caught. Mumbai is 48-1.
Fourth Over: Change in bowler. Lung Ngidi is on the tv screen and his fellow South African player De Kock hits him over long off and long on for boundaries. Three boundaries in this over and Mumbai Indians are 45 runs at no loss. A good start for the Men in Blue.
Third over: One run in the first ball followed by two dots. Good third ball backed by brilliant fielding by Faf. Athough, De Kock swung his bat to get a boundary on the deep square leg. A good over by IPL standards. 27-0
Second over: Sam Curran bowling length balls and looking for swing and early wickets. De Kock played cautiously but Rohit stuck for four, reaching out on a wide delivery. A good start for Mumbai Indians at 19-0.
First over: First ball of the IPL and a terrific start by Rohit Sharma with a boundary on the covers. Singles in the rest of the delivers except the fourth ball. De Kock flick it on the leg side for four. Deepak Chahar needs to be cautious as the wicket looks like heaven for batting.
Openers Rohit Sharma and De Kock takes the strike on a grassy wicket. Deepak Chahar is all set to bowl his first over of the IPL.
Toss is done, and Thala Dhoni is back! Will Rohit Sharma will able to swing its magic wand again? Few seconds into the match and we will will witness both the giants showcasing their skills on the 22-yards.
Playing 11:
Chennai Super Kings: 1 Shane Watson, 2 M Vijay, 3 Faf du Plessis, 4 Ambati Rayudu, 5 MS Dhoni (capt, wk), 6 Kedar Jadhav, 7 Ravindra Jadeja, 8 Piyush Chawla, 9 Deepak Chahar, 10 Sam Curran, 11 Lungi Ngidi
Mumbai Indians: 1 Rohit Sharma (capt), 2 Quinton de Kock (wk), 3 Suryakumar Yadav, 4 Saurabh Tiwary, 5 Kieron Pollard, 6 Hardik Pandya, 7 Krunal Pandya, 8 James Pattinson, 9 Rahul Chahar, 10 Trent Boult, 11 Jasprit Bumrah
Dhoni Retires at 7:29, returns at 7:30. Fans are excited to see how this match turns out for him.
Chennai Super Kings win the TOSS and choose to BOWL first.
Toss: Both Captains MS Dhoni and Rohit Sharma at the Toss right now.
Pitch Report: Sunny Gavaskar examines the Pitch at the Sheikh Zayed Stadium in Abu Dhabi. According to him, there are lot of runs expected, and the team winning the toss will look to bowl first.
Welcome to the LIVE Updates of IPL 2020 Match 1 between Mumbai Indians (MI) and Chennai Super Kings (CSK). Get all LIVE updates here.
Mumbai Indians vs Chennai Super Kings: Preview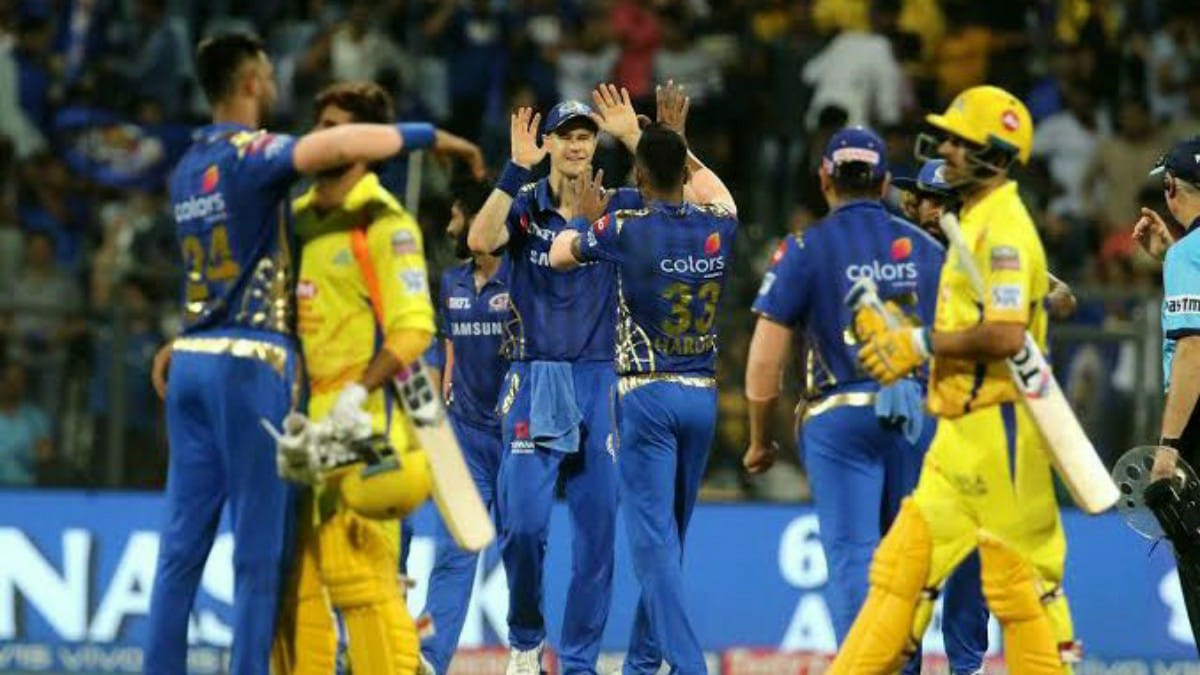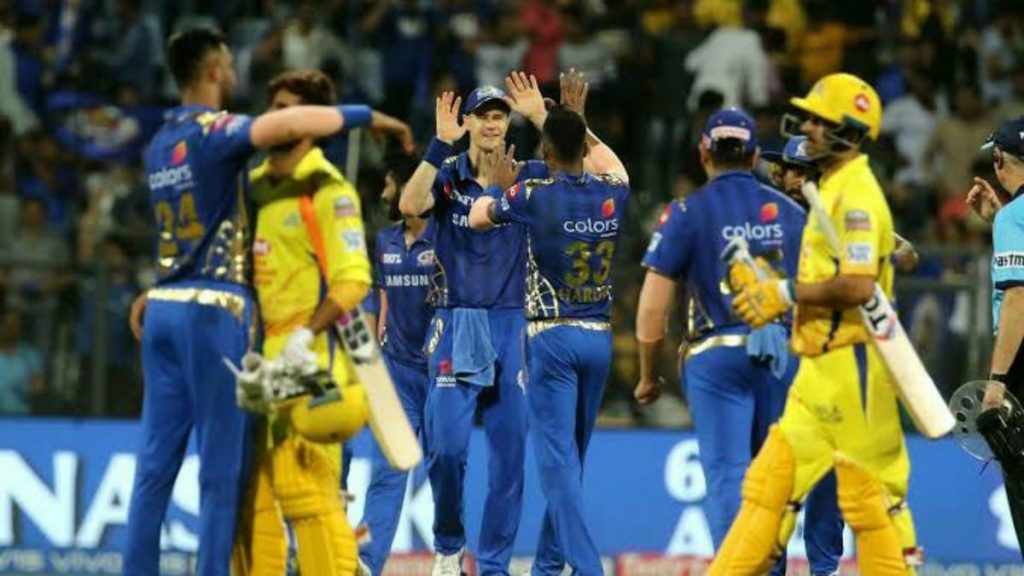 Firefighting a range of issues — from team members testing coronavirus positive to key players Suresh Raina and Harbhajan Singh pulling out of the tournament due to personal reasons — CSK have seen it all.
The absence of the duo has ripped the heart out of the team and it would be up to other players: Ravindra Jadeja, Dwayne Bravo, Shane Watson and Ambati Rayudu, among others, to take the team ashore in trying circumstances.
Harbhajan pulling out of the IPL makes Imran Tahir, a vital cog in the team. He will need to step up big time in the current edition.
The absence from training sessions may hurt the team a little but the setbacks may only reinvigorate their desire and motivate them to make a strong comeback on the field.
Contrarily, MI looks the strongest on the paper, boasting some of the world's most destructively freewheeling batsmen in its kitty. Their
skipper, Rohit Sharma, with five hundreds in the ICC World Cup and impressive test record for the national team recently is a force to reckon with, while Kieron Pollard can destroy the opponents single-handedly.
In the bowling department, they will be led by ever consistent Jasprit Bumrah but lack of quality spinners and yorker-king Lasith Malinga, who pulled out citing personal reasons, can put them in a spot of bother.
Chennai Super Kings Squad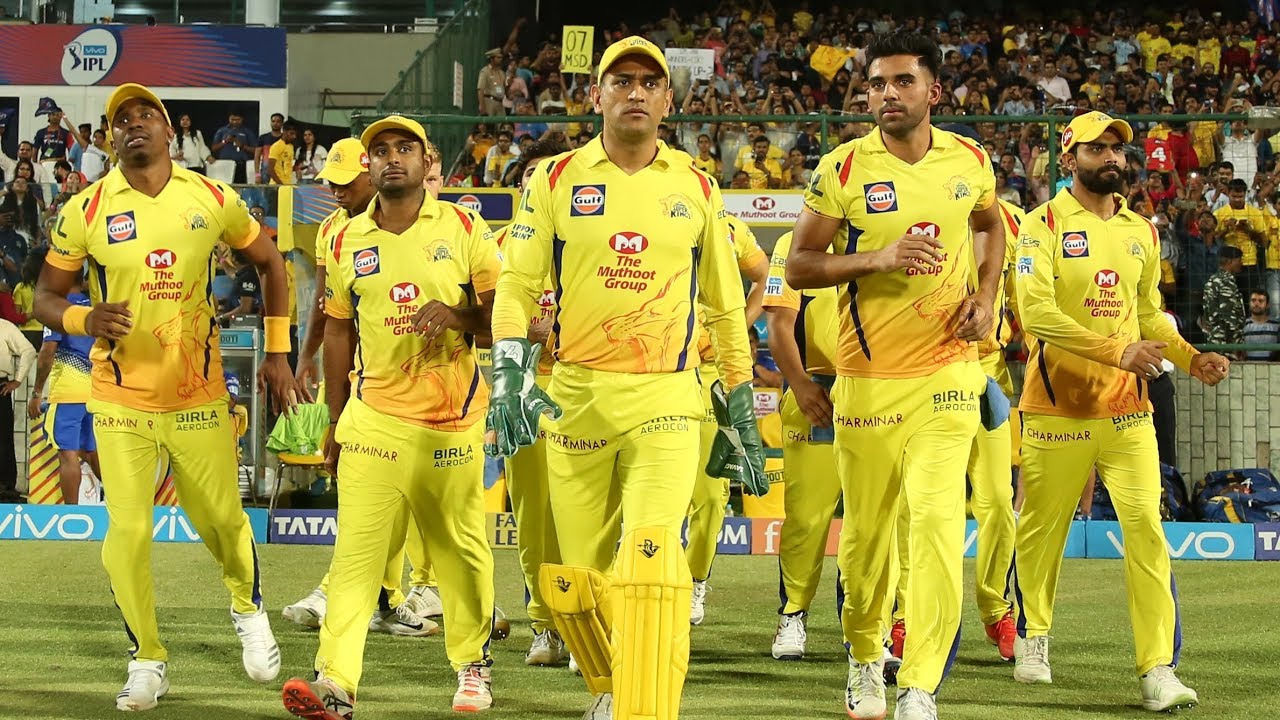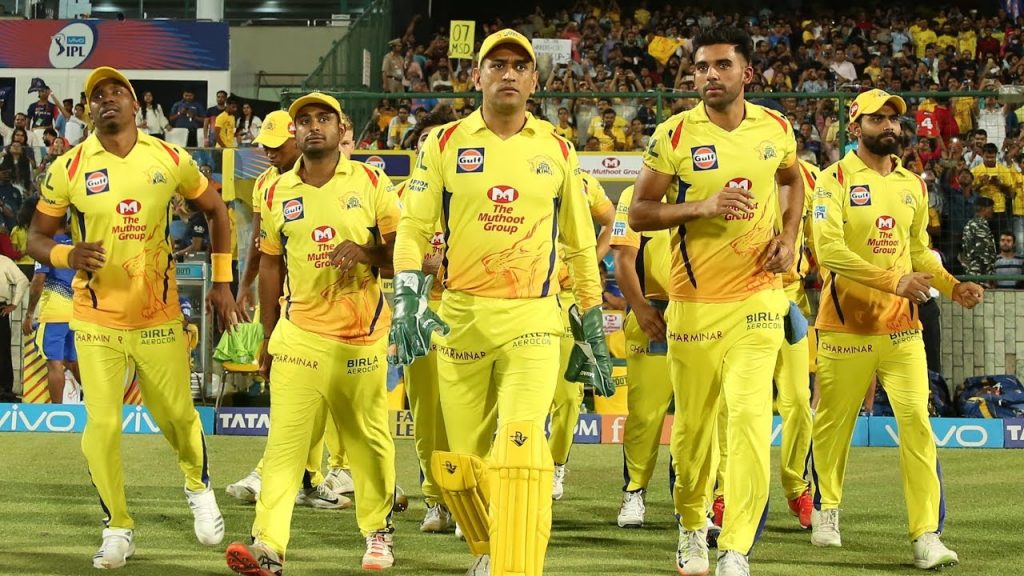 MS Dhoni (captain), Imran Tahir, Lungi Ngidi, Ruturaj Gaikwad, Shane Watson, Ambati Rayudu, Murali Vijay, Kedar Jadhav, Ravindra Jadeja, Deepak Chahar, Piyush Chawla, N Jagadeesan, Mitchell Santner, KM Asif, Shardul Thakur, R Sai Kishore, Faf du Plessis, Monu Kumar, Dwayne Bravo, Josh Hazlewood, Sam Curran, Karn Sharma.
Mumbai Indians Squad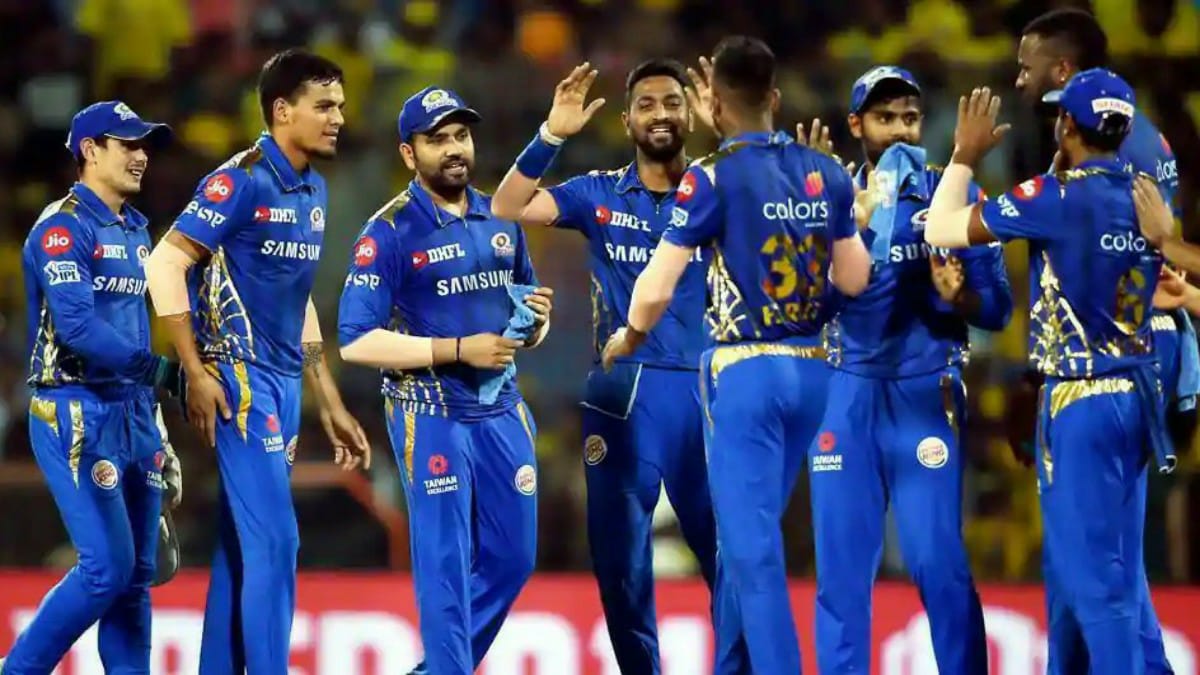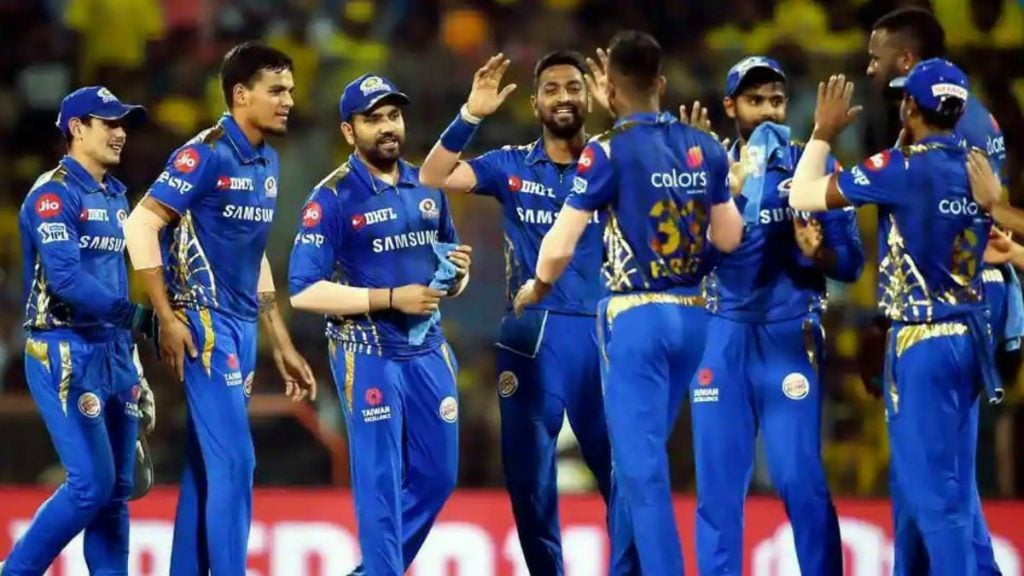 Rohit Sharma (captain), Aditya Tare, Anmolpreet Singh, Anukul Roy, Dhawal Kulkarni, Hardik Pandya, Ishan Kishan, Jasprit Bumrah, Jayant Yadav, Kieron Pollard, Krunal Pandya, James Pattinson, MItchell McClenaghan, Quinton de Kock, Rahul Chahar, Sherfane Rutherford, SuryaKumar Yadav, Trent Boult, Nathan Coulter-Nile, Chris Lynn, Saurabh Tiwary, Digvijay Deshmukh, Prince Balwant Rai Singh, Mohsin Khan.
Ideal playing XI (Chennai)
Shane Watson ✈
Faf du Plessis ✈
Ambati Rayudu
Mahendra Singh Dhoni (C) (WK)
Kedar Jadhav
Ravindra Jadeja
Dwayne Bravo ✈
Imran Tahir ✈
Piyush Chawla
Deepak Chahar
Shardul Thakur.
Ideal playing XI (Mumbai)
Rohit Sharma (C)
Quinton de Kock (WK) ✈
Suryakumar Yadav
Hardik Pandya
Ishan Kishan
Kieron Pollard ✈
Krunal Pandya
Mitchell McLenaghan ✈
Trent Boult ✈
Rahul Chahar
Jasprit Bumrah