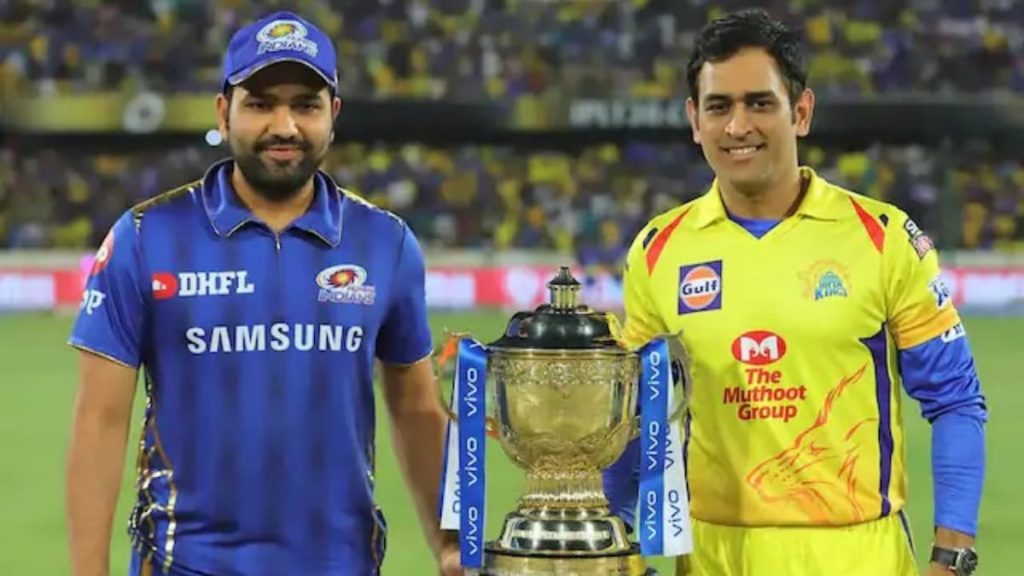 IPL 2020 Schedule Updates
The much-awaited IPL 2020 Schedule is now announced. According to the press release by IPL Governing Council, "The season will kickstart on 19th September in Abu Dhabi with a blockbuster clash between defending champions Mumbai Indians and Chennai Super Kings."
After the season opener in Abu Dhabi on Saturday, Delhi Capitals will take on Kings XI Punjab in the second match at Dubai on Sunday. This will be followed by Sunrisers Hyderabad taking on Royal Challengers Bangalore on Monday at the same venue.
Rajasthan Royals will play thier first match on Tuesday against Chennai Super Kings in Sharjah as Kolkata Knight Riders will be the last team to start the tournament in Abu Dhabi on Wednesday.
This season there will be 10 Double Headers & both the afternoon and the evening matches will start half an hour earlier from 3.30PM IST and 2.00PM UAE time and 7:30PM IST and 6:00PM UAE time respectively. 24 matches are planned to be held in Dubai, 20 in Abu Dhabi and 12 will be hosted by Sharjah.
Playoffs Venues for Dream11 IPL 2020 final will be announced later.
Full schedule
SAT 19-SEP-20 7:30 PM ABU DHABI MUMBAI INDIANS vs CHENNAI SUPER KINGS
SUN 20-SEP-20 7:30 PM DUBAI DELHI CAPITALS vs KINGS XI PUNJAB
MON 21-SEP-20 7:30 PM DUBAI SUNRISERS HYDERABADvs  ROYAL CHALLENGERS BANGALORE
TUE 22-SEP-20 7:30 PM SHARJAH RAJASTHAN ROYALS vs  CHENNAI SUPER KINGS
WED 23-SEP-20 7:30 PM ABU DHABI KOLKATA KNIGHT RIDERS vs  MUMBAI INDIANS
THU 24-SEP-20 7:30 PM DUBAI KINGS XI PUNJAB vs ROYAL CHALLENGERS BANGALORE
FRI 25-SEP-20 7:30 PM DUBAI CHENNAI SUPER KINGS vs DELHI CAPITALS
SAT 26-SEP-20 7:30 PM ABU DHABI KOLKATA KNIGHT RIDERS vs SUNRISERS HYDERABAD
SUN 27-SEP-20 7:30 PM SHARJAH RAJASTHAN ROYALS vs KINGS XI PUNJAB
MON 28-SEP-20 7:30 PM DUBAI ROYAL CHALLENGERS vs BANGALORE MUMBAI INDIANS
TUE 29-SEP-20 7:30 PM ABU DHABI DELHI CAPITALS vs SUNRISERS HYDERABAD
WED 30-SEP-20 7:30 PM DUBAI RAJASTHAN ROYALS vs KOLKATA KNIGHT RIDERS
THU 1-OCT-20 7:30 PM ABU DHABI KINGS XI PUNJAB vs MUMBAI INDIANS
FRI 2-OCT-20 7:30 PM DUBAI CHENNAI SUPER KINGS vs SUNRISERS HYDERABAD
SAT 3-OCT-20 3:30 PM ABU DHABI ROYAL CHALLENGERS BANGALORE vs RAJASTHAN ROYALS
SAT 3-OCT-20 7:30 PM SHARJAH DELHI CAPITALS vs KOLKATA KNIGHT RIDERS
SUN 4-OCT-20 3:30 PM SHARJAH MUMBAI INDIANS vs SUNRISERS HYDERABAD
SUN 4-OCT-20 7:30 PM DUBAI KINGS XI PUNJAB CHENNAI vs SUPER KINGS
MON 5-OCT-20 7:30 PM DUBAI ROYAL CHALLENGERS BANGALORE vs DELHI CAPITALS
TUE 6-OCT-20 7:30 PM ABU DHABI MUMBAI INDIANS vs RAJASTHAN ROYALS
WED 7-OCT-20 7:30 PM ABU DHABI KOLKATA KNIGHT RIDERS vs CHENNAI SUPER KINGS
THU 8-OCT-20 7:30 PM DUBAI SUNRISERS HYDERABAD vs KINGS XI PUNJAB
FRI 9-OCT-20 7:30 PM SHARJAH RAJASTHAN ROYALS vs DELHI CAPITALS
SAT 10-OCT-20 3:30 PM ABU DHABI KINGS XI PUNJAB vs KOLKATA KNIGHT RIDERS
SAT 10-OCT-20 7:30 PM DUBAI CHENNAI SUPER KINGS ROYAL vs CHALLENGERS BANGALORE
SUN 11-OCT-20 3:30 PM DUBAI SUNRISERS HYDERABAD vs RAJASTHAN ROYALS
SUN 11-OCT-20 7:30 PM ABU DHABI MUMBAI INDIANS vs DELHI CAPITALS
MON 12-OCT-20 7:30 PM  SHARJAH ROYAL CHALLENGERS BANGALORE vs KOLKATA KNIGHT RIDERS
TUE 13-OCT-20 7:30 PM  DUBAI SUNRISERS HYDERABAD vs CHENNAI SUPER KINGS
WED 14-OCT-20 7:30 PM  DUBAI DELHI CAPITALS vs RAJASTHAN ROYALS
THU 15-OCT-20 7:30 PM  SHARJAH ROYAL CHALLENGERS BANGALORE vs KINGS XI PUNJAB
FRI 16-OCT-20 7:30 PM  ABU DHABI MUMBAI INDIANS vs KOLKATA KNIGHT RIDERS
SAT 17-OCT-20 3:30 PM DUBAI RAJASTHAN ROYALS vs ROYAL CHALLENGERS BANGALORE
SAT 17-OCT-20 7:30 PM SHARJAH DELHI CAPITALS vs CHENNAI SUPER KINGS
SUN 18-OCT-20 3:30 PM ABU DHABI SUNRISERS HYDERABAD vs KOLKATA KNIGHT RIDERS
SUN 18-OCT-20 7:30 PM DUBAI MUMBAI INDIANS vs KINGS XI PUNJAB
MON 19-OCT-20 7:30 PM ABU DHABI CHENNAI SUPER KINGS vs RAJASTHAN ROYALS
TUE 20-OCT-20 7:30 PM DUBAI KINGS XI PUNJAB vs DELHI CAPITALS
WED 21-OCT-20 7:30 PM ABU DHABI KOLKATA KNIGHT RIDERS vs ROYAL CHALLENGERS BANGALORE
THU 22-OCT-20 7:30 PM DUBAI RAJASTHAN ROYALS vs SUNRISERS HYDERABAD
FRI 23-OCT-20 7:30 PM SHARJAH CHENNAI SUPER KINGS vs MUMBAI INDIANS
SAT 24-OCT-20 3:30 PM ABU DHABI KOLKATA KNIGHT RIDERS vs DELHI CAPITALS
SAT 24-OCT-20 7:30 PM DUBAI KINGS XI PUNJAB vs SUNRISERS HYDERABAD
SUN 25-OCT-20 3:30 PM DUBAI ROYAL CHALLENGERS BANGALORE vs CHENNAI SUPER KINGS
SUN 25-OCT-20 7:30 PM ABU DHABI RAJASTHAN ROYALS vs MUMBAI INDIANS
MON 26-OCT-20 7:30 PM SHARJAH KOLKATA KNIGHT RIDERS vs KINGS XI PUNJAB
TUE 27-OCT-20 7:30 PM DUBAI SUNRISERS HYDERABAD vs DELHI CAPITALS
WED 28-OCT-20 7:30 PM ABU DHABI MUMBAI INDIANS vs ROYAL CHALLENGERS BANGALORE
THU 29-OCT-20 7:30 PM DUBAI CHENNAI SUPER KINGS vs  KOLKATA KNIGHT RIDERS
FRI 30-OCT-20 7:30 PM ABU DHABI KINGS XI PUNJAB vs RAJASTHAN ROYALS
SAT 31-OCT-20 3:30 PM DUBAI DELHI CAPITALS vs MUMBAI INDIANS
SAT 31-OCT-20 7:30 PM SHARJAH ROYAL CHALLENGERS BANGALORE vs SUNRISERS HYDERABAD
SUN 1-NOV-20 3:30 PM ABU DHABI CHENNAI SUPER KINGS vs KINGS XI PUNJAB
SUN 1-NOV-20 7:30 PM DUBAI KOLKATA KNIGHT RIDERS vs RAJASTHAN ROYALS
MON 2-NOV-20 7:30 PM ABU DHABI DELHI CAPITALS ROYAL vs CHALLENGERS BANGALORE
TUE 3-NOV-20 7:30 PM SHARJAH SUNRISERS HYDERABAD vs MUMBAI INDIANS