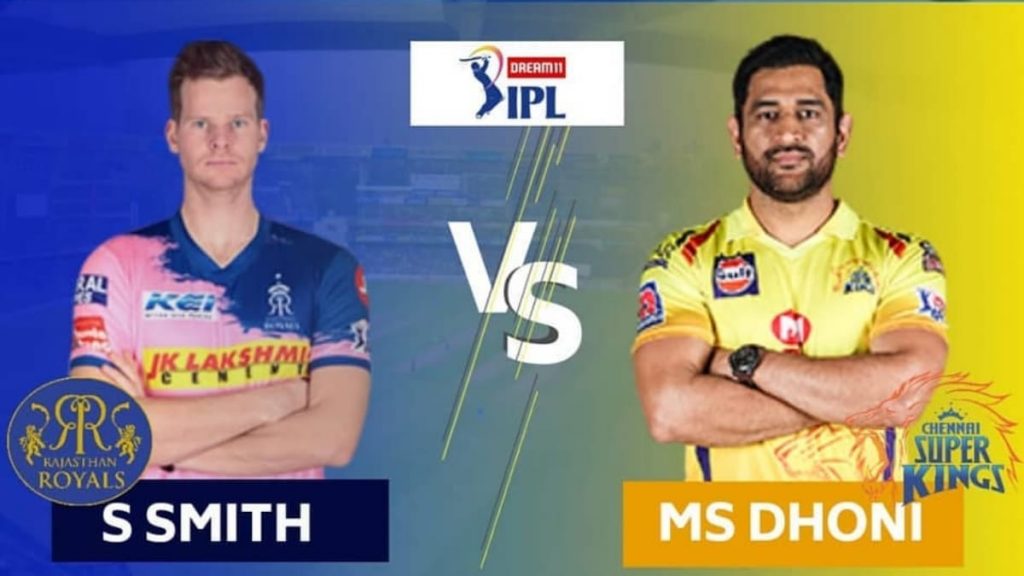 Welcome to the live coverage of Dream11 IPL 2020 Match between Rajasthan Royals (RR) and Chennai Super Kings (CSK). Get all LIVE Updates here.
Sanju Samson (Man of the Match): My game plan is stand and deliver. If it's in the arc I go for it, and it's very important to keep the intent to hit the ball if it's there to be hit. I've been working hard on my fitness, diet and training, and on my strength, because my game relies a lot on power hitting. I think range-hitting is what the game demands in this generation. I had time to work out in these 5 months, and I think I've increased that ability. Everyone likes to keep wickets (about Buttler and Uthappa as alternate options) and no one likes running around, but it's upto the coach. We are happy to bring smiles on the fans' faces and we hope to continue doing so.
Steven Smith (Rajasthan Royals captain): I think the last surge from Jofra was an incredible bit of hitting. Sanju Samson, looked like everything he hit went for six. MS smacked a few in the end, and Faf got going too, but nice to get a W in front of the RRs. Sanju was incredible, and all I had to do was give him the strike. This should give him a lot of confidence. Jos is a quality player and we'll see what happens when he comes back. Hard to take the opening slot away from someone like him. It was important for the bowlers to avoid straight hits, and it was important to make him hit the back of a length. The leg-spinners were very good with their lengths – good on them. Shreyas Gopal does what he does pretty well. Dubai is a lot bigger, and I haven't trained there, I just got here. So hopefully the boys are ready for it. Looking forward to it.
Dhoni (CSK captain): With 217 on the board, we needed a very good start which was not the case. Steve and Samson batted very well. Need to give credit to their bowlers. Once you've seen the first innings, you know the length to bowl. Their spinners did well to bowl away from the batsman. Our spinners made the error to bowl too full. If we would've maybe restricted them to 200, it would've been a good game. I haven't batted for a long time. 14-day quarantine doesn't help (why he isn't batting higher). Also wanted to try different things, give opportunities to Sam. Have the opportunity to try different things. If it doesn't work, you can always go back to your strengths. Faf adapted very well. Something the batsmen will do, neglect square leg, and go more towards long-on and long-off.
Rajasthan Royals (216/7) beat Chennai Super Kings (200/6) by 16 runs in match 4 of Dream11 IPL 2020. Sanju Samson was the star for Rajasthan after scoring 74 runs off 32 balls with 9 sixes to his name. Steven Smith supported the innings with 69 runs in 47 balls. Jofra Archer rocketed the scoreline to 217 runs by smashing 4 sixes off 4 balls in the final over. Sam Curran was the pick of the bowler for CSK with 3/33.
Chennai Super Kings started well with Vijay and Watson at the start. Faf Du Plessis controlled the game along with Kedar and Dhoni but could not help CSK finish the game. CSK was 16 runs short at the end of the game.
20th Over: Its all in favor of the Royals. Jadeja joins Dhoni for the final over. Dhoni brings his first six of the match. Six! Another huge hit from Dhoni and the ball is out of the ground. Hattrick of Sixes! Dhoni makes it 3 in 3 but for a lost cause. Need 18 runs off the last ball. A single to end the match. What a game, 33 sixes in the match!. Rajasthan Royals win the game by 16 runs.
19th Over CSK need 48 runs off 2 overs. All CSK hopes on Dhoni and Faf now. 3 singles from 3 balls to start the over for Archer. Faf gets hold of the fourth ball and dispatches it into the stands. Tries to go for another one, but gives a catch to Samson. Faf is out for a well made 72. Archer ends 19th over for a dot. CSK are 179-6 after 19 overs. Need 38 runs off the final over.
18th Over: Tom Curran in his 3rd over. Faf hits another six for CSK,61 from 31 balls. A single to bring Dhoni on strike. CSK 169 -5 after 18 overs. Need 48 runs off 12 balls.
17th Over: Unadkat into his final over. Du Plessis brings on a six on the second ball, followed by a single on the next. MS Dhoni rotates the strike back to Du Plessis. Six! Faf pulls another huge hit into the stands. Another six off the last ball to finish the over. CSK 159-5 after 17 overs . Need 58 in 18 balls.
16th Over: Archer is back to bowl his 3rd over. Starts with a wide and followed up by a dot. Du Plessis finds the gap for a boundary on the next ball. CSK 138 -5 after 16 overs. Need 79 off 24 balls.
15th Over: Tewatia in for his final over. Six! Du Plessis goes for the big hit and is misjudged by Parag for a six. Another six by Du Plessis, this time clears the fence easily. CSK 131-5 after 15 overs, need 86 to win in 30 balls.
14th Over: Tom Curran into the attack for Rajasthan Royals. Two singles in the first two balls. No Ball! The ball slips Curran's hand and is a free hit. Du Plessis gives a catch to Archer on the free hit. Wicket! Jadav tries to go big but nicks behind to Samson. 5th wicket down for CSK. MS Dhoni walks in for CSK with the required run rate at 16 runs per over. End of the 14th over, CSK 115-5. Need 102 more runs off 36 balls.
13th Over: Unadkat back into the attack. 4 singles off the first 4 balls. The required run rate is up at 15 runs an over at this moment. A single to finish the over. CSK 108-4 after 13 overs. Need 109 runs off 42 balls.
12th Over: Gopal is hit for a hattrick of boundaries by Kedar Jadhav off his first 3 balls. 100 runs up for CSK in the 12th over. A single to end the over. CSK 101-4,need 116 more runs to win the game.
11th Over: Hattrick ball, worked away for a single. 4 singles to complete the 11th over. CSK 86-4 after 11 overs.
10th Over: Gopal to continue. Jadhav on the crease with Faf Du Plessis. 5 singles off the first 5 balls and a dot ball to finish the over. CSK halfway through their innings 82-4.
9th Over: Tewatia continues his 2nd over. Sam Curran go es down the wicket and clears the fence for a six. Another maximum from Curran in a similar fashion off the next ball. Wicket! Curran again goes down the wicket but fails to read the googly and is stumped. CSK lose their 3rd wicket in Curran. Young Ruturaj Gaikwad comes in at number 5 for his IPL debut. Wicket! Gaikwad tries to shuffle down the track and is stumped his first ball in IPL 2020.CSK 77-4 after the end of 8th over.
8th Over: Another leg-spinner into the attack, Shreyas Gopal. And both the spinners turn out to be successful, Vijay tries to hit a short ball but ends up being caught in the deep. Both the openers are are in the pavillion now. Sam Curran walks in at number four and brings up his first boundary on his first ball. 8 overs gone, CSK 64-2.
7th Over: Smith brings leg-spinner Tewatia in search of wickets. Watson tries to go for the big hit and misses, the ball, in turn hits the wicket. Tewatia picks the first CSK wicket, Watson departs for 31. Tewatia ends the over with a dot ball. CSK 57-1 after 7 overs.
6th Over: Final over the powerplay, Tom Curran into the attack. A steady start from CSK but the required run rate is more than 12 runs an over at the moment. Shane Watson smacks 2 short deliveries for 2 sixes on the leg side. Watson brings up the 50 for CSK with a boundary of the next ball. End of the powerplay, CSK 53-0 and require 164 runs to win the match.
5th Over: Change in bowling for RR, Shreyas Gopal into the attack. Vijay beats the square fielder of the wicket for another boundary. Watson ends the over with a six and clears the roof. CSK covering up their slow start in the starting overs. End of 5th over CSK 36 without a loss of wicket.
4th Over: Archer to continue. Watson brings up the first six in CSK's innings. Good comeback from Archer, he changes the line, and Watson struggles. RR appeal for an LBW, but the umpire gives not out. Five dot balls to end the over. CSK 25-0.
3rd Over: Unadkat to Vijay. Back to back boundaries for Vijay who times the ball very well. A slight scare for CSK who survive a runout chance after a mixup between Vijay and Watson. Good over for CSK. 11 runs off the 3rd over CSK 19-0.
2nd Over: England pacer Jofra Archer starts from the other end. Cautious start for CSK who are scoring the runs in singles and doubles. Just 3 runs of the 2nd over by Archer. CSK 8-0 after 2 overs.
1st Over: Jaydev Unadkat to start the proceedings for RR. A decent start by Unadkat who bowls 5 singles in his first over. CSK 5-0 after the first over.
The 2 openers Murali Vijay and Shane Watson are out for CSK.
20th Over: Ngidi bowls the final over. Jofra Archer smashes Ngidi for 3 huge sixes and the ball is out of the park. Archer wacks 3 sixes in a row to bring up the 200 runs for Rajasthan. Sweet timing from Archer here. Its four sixes in a row! Archer smashes the free hit of the 3rd ball for another six. It's turning very bad for Ngidi who balls 2 no balls of his free-hit delivery. Its 27 runs from 3 balls in the final over! This is the most expensive over in IPL history.Rajasthan Royals finish the innings for 216-7 in 20 overs.
19th Over: S for 7 wickets with one over to go.am Curran takes his 3rd wicket of the macth as Smith trying to hit a big shot gives a catch to Kedar Jadhav. Interesting moment in the match, Sam Curran bowls to brother Tom Curran who guides a sharp yorker for a boundary. Rajsathan are 186 for 7 wickets with 1 over to go.
18th Over: Deepak Chahar to bowl his final over. Chennai have managed to bring down the run rate after picking up qucik wickets in the middle overs. Chahar LBW's Tom Curran but there is a confusion as umpire decides to check with 3rd Umpire for caught behind. A controversial moment as the decison is overturned but is the right call.177-6 after 18 overs Rajasthan.
17th Over: Sam Curran is back into the attack. Curran bowls a lower full toss and LBW appeal is given out. Tewatia decides to review the decision and loses the review, departs for 10 runs off 8 balls. Riyan Parag joins captain Smith. Hits a four off a full toss and is out at the very next ball. RR are 173-6 after 17 overs.
16th Over: Ngidi to bowl the 16th over. Smith keeps the run ticking with another boundary on the 2nd ball and rotates the stike to Tewatia. Tewatia adds another boundary to RR's inning off the 4th ball.End of over 16, Rajasthan Royals 166- 4 after 16 overs.
15th Over: Chawla starts the 15th over and picks up the wicket of Uthappa at the long-off. Du Plessis makes no mistake and RR lose their 4th wicket. all-rounder Rahul Tewatia walks in for Rajasthan. RR 154-4 after 15 overs.
14th Over: Jadeja to bowl his final over of the match. Sam Curran drops Smith at the boundary line and concedes 6 runs. The ball just doesn't stick in Curran's hand. 5 singles, 1 wide, and 1 six takes Rajasthan to 149-3 after 14 overs.
13th Over: Chawla is back for his 3rd over. A shocking turn of events as RR have lost 2 wickets in the 12th over. An excellent over by Chawla who bowls 3 dots and 3 singles. RR 137 -3 with Smith and Uthapa at the crease.
12th Over: Bowling change for CSK as MS Dhoni brings back Ngidi. Fast bowling change looked necessary for Super Kings as Samson is hitting the spinners for sixes. Bowling change works for CSK as Ngidi picks Samson who departs for an astonishing 74 runs in just 32 balls. David Miller is the new batsman for Rajasthan. Another upset for the Royals as Miller is runout for a duck. Successful over for CSK, 134-3 after 12 overs
11th Over: Jadeja continues his 3rd over and is smashed for another six on the 3rd ball. Sanju Samson looks unstoppable right now. Smith and Samson continue to rotate the strike after big hits, a good sign for RR. 129 -1 after 11 overs.
10th Over: Steven Smith starts 10th over for a six over Chawla. Another full-lenth ball picked for a huge six by Sanju Samson. Smith places one for a boundary and a single to finsih the 10th Over for 119 runs.
9th Over: Brilliant batting display by Rajasthan Royals after losing Yashasvi Jaiswal early. Jadeja continues his 2nd over. CSK missout an important review as Smith survive an LBW appeal. 100 runs up for RR in just 9 overs.
8th Over: Another change, Piyush Chawla into the attack. Sanju Samson on fire! He looks to be dealing in only sixes at the moment. 3 overpitched deliveries for 3 huge sixes in the over for Samson. Samson brings up his 50th in just 19 balls smashing 6 sixes.Smith joins Samson and dispatches one six off the free hit. Big over for Rajasthan Royals 28 runs of the over. RR 96 for 1 after 8 overs.
7th Over: MSD introduces spin bowling in the match for the first time with Ravindra Jadeja. Sanju Samson picks 2 fuller deliveries for huge sixes back to back. 68 -1
6th Over: Deepak Chahar to continue in the last over of the powerplay. Samson picks another short one by Chahar for his 2nd six of the game. Smith directs a bad delivery for another boundary on the penultimate ball. The two players are looking in great touch for Rajasthan Royals. End of the powerplay, RR 54-1
5th Over: Sam Curran is back into the attack for CSK. A bright start for Sanju Samson who smashes Curran for a four and a huge six back to back. 40-1 after 5 overs.
4th Over: First bowling change for CSK as Lungi Ngidi replaces Sam Curran. Steven Smith hits the first six of the match for RR. Good start for Steven Smith in IPL 2020. 26-1 after 4 overs Rajasthan Royals
3rd Over: Deepak Chahar continues his second over. Yashasvi Jaiswal hits his first boundary in IPL 2020 but falls down the very next ball. Sanju Samson the new batsman in for RR rotates the strike on his first ball. Steve Smith pulls one short ball for a boundary. End of 3rd over Royals 17 for the loss of 1 wicket.
2nd Over: Sam Curran starts the second over for CSK. Three dot balls, one wide and 2 singles takes RR's scoreline to 7 runs without any wickets. RR are still to hit their first boundary in IPL 2020.
1st Over: Rajasthan Royals open with captain Steven Smith and 18-year-old debutant Yashasvi Jaiswal. Deepak Chahar to open the bowling for Chennai Super Kings. Two single and one double takes RR's score to 4 runs without any loss of wickets.
Teams:
Chennai Super Kings (Playing XI): Murali Vijay, Shane Watson, Faf du Plessis, Ruturaj Gaikwad, MS Dhoni(w/c), Kedar Jadhav, Ravindra Jadeja, Sam Curran, Deepak Chahar, Piyush Chawla, Lungi Ngidi
Rajasthan Royals (Playing XI): Yashasvi Jaiswal, Robin Uthappa, Sanju Samson(w), Steven Smith(c), David Miller, Riyan Parag, Shreyas Gopal, Tom Curran, Rahul Tewatia, Jofra Archer, Jaydev Unadkat
Toss: MS Dhoni won the TOSS and elected to BOWL first.
Preview: Rajasthan Royals (RR) Vs Chennai Super Kings (CSK)
Sharjah Cricket Stadium is all set to stage its first game of IPL 2020 as Chennai Super Kings will lock horns against Rajasthan Royals on Tuesday.
Chennai Super Kings have made a great start to the tournament after beating Mumbai Indians by 5 wickets on Saturday. They would be eying on their second win ahead of the game against Rajasthan Royals Faf du Plessis and Ambati Rayudu have started the tournament on a fantastic note. Both scored respective half-centuries and would look to continue their good run in the next game as well.
CSK would be hoping a better show from the openers, though. Both Watson and Vijay fell cheaply in the last game. Given the duo hasn't played much cricket, lately, they are expected to come good in the coming games.
The scarcity of left-handers in the top order might make way of Sam Curran at the top of the order. The Southpaw came at a difficult time in the last game and played a fantastic cameo for the side. He would certainly be the guy to watch out for in the next game as well. On Bravo injury update, the all-rounder is likely to be unavailable for the next game, at least.
Rajasthan Royals, on the other hand, will have a tough task in hand as they will be facing the most consistent side in IPL. Facing CSK in the absence of their two key players like Ben Stokes and Jos Buttler isn't going to be easy for them.
The unavailability of Stokes and Buttler should make way for other overseas players like David Miller and Tom Curran in the eleven. The absence of Jos Buttler would also mean that Robin Uthappa is likely to open with Yashasvi Jaiswal, followed by Smith and Samson.
If RR fancy their chances against CSK, the middle order, comprising of David Miller, Sanju Samson and Riyan Parag has to come good on Tuesday.
Along with Jofra Archer, Jaydev Unadkat is likely to make into the eleven. Kartik Tyagi, who had a phenomenal Under-19 World Cup, would be hoping to make his debut as well.
Chennai Super Kings Squad:
Murali Vijay, Shane Watson, Faf du Plessis, Ambati Rayudu, MS Dhoni(w/c), Ravindra Jadeja, Sam Curran, Kedar Jadhav, Deepak Chahar, Piyush Chawla, Lungi Ngidi, Karn Sharma, Josh Hazlewood, Imran Tahir, Shardul Thakur, Monu Kumar, Mitchell Santner, Ravisrinivasan Sai Kishore, N Jagadeesan, Ruturaj Gaikwad, KM Asif.
Rajasthan Royals squad:
Robin Uthappa, Yashasvi Jaiswal, Sanju Samson(w), Steven Smith(c), David Miller, Riyan Parag, Shreyas Gopal, Tom Curran, Jofra Archer, Jaydev Unadkat, Varun Aaron, Aniruddha Joshi, Manan Vohra, Ankit Rajpoot, Andrew Tye, Rahul Tewatia, Shashank Singh, Mahipal Lomror, Oshane Thomas, Mayank Markande, Anuj Rawat, Kartik Tyagi, Akash Singh.