Mumbai Indians (MI) got past Chennai Super Kings (CSK) thanks to a masterclass in power hitting from Kieron Pollard who hit 87 runs in 34 balls to take his side home off the last ball of the match in the Indian Premier League (IPL) at the Feroz Shah Kotla (Arun Jaitley Stadium) in Delhi.
The 'El Clasico' of the IPL as it is called by fans, delivered the goods in classic fashion as it produced yet another tale in an epic rivalry between the two teams – ending in a close MI win yet again. It was a crucial win as well as far as Mumbai were concerned as it meant that they have got 4 wins in the first half of the league phase which should hold them in good stead for the second half and their hopes of making it to the playoffs.
Kieron Pollard pulls off the unthinkable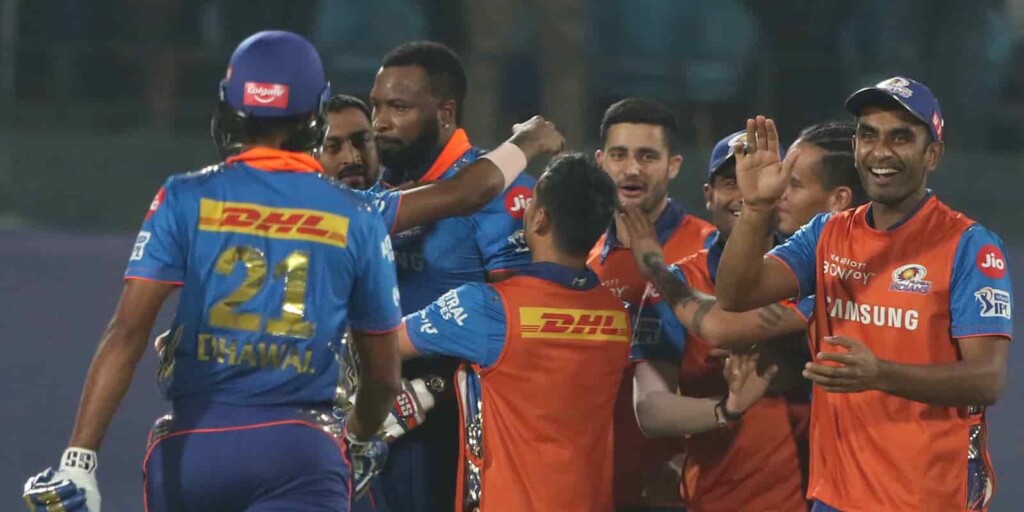 Earlier, CSK were put in to bat and got off to a bad start as they lost Ruturaj Gaikwad early. However, Faf du Plessis and Moeen Ali struck quick-fire fifties before a two-wicket burst from Kieron Pollard brought MI back into the game. It was then the Ambati Rayudu show as the No. 5 batsman went berserk and hit the ball around the park en route a superb knock of 72 runs in just 27 balls.
In the chase, Rohit Sharma and Quinton de Kock got their side off to an assured start but their wickets followed by that of Suryakumar Yadav brought Krunal Pandya and Kieron Pollard together. It was then that the Pollard show started as the West Indian deposited balls into the stands at will. It was all too easy for him but still, the target was extremely stiff and it all boiled down to the last ball of the match with 2 required which Pollard was able to get to seal a thrilling win for his side.
Scores
CSK innings
BATTING
R
B
4s
6s
SR
Ruturaj Gaikwad 
c HH Pandya b Boult
4
4
1
0
100.00
Faf du Plessis 
c Bumrah b Pollard
50
28
2
4
178.57
Moeen Ali 
c †de Kock b Bumrah
58
36
5
5
161.11
Suresh Raina 
c KH Pandya b Pollard
2
4
0
0
50.00
Ambati Rayudu 
not out
72
27
4
7
266.66
Ravindra Jadeja 
not out
22
22
2
0
100.00
Total – 218/4 in 20 overs
| BOWLING | O | M | R | W | ECON | 0s | 4s | 6s | WD | NB |
| --- | --- | --- | --- | --- | --- | --- | --- | --- | --- | --- |
| Trent Boult | 4 | 0 | 42 | 1 | 10.50 | 10 | 4 | 3 | 1 | 0 |
| Dhawal Kulkarni | 4 | 0 | 48 | 0 | 12.00 | 7 | 3 | 4 | 2 | 0 |
| Jasprit Bumrah | 4 | 0 | 56 | 1 | 14.00 | 5 | 4 | 4 | 2 | 1 |
| Rahul Chahar | 4 | 0 | 32 | 0 | 8.00 | 8 | 0 | 3 | 1 | 0 |
| James Neesham | 2 | 0 | 26 | 0 | 13.00 | 3 | 2 | 2 | 0 | 0 |
| Kieron Pollard | 2 | 0 | 12 | 2 | 6.00 | 4 | 1 | 0 | 1 | 0 |
MI innings
BATTING
R
B
4s
6s
SR
Quinton de Kock †
c & b Ali
38
28
4
1
135.71
Rohit Sharma (c)
c Gaikwad b Thakur
35
24
4
1
145.83
Suryakumar Yadav 
c †Dhoni b Jadeja
3
3
0
0
100.00
Krunal Pandya 
lbw b Curran
32
23
2
2
139.13
Kieron Pollard 
not out
87
34
6
8
255.88
Hardik Pandya 
c du Plessis b Curran
16
7
0
2
228.57
James Neesham 
c Thakur b Curran
0
1
0
0
0.00
Dhawal Kulkarni 
not out
0
0
0
0
0.00
Total – 219/6 in 20 overs
| BOWLING | O | M | R | W | ECON | 0s | 4s | 6s | WD | NB |
| --- | --- | --- | --- | --- | --- | --- | --- | --- | --- | --- |
| Deepak Chahar | 4 | 0 | 37 | 0 | 9.25 | 8 | 4 | 1 | 2 | 0 |
| Sam Curran | 4 | 0 | 34 | 3 | 8.50 | 11 | 3 | 2 | 1 | 0 |
| Lungi Ngidi | 4 | 0 | 62 | 0 | 15.50 | 3 | 5 | 5 | 0 | 0 |
| Shardul Thakur | 4 | 0 | 56 | 1 | 14.00 | 4 | 4 | 3 | 5 | 0 |
| Ravindra Jadeja | 3 | 0 | 29 | 1 | 9.66 | 5 | 0 | 3 | 0 | 0 |
| Moeen Ali | 1 | 0 | 1 | 1 | 1.00 | 5 | 0 | 0 | 0 | 0 |
Also Read: IPL 2021: Pandya brothers and family donate 200 oxygen concentrators to rural parts of India
Also Read: Shoaib Malik confirms that he has no plans to retire in the near future